The Food Chopper That Will Make Quick Work Of Cutting Vegetables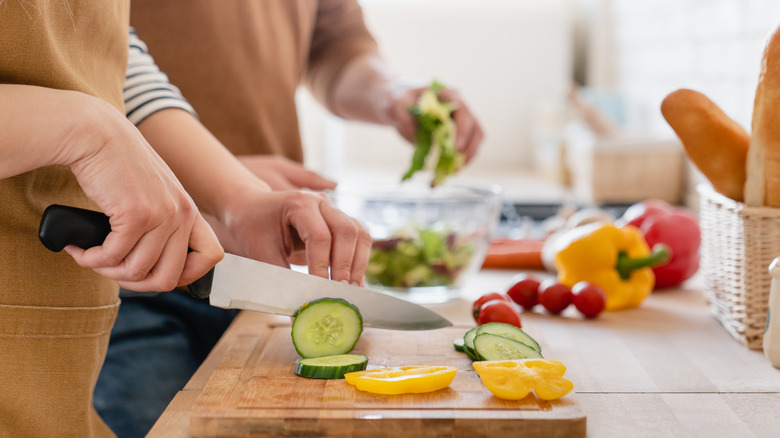 Inside Creative House/Shutterstock
We may receive a commission on purchases made from links.
Slicing and dicing can be difficult. Not everyone has the skill or the knack for using a kitchen knife. If this speaks to you, no judgment — we are right there with you so the good news is that you are not alone. OK, maybe it's more schadenfreude, but sometimes it makes us feel better to know that even for those who are part of a family with a super successful reality television show, cutting up vegetables can still present a challenge. 
Per USA Today, Kendall Jenner from "Keeping Up with the Kardashians" found herself in the middle of a food fight after posting a video of herself prepping and cutting a cucumber. To be fair, Jenner concedes this is not her strong suit, saying in the video, "I'm definitely not a good cutter, so don't zoom in on me. I'm not professional whatsoever." It even prompts her mom to ask the chef to take over the cutting duties, but Jenner waives off the guidance and says she will do it herself. 
Naturally, Twitter was brutal in its critique of Kendall Jenner with one person writing, "anytime you feel like you're bad at doing something, watch Kendall Jenner chop a cucumber." Well, thanks to Delish, we have discovered a food chopper that will make quick work of cutting up vegetables and put an end to bashing Kendall Jenner's skills (or lack thereof).
You can buy the Easy Pull Chopper on Amazon
According to Delish, the Zyliss Easy Pull Food Chopper can help those who may be chopping impaired. The cooking site notes that this little gadget is both a way to cut down on labor and time spent cutting up vegetables and fruits, and it doesn't take up a lot of storage space. Win-win. Per Amazon's product description, the BPA-free, "simple to use" handheld gadget can be helpful when "chopping, blending and pureeing" your fresh produce. Furthermore, you can create a pesto with just five pulls or a smoothie with 12 pulls in the chopper's 25-ounce bowl. Now that sounds interesting.
But what are people saying about this kitchen tool? Well, 84% of the over 4,500 individuals who reviewed the Zyliss Easy Pull Food Chopper gave it a five-star rating on Amazon. One verified reviewer wrote, "Yowza! Pleasantly surprised at how easy and efficient this food processor is to use." And another offered, "It's a tremendous tool for preparing raw food meals. Just this morning I chopped up a head of Kale, a beet, cucumber, tomato, red pepper, garlic." This chopper will set you back about $35 on Amazon before taxes, or any shipping and handling fees.