The Delicious Way To Save A Broken Bundt Cake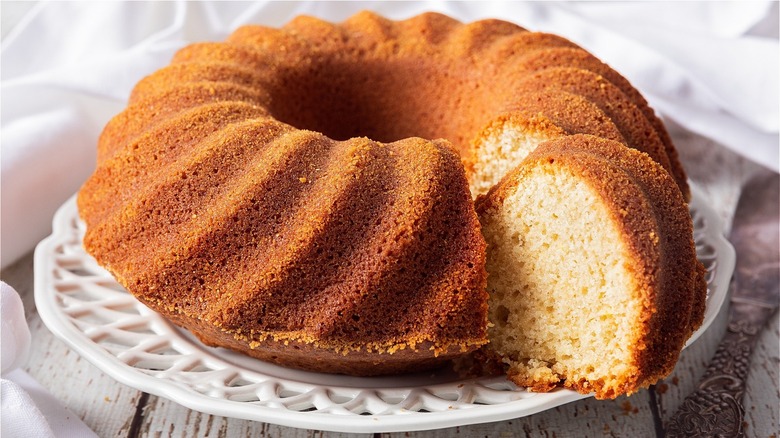 Angela Kotsell/Shutterstock
Bundt pans may conjure memories of holidays with your grandparents or even the coveted prize at your elementary school cakewalk. With everything old becoming new again, the kitschy pan is more popular than ever — surely thanks, in part, to Nothing Bundt Cakes. Novice bakers don't need to be concerned with icing techniques or fancy embellishments, as uniquely shaped bundt cakes are usually adorned with a dusting of confectioners' sugar or a simple glaze.
Created in 1950 by sweethearts H. David and Dorothy Dalquist, per the University of Minnesota Alumni Association, the bundt pan was the love child of the couple. David was an engineer with a metalworking background, and Dotty, a Danish immigrant, was an avid Scandinavian baker. Living in Minnesota, which had a large Scandinavian population, the duo created Nordic Ware bakeware for those looking to recreate the baked goods they left behind. However, it wasn't until 1966, thanks to Texas housewife Ella Helfrich's second-place win in the Pillsbury bake-off, that the bundt pan took off across the country. Helfrich's "Tunnel of Fudge" cake is credited with inspiring more Americans to make their own bundt cakes. 
Although the kugelhopf cake that inspired the bundt is generations old, the innovation behind the pan is purely modern. With intricate fluting, swirls and whirls, curves, and crevices, a nonstick surface is a must, yet even the most experienced baker can end up with a broken cake. Gone are the days when we try to patch together our dessert. Today, chefs embrace their failures and transform "ugly delicious" desserts into beautiful, yummy treats.
Transform a broken bundt into a trifle
Recipe developer Rose Hattabaugh of Milk Street took to Instagram to demonstrate how to turn a bundt cake recipe gone wrong into a mouthwatering, trifle-like dessert. Hattabaugh begins by cutting the broken bundt cake into chunks and placing the pieces into a large dish. Scoops of ice cream are added (think one scoop per person in different flavors). Hattabaugh advises viewers to pre-scoop the ice cream to buy them more time to assemble the dessert before it begins to melt (place the scoops on a baking sheet and stick in the freezer until ready to use).
Added to the cake and ice cream duo are berries, fresh whipped cream, chocolate syrup, and homemade marshmallows browned with a blowtorch. Hattabaugh calls this shareable dish a "choose your own adventure" dessert and invites bakers to customize the dish to their liking, though she's partial to a final touch of sprinkles.
Can't wait to make one of your own? According to Recipe Lion, leftover or broken cake can be stored in the freezer until you are ready to create something new. With the scraps, you can create delicious treats, like cake pops, ice cream cakes, shakes, and more. To some, the baking fail recipe may even be more appealing than the intended dish!