Messy History Of American Food: Grab A Napkin And Dig In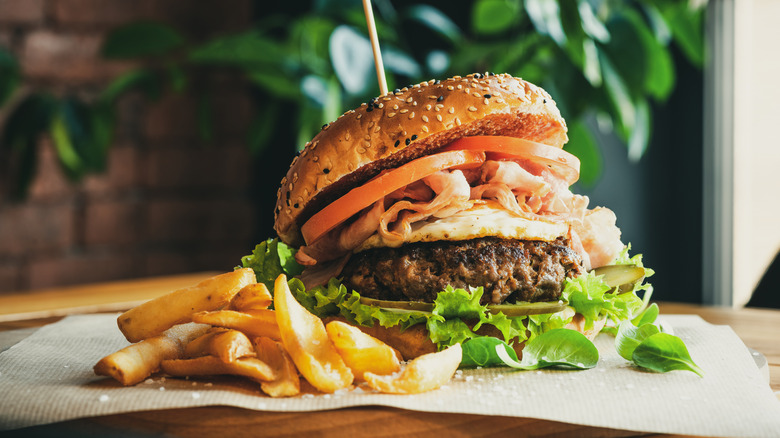 marcin jucha/Shutterstock
American cuisine can't be described by one thing alone. You could say cheeseburgers, fries, and milkshakes are the quintessential staples of American cuisine, while another person can say that biscuits and gravy represent the great American comfort foods (via Traveller). There are all foods and dishes that changed America forever, and these aren't wrong answers, by any means. But it does bring up a rather interesting question: What exactly defines American cuisine?
The Spruce Eats defines American cuisine as a "melting pot," a combination of different cultural and geographical factors that combine into a unique, yet singular, culinary identity. Immigrants from Italy, for example, introduced pizza and pasta, while coastal areas such as New England and Maine are prized for their seafood dishes. Perhaps there is no food that can be called strictly "American," as everything is influenced one way or another by another culture. 
Going past the arguments of what is American and what isn't, we haven't even scratched the surface of the American cultural stew. We all know about Coca-Cola versus Pepsi, the rise of TV dinners in the 1950s, the birth of fast food, and even how different states serve up their own takes on pizza. American cuisine has a long and messy history, and it seems that Thrillist's new show isn't afraid to dive right in.
Thrillist is producing The Messy History of American Food
Thrillist's newest show, "The Messy History of American Food," has one goal: unravel the mysteries and legends behind some of our nation's greatest foods. As Thrillist explains, the show, which premiered on May 11 on Discovery+, will explore everything from the secrets behind Coke and the awesome power of the mascot to the lore behind Hershey's chocolate, just to name a few topics. 
The show won't just be a documentary rambling on about the history of Tony the Tiger or why people went crazy about sliced bread. Instead, "The Messy History of American Food" blends archival footage with interviews with expert chocolatiers, psychologists, soda jerks, and of course, Thrillist's own "food experts" to present the wild, surprising, and sometimes unsavory facts about the nation's most beloved foods. The show will also travel to some of the more historical "birthplaces" of our nation's famed foods, such as traveling to Battle Creek, Michigan, to explore the hometown of Kellogg's cereal and its effects on American culture (via WRKR).
According to RealScreen, the show drops two episodes per week, with six parts in total. If you're interested in watching this tell-all on American cuisine, we suggest that you grab a burger, some pizza, or other classic American foods to chow down on while you watch.