Dunkin' Customers Are Confused About A Mysterious App Notification
These days, many businesses, especially restaurants, do the best they can to stay on top of trends. Maybe it's the rise of plant-based meat alternatives. Maybe it's offering pickup and delivery options. Maybe it's staying current on social media platforms. Maybe it's balancing all of these at once.
As we all know, mistakes happen when we try to juggle too many things. Sometimes restaurant chains try a little too hard to impress customers, resulting in the biggest fast food failures of all time. We're looking at you, Taco Bell seafood salad.
Other times, these mistakes come in the form of information being leaked online or released before intended. For example, last year, Dunkin' briefly came under fire after an employee posted a TikTok of all a location's leftover donuts being dumped in the garbage (via Eat This, Not That!). Much more recently, Dunkin' left its app users bewildered over what seems to be a tech glitch. 
Did Dunkin' hit 'send' on its message too soon?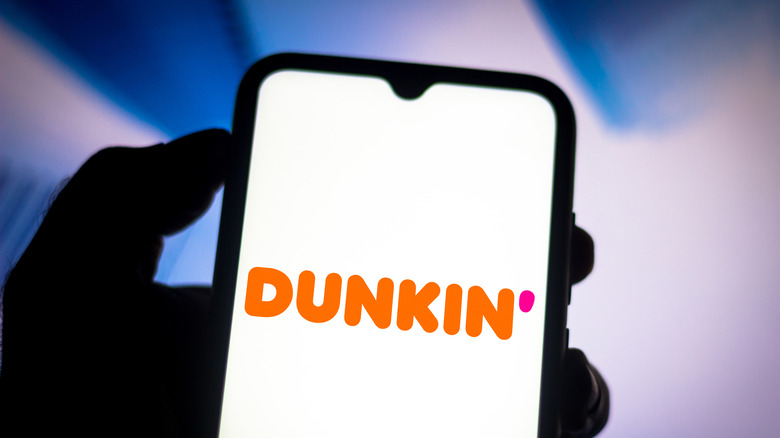 rafapress/Shutterstock
On May 18, Dunkin' app users took to the internet in search of answers. As one Twitter user explains, many customers "received a notification from @dunkindonuts about Boost Status that can expire, but have no idea what Boost Status is and can't find any info on it anywhere."
One Redditor shared a screenshot of the app notification, reading, "Congratulations on achieving Dunkin' Rewards Boosted status! Your status will expire." Others gathered in the comments to theorize what the notification could mean.
Several people noted that clicking on the notification "leads nowhere." Some suggested that it was a glitch caused by Dunkin' updating the app, while others guessed that Dunkin' was "testing something, and the notification accidentally went out." Most customers seem to think the new feature  — if there is one — is a tiered rewards program, allowing members to rack up more points than ever and making being a Dunkin' regular even more of a good thing. We can only wait and see.