What Makes Celebrity Seasons Of Worst Cooks So Unique, According To Anne Burrell - Exclusive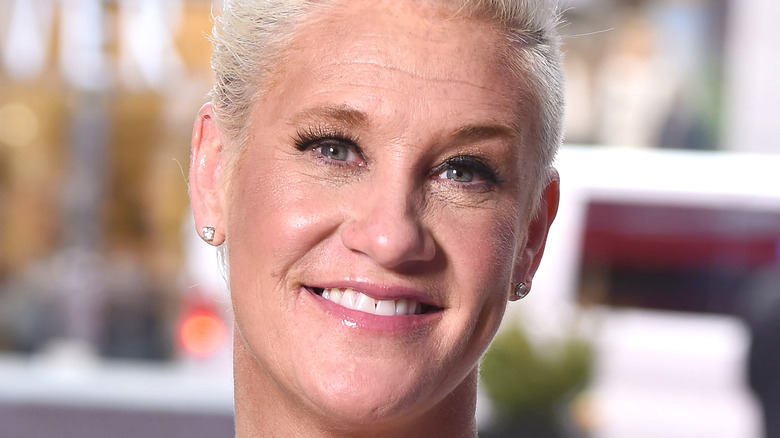 Gary Gershoff/Getty Images
When it comes to "Worst Cooks in America" contestants, everyone — and every dish — is most certainly unique. Whether it's an unexpected kitchen fire or slop on a plate, judge Anne Burrell and watching fans have seen it all. However, there is a different type of excitement when it comes to celebrity seasons. The most recent and currently airing season showcases your favorite '90s sitcom celebrities, from Elisa Donovan in "Clueless" to Jodie Sweetin in "Full House."
This is the 24th season of "Worst Cooks in America" and the seventh celebrity edition. During an exclusive interview with Mashed, Anne Burrell explained why she takes a particular liking to celebrity seasons. The Food Network personality described the process behind finding the absolute worst cooks for the show, as many celebrities actually want to participate and are excited to take part in the competition. Even though the challenges are no easier for celebrities than regular contests — or "civilians" — Burrell explained why those episodes are more fun to film.
Celebrities are used to being experts at their craft
Whether it's singing or acting or anything in between, celebrities are used to being on camera, which can make "Worst Cooks in America" a little more unique. Anne Burrell explained, "I love doing all the seasons, but celebrities bring a little something extra to the party because they're used to being on camera and they're used to being hams and so it brings in so much more energy and rambunctiousness." Burrell continued on to say that she has to tell celebrities to relax more often because they are "used to being masters of their craft." With a show like "Worst Cooks," celebrities are taken way out of their comfort zone — which, in this case, means putting them in the kitchen.
Burrell described celebrity seasons as "hilarious" because it is relatable for viewers who may not know how to cook either. She continued, "It's funny that a lot of them know food fairly well from getting through their travels and being celebrities and all that stuff, but to see what they actually don't know or don't know how to do is really mind blowing. You see that they're very talented in one direction, but very much not in others." That's what fans love so much about the series too — the entertainment of people not knowing their way around food. Audiences can only expect more twists and turns in the "That's So '90s" edition!
Check out the "Worst Cooks in America" website for more kitchen failures. New episodes of "Worst Cooks in America Celebrity Edition: That's So '90s" air Sundays at 9 p.m. ET on Food Network.