The Ingredient Swap That Will Majorly Upgrade Your Canned Chili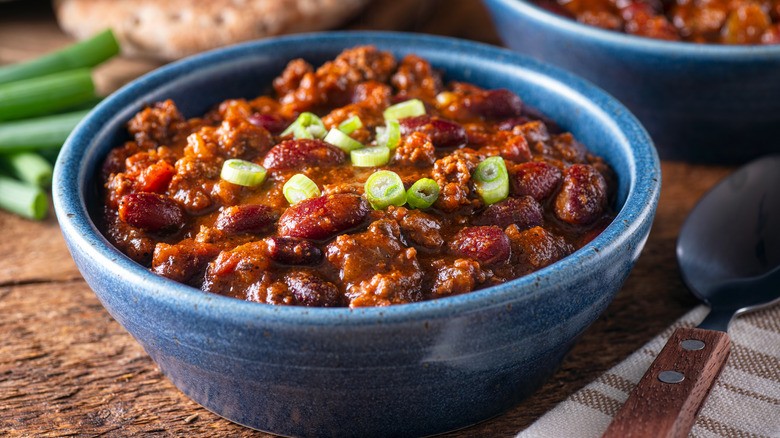 Foodio/Shutterstock
Opened up a can of chili recently? You may be left wondering what exactly those meaty bits are in the bottom of the can. If you look at the ingredients list, though, you may just find a vague "pork" or "beef," which isn't really specific. 
Most canned chili brands aren't quick to divulge what exactly they're using for their beef or pork. In fact, in 2018, Hormel Foods launched a new chili made with 100% Angus beef — which begs the question of what they were using before they released this new chili, with its premium ground beef. Luckily, whether you're turned off by the mystery or just the texture and taste in general, you can easily make a few changes to your chili routine to enjoy the taste of fresh chili without the canned meat and without the hassle of letting homemade chili simmer on the stove all day. All it takes is looking for a particular type of canned chili in the grocery store and a few minutes of sautéing.
Make your own meat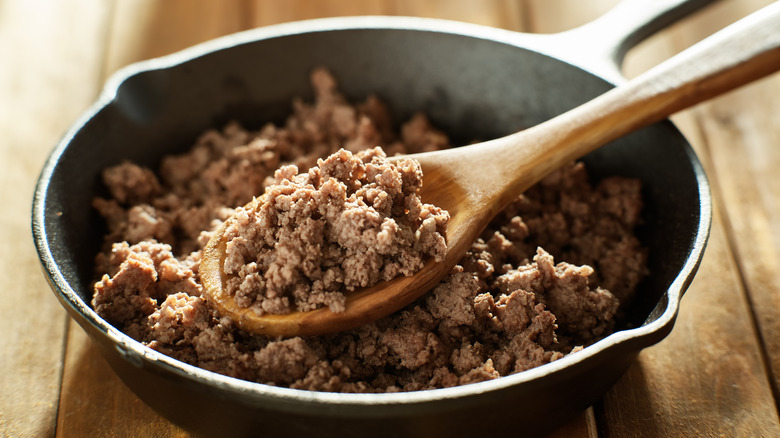 Joshua Resnick/Shutterstock
Instead of settling for canned chili mystery meat, as Josiah Citrin, executive chef and founder of Mélisse Santa Monica and Charcoal Venice, told Greatist, busy home cooks can look for vegetarian chili in the grocery store and then add their own meat at home. Doing so gives you easy chili flavor, without a lot of slow-cooking and simmering on your part, and you can add whatever meat you want, so you actually know what pork or beef part you're eating. You don't even have to stick with pork or beef. If you're adding your own meat to canned chili, you can cook up whatever protein you like, from chicken to lamb to duck.
There are other easy ingredients swaps Citrin suggests to level up your canned chili. Swap out your traditional cheddar cheese for something a little fancier, like cantal, and your sour cream for creme fraiche. He also recommends that, if you opt to buy the canned vegetarian chili and make it your own, look for a low-sodium option. You can always add more salt, but you can't remove it. Even if you start with a can, chili can be upgraded and customized to include some of your favorite flavors and ingredients. And who knows, it may even become a great family recipe to pass down for generations.