The Best Cookware Sets Of 2022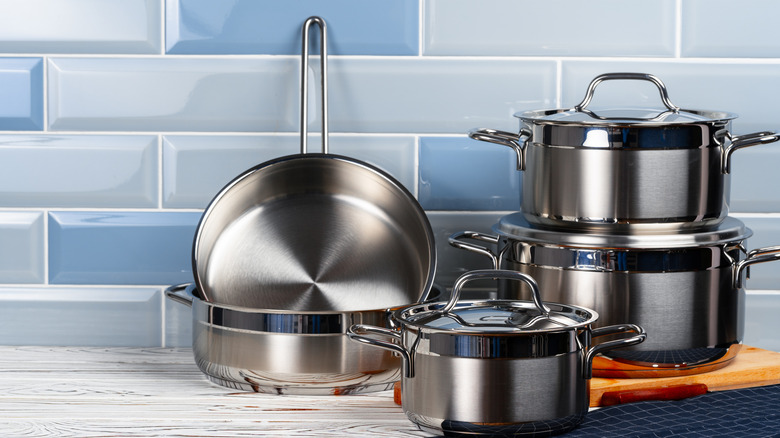 FabrikaSimf/Shutterstock
We may receive a commission on purchases made from links.
As fun as it is to discuss food, it's equally fun -– and important -– to discuss cookware. It would be a disservice to your food to cook it in something unworthy of your recipes, so finding the right equipment is important. There are seemingly endless options for cookware, and it can be incredibly overwhelming to choose what's best, which is why it's so convenient to purchase a cookware set.
However, you then run into the same problem as before. There are seemingly endless options for cookware sets, and it can be incredibly overwhelming to choose. That's why we did the work of choosing for you. We vetted loads of different brands and cookware sets to determine the best ones this year.
Whether you're on a budget or have limitless funds to purchase some new cookware, whether you are purchasing for someone else or just want something for yourself, we have a cookware set selected for you. Keep reading for the best cookware sets of 2022.
How we chose the cookware sets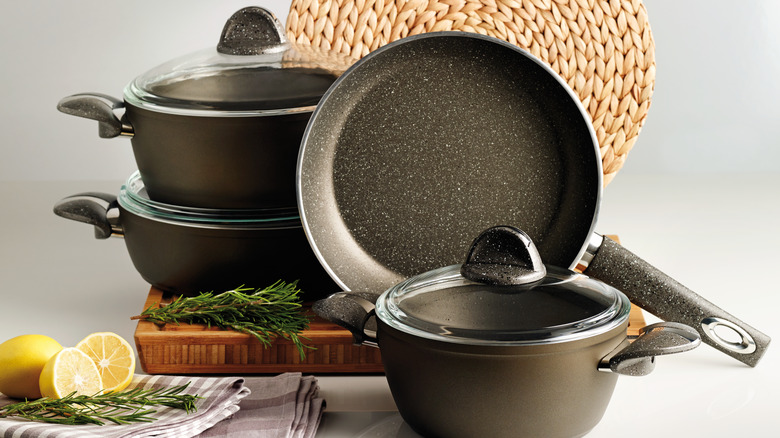 Hellotica/Shutterstock
We'll be honest, it wasn't easy to select the best cookware sets of the year. There are oodles of excellent cookware sets available for purchase, but luckily for you we have chosen the best ones.
To make our selections, we first chose the categories that we wanted cookware sets for –- from price range, to materials, to sets for specific occasions. We then looked at various brands, both ones that we were familiar with and ones we weren't, and carefully examined their product. What is special about it? Is there anything that it lacks? Is one particular cookware set a good choice for a specific reason? Is there anything that really makes it stand out?
We asked all those questions and more, read reviews, and looked at them holistically in the end to determine which category they best fit in. We spent time and energy to ensure these cookware sets are worth your money and a coveted spot in your kitchen cabinets. We know you'll be pleased no matter which set you choose.
Best overall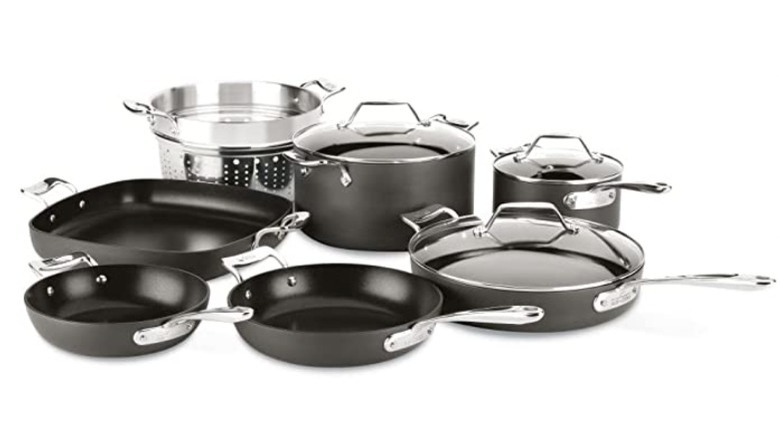 Amazon
All-Clad is a classic brand for a reason. It continually creates second-to-none products that can be used for years to come. The All-Clad Essentials Nonstick Hard Anodized Cookware Set is no exception. This has just about everything you could want in a cookware set. It comes with an array of different sized pots and pans to easily cook an assortment of dishes. Everything is easy to clean thanks to a non-stick layer, and they're easy to store thanks to their nesting design.
These pots and pans are safe to use on gas, electric, and ceramic stoves, and can even be put in the oven. All of All-Clad's products come with a lifetime warranty, so although these have a higher price, they are quite likely the only cookware you will need for your entire life.
The Kitchn is fond of this set, too, noting its ease of use and value, while Kitchen Gear Zone praises it for its durability and heat conduction. For some reason, food just tastes better when you cook it in a nice piece of equipment. And if you're going by that standard, food will taste best in All-Clad.
As of May 2022, you can buy All-Clad Essentials Nonstick Hard Anodized Cookware Set on Amazon for $399.95.
Best splurge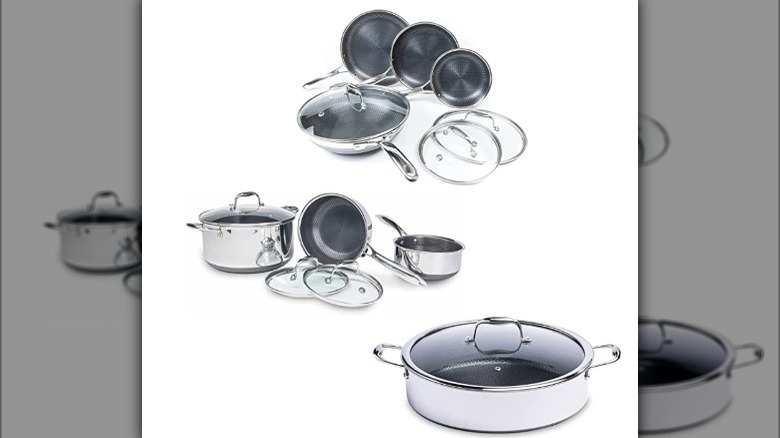 Amazon
If you thought the All-Clad cookware set is expensive, your jaw might drop at the price of the HexClad 7-Piece Cookware Set with Lids and Wok. This seven-piece cookware set comes with a hefty price tag -– almost $1,000 -– but it's worth it. As Prudent Reviews says, you'll love the design and versatility of these pieces. You might just forget how much they cost after using them a couple of times! 
The stainless steel equipment is non-stick, safe for the oven, and can be used on both induction and gas stoves. It's dishwasher safe, and even though it is non-stick, you can use metal utensils with the pots and pans. And we know you're not going to want to spend a fortune replacing all of your utensils after you've bought this cookware.
The cookware comes with lids that fit multiple pieces in the set, and, like All-Clad, these are pieces you will have for your entire life. Although you are spending a lot to purchase it, you only have to make that purchase once in your lifetime. And as USA Today points out, you can cook just about anything in these pots and pans and know that you are using high-quality pieces of equipment. 
Visit Amazon to purchase the HexClad for $899.
Best affordable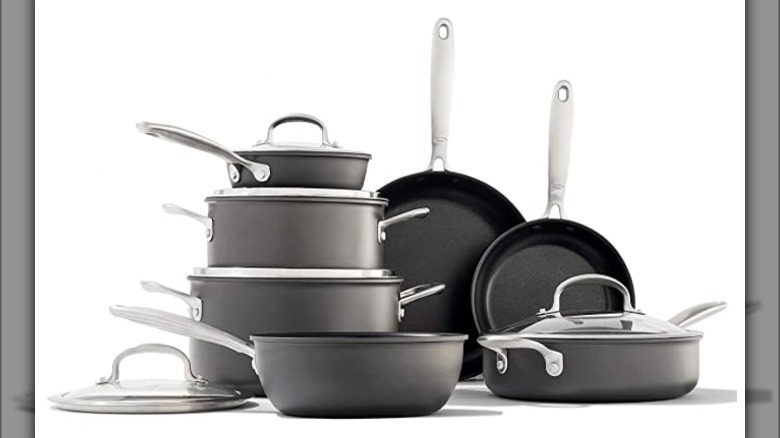 Amazon
Although most of us would like to purchase the HexClad set, the price makes it out of the question. However, there are many really good cookware sets for a really good price. The best of those is the OXO Good Grips Pro Hard Anodized PFOA-Free Nonstick 12 Piece Cookware Pots and Pans Set.
This cookware set features 12 separate pieces including sauce pans, frying pans, a sauté pan, and pots, all coming with lids. OXO is very cognizant of its design and creates pieces that help you cook better. The non-stick coating allows you to use less oil, the walls of the pots and pans are angled to decrease evaporation time, and their rounded bottoms are great for pouring.
Users are pleased with this set, too. One reviewer was particularly pleased that it's actually as non-stick as it claims to be, while another praised it for its even heating. Unfortunately, these are not compatible with an induction cooktop, but aside from that, they have about every feature you could want in a cookware set, and, again, for a great price.
To purchase the OXO set for $299.99, visit Amazon.
Best variety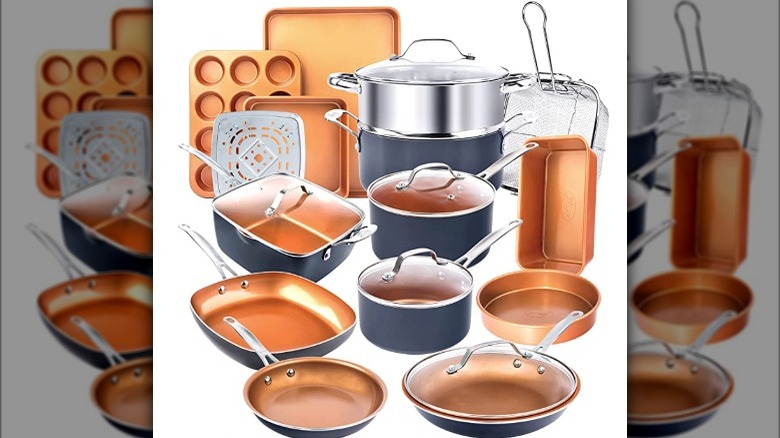 Amazon
No cookware set is the same, and Gotham Steel proves that by offering a wide selection of cookware and bakeware. The brand's Gotham Steel 20 Piece Pots & Pans Set Complete Kitchen Cookware + Bakeware Set includes just about everything you could need in your kitchen.
It has pots and pans, as well as a muffin tin, a cookie sheet, a fryer basket, and other baking pans. This is the perfect cookware set to buy if you are starting from scratch or you just want to upgrade every single one of your cookware pieces. And considering how many pieces you get, it comes at an unbelievable price. Buying each of these individually would far exceed what you'll pay to get all of them in one purchase.
The Gotham Steel set is dishwasher safe, oven safe, and built to last. And, as a reviewer points out, it's non-stick and eliminates the need for other brands. It comes in a lovely copper color that will never go out of style, and they heat fast, as one user shared, saving you time in the kitchen.
At the time of this writing, the Gotham Steel set is available on Amazon starting at $200.
Best easy to clean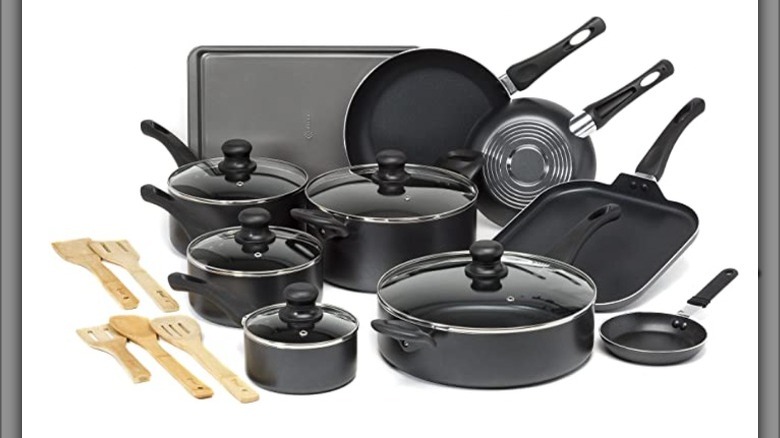 Amazon
None of us want to spend our time scrubbing away at burnt pans, especially after we've just cooked a lovely meal. And although some of us are able to coax our family members into cleaning up after we've cooked, others are not so lucky and have to do it all ourselves.
We want something that is easy to clean, and the Ecolution Easy Clean Non-Stick Cookware set is just that. This set has a lovely non-stick coating on all of its pots and pans, and everything is dishwasher safe. OverReview also gave this set high stars for its ease of cleaning, and noted that it's durable, as well.  
Now, do keep in mind that most non-stick pots and pans wear out over time if you put them in the dishwasher too often, so consider washing by hand more often than not to get the most out of your pots and pans. But also note that Ecolution's cookware is easy enough to clean with soap and water by hand that you likely won't even feel the need to use the dishwasher. One reviewer cleaned their pan with just a paper towel. How's that for easy cleaning?
The Ecolution set is available on Amazon for $99.99.
Best stainless steel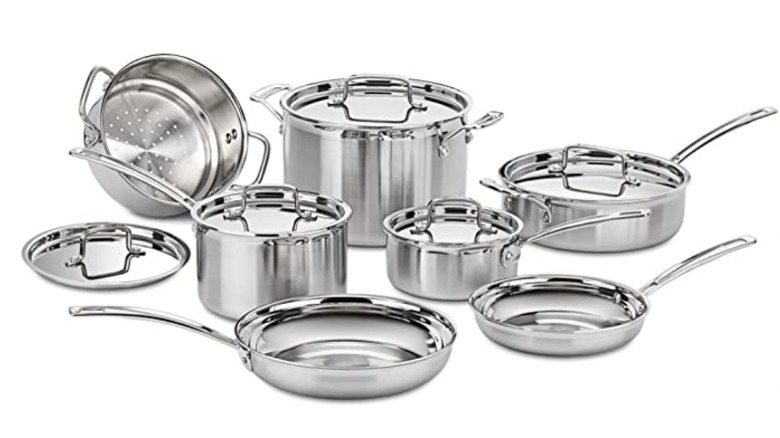 Amazon
Stainless steel is a coveted material in cookware. It makes for long-lasting pieces that are durable and safe. Stainless steel is also great to cook and bake with because it retains heat well and cooks your food evenly. The Cuisinart MCP-12N MultiClad Pro Triple Ply 12-Piece Cookware Set makes great use of the material.
In the set comes pots and pans in different sizes, and a steamer. You'll have a collection of options to pick from and be able to make loads of delicious recipes, which is the end goal with all cookware sets. The set is oven safe and can be used on induction cooktops, plus it's easy to clean and lasts for years. Stone Frying Pans tell readers of its affordability and quality for the price, and one very comprehensive reviewer loves this set for its non-stick property. 
Cuisinart has been making top-notch products for decades now, and you will certainly see their ingenuity and dedication to craftsmanship in this stainless steel cookware set. And though stainless steel already cooks food evenly, Cuisinart designed this one with MultiClad, which is an even better option for even cooking.
You can purchase Cuisinart's MultiClad Pro Triple Ply 12-Piece Cookware Set on Amazon for $229.
Best ceramic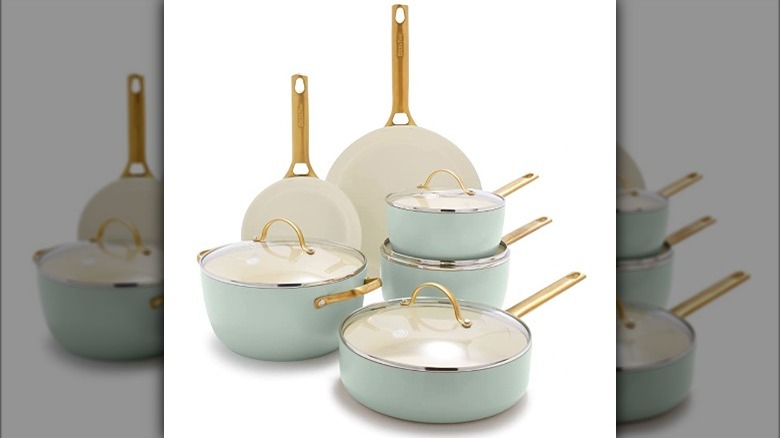 Amazon
If stainless steel isn't your jam, perhaps you prefer ceramic cookware. We get it. Ceramic is another great material for cookware as it also conducts heat easily and is easy to clean. Not only that, but ceramic is great for switching from cooktop to oven, which only increases the number of recipes you are able to make.
The GreenPan Reserve Hard Anodized Healthy Ceramic Nonstick 10-Piece Cookware Pots and Pans Set offers lovely pots and pans that feature everything you love from ceramic cookware. These are durable and safe in the oven for up to 600°F, which is quite high (so high that you may not ever need to have your oven that hot). And although they are hand wash only, Amazon users have raved about how they're easy to clean.
Another thing to love about ceramic? It's beautiful, and GreenPan's set is no exception. The pots and pans are lovely to look at and come in multiple colors so you can choose one that fits your aesthetic. And like one reviewer points out, these pots and pans will stay looking good. Unfortunately you don't get that many pieces for your money (the 10 pieces includes 4 lids), but what you do get works well and you'll love it.
You can buy the GreenPan set on Amazon for $399.99.
Best cast iron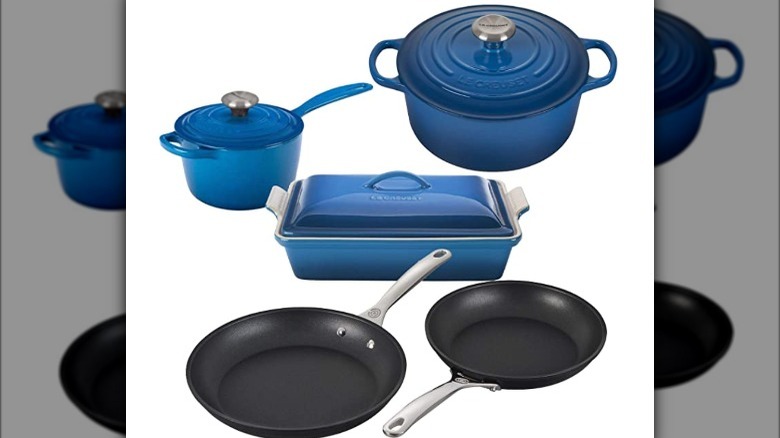 Amazon
For anyone interested in making an awesome one-pot meal, use cast iron. Cast iron can be used on the stovetop or in the oven, and it heats up remarkably well.
The Le Creuset 8 Piece Multi-Purpose Enameled Cast Iron with SS Knobs, Stoneware, and Toughened Nonstick PRO Fry Pan Complete Cookware Set is a beautiful cast iron set. Although it is pricey, Le Creuset is known for creating products of unmatched excellence, and this set will last forever and elevate all of your dishes.
Note that cast iron gets hot everywhere, and when using these pots and pans, you're going to need some sort of hot pad. Though that may be a downside, this set is made with a non-stick coating that is safe to use with metals. Like most other brands, Le Creuset counts its lids as pieces, so you only get five actual pots and pans here, but when you have a set as well-made as this one, you don't need much else. Though users on Amazon haven't much specific feedback, they have given it high marks. 
You can purchase this lovely cookware set on Amazon for $749.95.
Best storage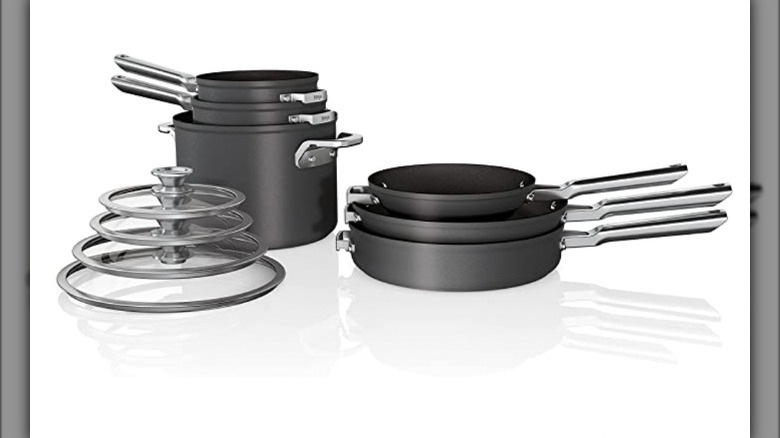 Amazon
Having a large number of pots and pans is all well and good until it comes to storing them. Now, if you've mastered the art of storing your equipment, please let us know. We, and likely millions of other people, are curious as to how you mastered such a feat. But if you are like the rest of us and struggle with storage, turn to Ninja.
The Ninja C59500 Foodi NeverStick Premium 10-Piece Cookware Set is remarkably easy to store thanks to its lovely nesting design. Though other brands have created cookware sets to nest as well, Ninja did so with lots of care and attention. So much so that even the lids nest. And as Food Network notes, it offers every pot and pan you need. 
The Ninja cookware is not only amazing to store, but it's also lauded for its ease of cleaning and its use in the kitchen. It's durable and heats evenly. And thanks to the versatility of the set, you'll have about all you need for cooking. Ninja even made it scratch-resistant, so you don't need to worry about nicking the sides of the pots and pans when nesting.
As of May 2022, you can buy the Ninja set on Amazon for $329.99.
Best non-stick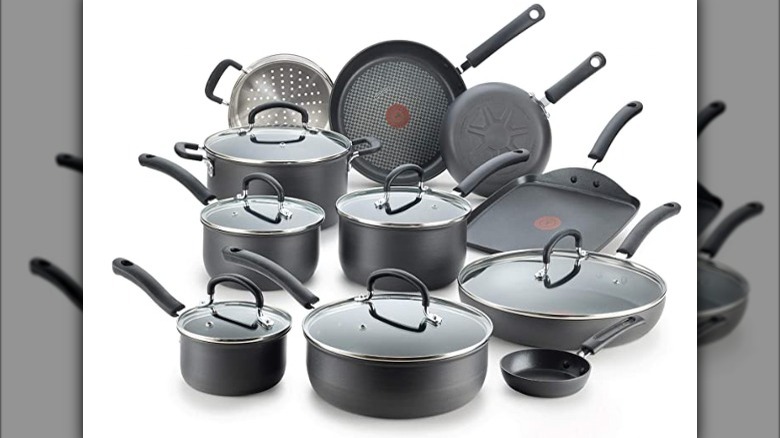 Amazon
Lots of brands advertise non-stick cookware, but very few actually achieve it. If non-stick is really what you are after, look to T-Fal. You get a lot of bang for your buck with the T-fal Ultimate Hard Anodized Nonstick 17-Piece Cookware Set.
Not only is this set non-stick, but it also comes with several different pieces of equipment. Included are multiple frying pans with lids, multiple saucepans with lids, a steamer, an egg pan, griddle, and a dutch oven. If your main concern is buying something non-stick, you won't need to purchase any other cookware, which Cookware Diary echos.
And we get why you want a non-stick pan. It allows you to use less cooking oil and butter, decreases food waste, and makes cleaning a lot easier. T-fal paid attention to all of those desires in this cookware set, and you will love it for its versatility and ease of use, and as Think Cook points out, its durability. Plus, you're going to get some really great meals out of it.
This set can be purchased on Amazon for $264.78.
Best as a gift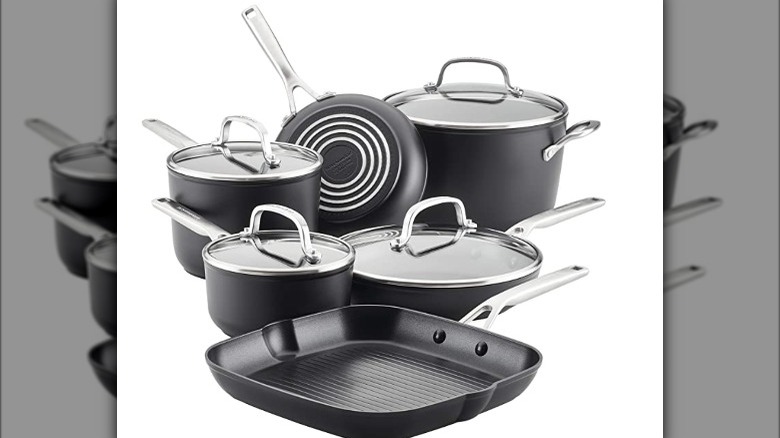 Amazon
Have you ever looked at a gift registry and seen cookware that made you want to scream? Or has someone suggested that they want cookware as a gift and you haven't known where to begin? That's where KitchenAid comes in. KitchenAid has been an excellent brand for years and years, and the KitchenAid Hard Anodized Induction Nonstick Cookware Pots and Pans Set is no exception.
This set is the perfect gift because it's quality, non-stick, easy to clean, and can go in the oven. It's durable and heats things consistently throughout, and it has a variety of pieces so you can cook just about anything. And like one reviewer points out, it works on induction cooktops, so you don't have to worry it might be incompatible with someone's kitchen when you're buying it as a gift. 
When you're giving a gift, you want something that's quality, long-lasting, and does the job. And that's exactly what you get with KitchenAid, as one longtime user noted. With a grill pan, frying pan, two saucepans, and a stockpot, this is the perfect gift for someone who is new to cooking or needs a brand new set of cookware. It's a great introduction to the KitchenAid brand, and will ensure that your favor is returned with a tasty meal or two.
Get the KitchenAid set on Amazon for $259.99.
Best with accessories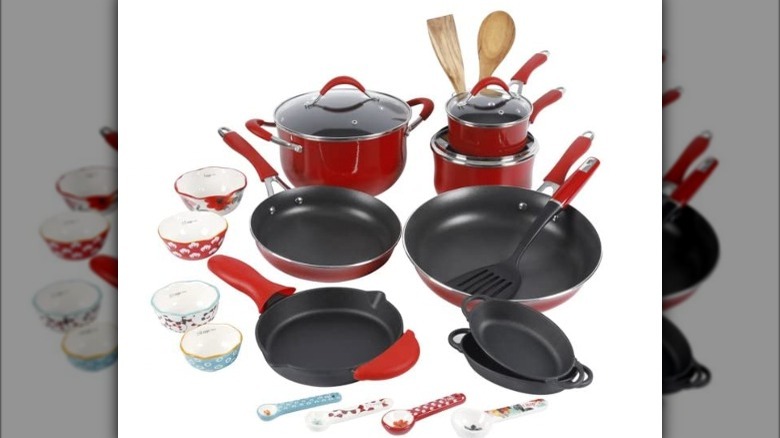 Amazon
Most cookware sets just include pots and pans, but there are some that include accessories, and The Pioneer Woman Vintage Speckle 24-Piece Cookware Combo Set is perfect for anyone who wants all the extra items.
We've seen Ree Drummond cook on television and she knows her way around the kitchen. We can trust that this is an all-inclusive cookware set will give you the equipment and utensils you need to make any of her delicious recipes. We can't guarantee that the food will taste as good as when she makes it, but at least you'll have the tools. And you really will have all the tools, as Cookware Insider confirms. 
The accessories she includes are an acacia wood spatula and spoon, measuring spoons, and cups. This cookware set is also friendly for those who are short on time (which we assume you are if you're buying cookware with utensils included), as the cast iron comes pre-seasoned, so you don't have to do that yourself. Drummond thought of everything for this cookware set. You'll love using it, and, as one user stated, it'll look good in your home. 
You can purchase this on Amazon starting at $154.90.
Best for induction stoves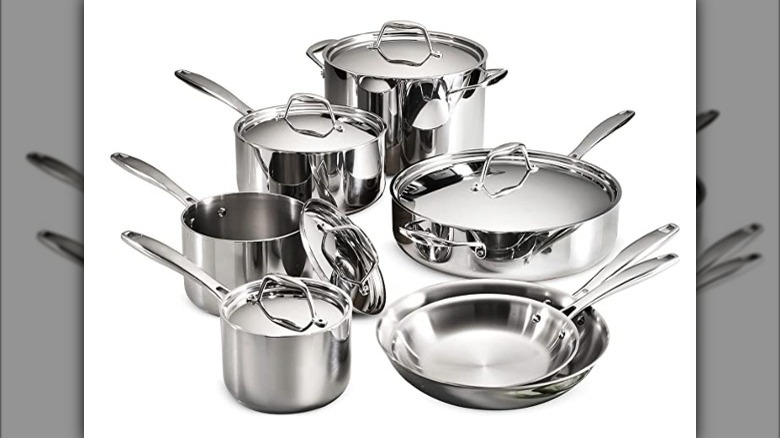 Amazon
If you have an induction cooktop, you already know that you can't use every single piece of equipment on the market. And it can sometimes be challenging to find cookware that is compatible with an induction cooktop. It's even more challenging to find something of quality, but Tramontina makes a wonderful cookware set with several pieces that will work great on your induction top.
With the Tramontina Gourmet Stainless Steel Induction-Ready Tri-Ply Clad 12-Piece Cookware Set, you get frying pans and saucepans of all sizes, and a large stockpot. With this set, there's nothing you can't make. As The Rational Kitchen points out, this set works wonderfully thanks to cladding, and to top it off, it's stainless steel, beautiful, and very durable.
The Tramontina set is expensive, but remember that cookware is an investment, especially when you have an induction cooktop and can't always find quality cookware to use. Tramontina believes in their products, though, and they offer a lifetime warranty, so if anything were to happen, you can sleep at night knowing you don't have to pay extra to have a piece replaced. And as one reviewer said, it'll be the cookware you grab no matter what you're making. 
The Tramontina set is available on Amazon for $610.
Best for camping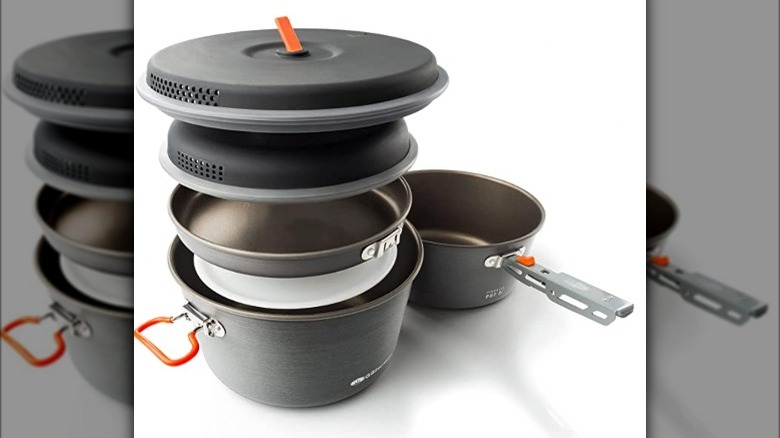 Amazon
Camping lovers rejoice. GSI has made cookware specifically for the outdoors. If you intend to cook outside at all this summer, the GSI Outdoors – Pinnacle Base Camper, Camping Cook Set is what you need.
There are a variety of important features needed in a cookware set when cooking outdoors that GSI has included here. For one, it's very durable. You never know what's going to happen when outside, or when you're transporting things, but these can withstand movement and a change of environment. You also want something that is easy to clean and easy to store, and this cookware is both of those things.
GSI's cookware is non-stick and scratch-resistant, and it comes with a custom storage bin that you can safely keep your cookware in. It's also built with moveable handles on some pieces, as well as removable handles on others to make for easy transportation and storage. SectionHiker praises it for all its pieces, and another reviewer loves that it's so lightweight. Basically, it's the ultimate cookware set for a camper.
At the time of this writing, you can purchase this GSI Outdoors Camping Cook Set for $119.95 on Amazon.