Push Pop's Gummy Pop-Its Offer A New Eating Experience
As a kid, there was something utterly incredible about Push Pop candy. It's a lollipop that you can save for later. Unlike your average lollipop on a stick that you had to rewrap in its wrapper and leave anywhere from the sunbaked backseat of your mom's car or turning the pocket of your jeans into a sticky, candy-stained mess, the Push Pop has its own cap that you could push down over the candy stick so that it kept it both mess-free and fresh. Out of all the retro candies we miss, Push Pops stood out as a wild and bold innovation. 
Now, Push Pops will be available in a new gummy variety. According to a press release, Bazooka Candy Brands unveiled a new take on the candy at this year's Sweet and Snacks Expo in Chicago. The Push Pop Gummy Pop-its are drop-shaped gummies that come in four flavors: Strawberry, Berry Blast, Watermelon, and Blue Raspberry. The announcement heralds the product as "a really unique and fun new eating experience,"  and that isn't just a fancy buzzword. Bazooka Candy wants your candy to be interactive — at least more than what you would expect from eating gummies.
The container is designed to be interactive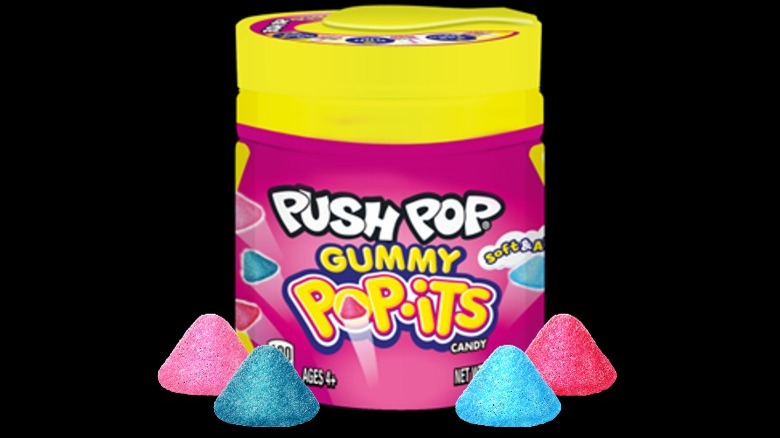 Bazooka
The press release shared that the container for the new Push Pop Gummy Pop-its will be interactive. Does this mean you have to work this thing like a Rubix cube just to get a handful of candy? Fortunately, you won't have to put a lot of effort into getting your candy. According to Bazooka, the method of getting a treat from the container is to open the lid, lift it up, and then push it back down again to release a single piece, which will pop up from the package. While Bazooka seems to be optimistic about this new "hands-on" approach to candy, they aren't the first to try and tie together interactivity with sugary snacks. 
In New York City, for example, there's a place called Candytopia, which combines an interactive art exhibit with candy. A few exhibits include a swimming pool filled with giant marshmallows, candy recreations of famous portraits such as the Mona Lisa and Rodin's The Thinker, and jelly bean sculptures of the Statue of Liberty. Alongside viewing these exhibits, guests are also treated to plenty of free sweets as they tour, such as chocolates, gummy worms, and Tootsie Pops as they journey through the Willy Wonka-esque funhouse. While gummies may not be as impressive as a giant Mona Lisa made of candy, Push Pop fans will hopefully be excited to try the new offering.