Why Emma Chamberlain Just Teamed Up With A Coffee Creamer Company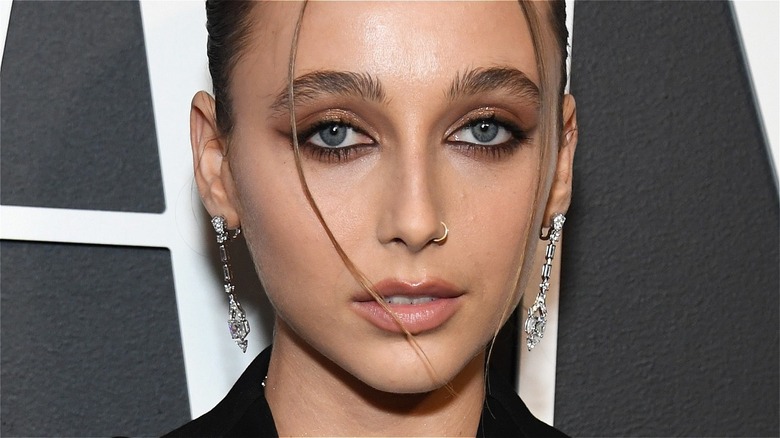 Though Emma Chamberlain's rise to fame may have been through her YouTube channel, her coffee business, Chamberlain Coffee has certainly seen success in recent years. Founded in 2019 (via PR Newswire), Chamberlain Coffee has grown from the influencer's "passion project" to a company with 485,000 followers on Instagram. The social media star's brand has even become available on the on-demand delivery service app, Gopuff.
However, going back to Chamberlain Coffee's early days, Chamberlain noted that she had a very particular way of preparing her signature cold brew. In a YouTube video published in December 2019, Chamberlain showed her audience how she used her then-newly launched product. After pouring her steeped cold brew into a mason jar, the influencer then added some almond milk from Califia Farms and some nutpods creamer to the mix.
After combining all three liquids, Chamberlain tasted the beverage and gave it a chef's kiss, saying, "It's so good." So now, over two years later, things have seemingly come full circle as Chamberlain has teamed up with nutpods for a branded collaboration, per a press release received by Mashed.
Chamberlain has always been a nutpods fan
Emma Chamberlain was an avid consumer of nutpods prior to this new partnership. Previously, she's told The Strategist that she discovered the brand's products through her mom, who wanted a creamer with no sugar. She also noted that they had found the company, which hit stores in May 2015, back when it was younger and smaller (via the nutpods website). Now, the brand can be found in over 15,000 stores in the U.S., including Whole Foods. The company recently expanded to making Barista oat milk in March 2022 (via 425 Magazine), but has multiple flavors of its dairy-free coffee creamer, from Toasted Marshmallow to French Vanilla.
So what exactly does the Chamberlain Coffee-nutpods crossover entail? On June 9, the Chamberlain Coffee Collection will be released with the unsweetened French Vanilla, unsweetened Caramel, and sweetened Sweet Crème flavors. This bundle will be available on www.nutpods.com and Amazon "while supplies last" and will go for $14.95, according to a press release shared with Mashed. Given her previous enjoyment nutpods creamer, one might suspect that this collaboration marks a special milestone for Chamberlain's coffee company. Moreover, the press release notes that it "spotlights two women-owned companies."