The Best Cronut® Combos According To Creator Dominique Ansel - Exclusive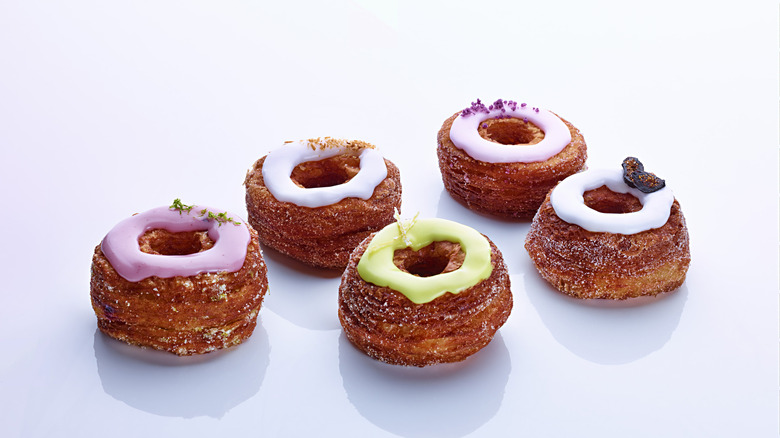 Thomas Schauer
When it comes to favorite food combinations, the Cronut® is king. The donut and croissant mashup began as a Mother's Day experiment in 2013, but creator Dominique Ansel is still creating new flavors to keep yesteryear's trendiest food alive and well. With the innovative idea to never repeat flavors, Ansel keeps fans of the Cronut® coming back for more, tempting them to try every new iteration that the pastry chef and his team can cook up.
However, it's not just flavor combinations that customers can enjoy when it comes to the Cronut®. The great thing about pastries is their versatility. So whether fans are grabbing one on-the-go for breakfast or buying the one for a "treat yourself" moment, there's an infinite number of ways to enjoy the delicacy — including drinks and other foods people can pair alongside their Cronut®.
During an exclusive interview with Mashed to promote his partnership with City Harvest, Dominique Ansel dished on the best Cronut® pairings, how he comes up with new flavors, and also revealed how it all began.
The best drink to pair with your Cronut®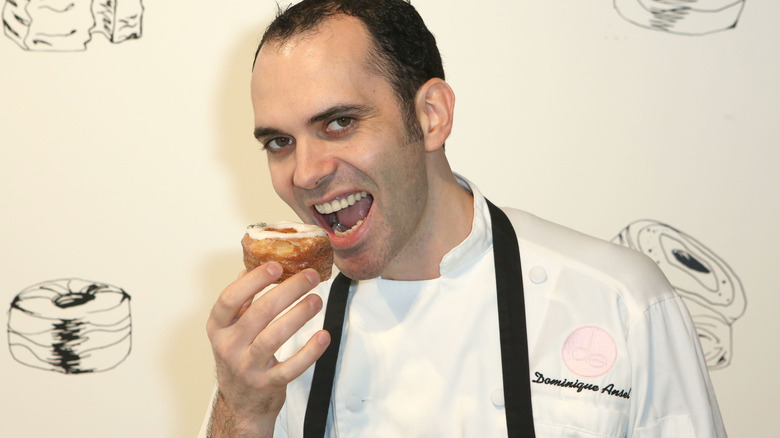 Ari Perilstein/Getty Images
On Ansel's favorite choice for a drink pairing with a Cronut®, he said, "We don't sell any at the bakery, but I'll go with champagne. It's really good with the Cronut®. Otherwise, [a] nice coffee or tea. It's more like breakfast tea items for me [in the] morning, but I know a lot of people like [to] eat it with champagne, and it goes very well."
When it comes to creating new flavors, the pastry chef is also a wizard. Ansel said that there haven't been flavors he wanted to try that haven't worked out. However, he shared, "There [are] always things that are a little bit more exotic. Sometimes, [we] add spices." While he likes to keep things spicy (both figuratively and literally), Ansel wants to make sure he caters to everyone and not just his own palate. "There are things that I like [that] I know most people might not like, but sometimes we put a little [of] flavors like herbs and basil and tarragon, which is a little bit more unique for sweets. Usually, we try to make it so [that] everyone is pleased with the flavor, so [it's] still exotic, still unique, still pushing the boundaries, but not too crazy either."
The creation of the Cronut® and how Ansel keeps it fresh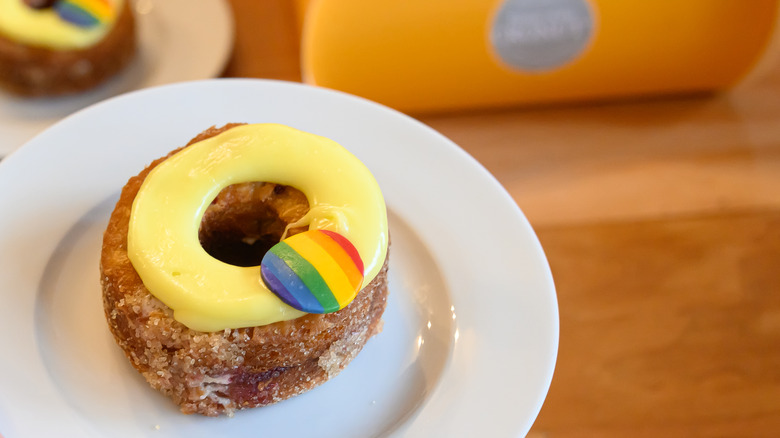 Noam Galai/Getty Images
Ansel walked Mashed through the creation of his masterpiece and how he decides on new flavor combinations nearly a decade later. "I created the Cronut® back in 2013, and at the time, it was just another creation for the weekend. It was actually prepared for Mother's Day. That's why the flavor was vanilla and rose. It was a simple addition to the menu," he explained. "I worked on it for quite some time, because I like the fun interactive perspective [of] the creation, but it was good. I had no idea it was going to go viral and take us all to a different place. Looking back, [it was] a beautiful creation [that] definitely opened doors to so many things."
The pastry chef's approach to keeping customers excited even today is all about innovation. "When it comes to new flavors, we never ever repeat the same flavor, not even once or on the wall. We have created over 100 flavors in New York City and 200 all across the world, from all [bakery] openings," he added. "The flavors [are] always based on local culture. [The] ingredients can be spices, tea, [or] coffee. It can be a lot of different integrations of it." 
To support Domique Ansel's work to help combat food insecurity for children who no longer have access to school lunch programs over the summer, you can make donations to City Harvest's Share Lunch Fight Hunger campaign here.