Roasted Broccolini Recipe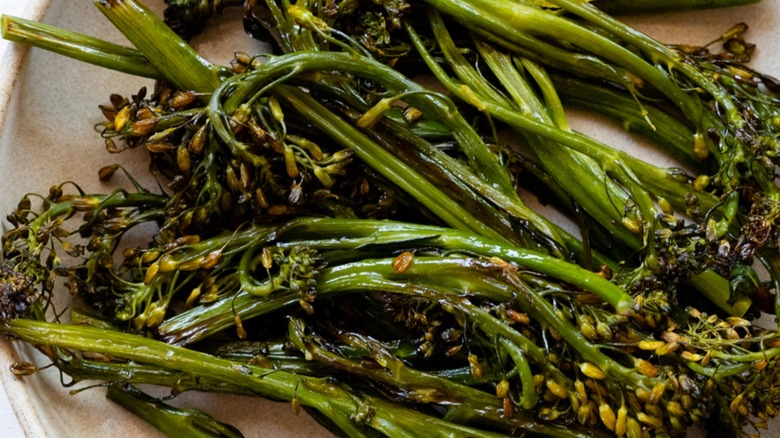 Sher Castellano/Mashed
Broccolini is a vegetable with a name that confuses many people. Some refer to it as "baby broccoli," and it's often thought to be a smaller, thinner version of this vegetable. This is not the case, though broccoli and broccolini are related. Confusingly, broccoli rabe is not a member of this family; despite a similar name, it's actually more closely related to turnips.
Of these three "B" veggies, broccolini tends to be the least bitter, which is why recipe developer Sher Castellano says it's her favorite. As she tells us, "I love the 'classic but slightly sweeter than broccoli' taste and the loosely packed florets."
As to the cooking method, Castellano is a huge proponent of roasting any veggie, but notes that "broccolini is more delicate than broccoli, so it takes less time to crisp in the oven." That speedy cooking time is part of why Castellano calls this "a simple, easy recipe."
Gather the 3 ingredients needed for roasted broccolini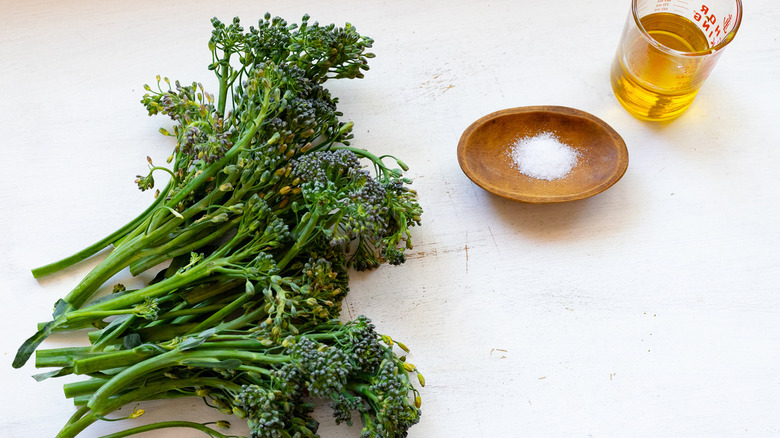 Sher Castellano/Mashed
The main ingredient for this recipe is the broccolini, of course. You will also be coating it with olive oil to facilitate the cooking and adding just some salt to season the veggie. If you'd like a little more flavor, you can also squirt the broccolini with some fresh lemon juice once it's done cooking.
Prepare the broccolini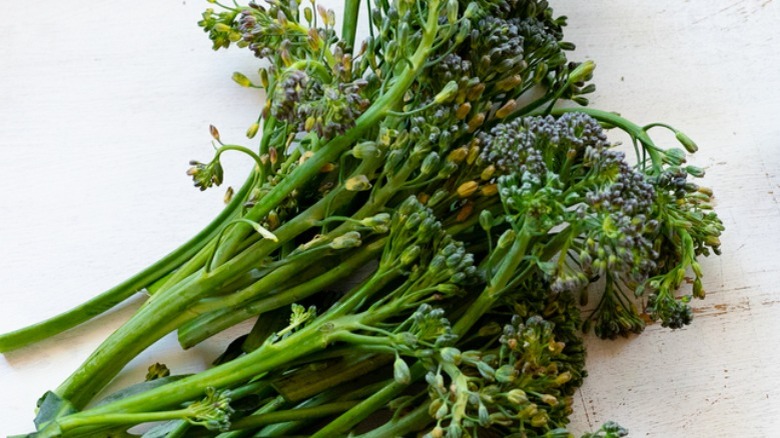 Sher Castellano/Mashed
Preheat the oven to 425 F, and as it heats, wash the broccolini. Then trim the pieces so they are all fairly similar in size. This will allow the stalks to cook more evenly, Castellano says.
Season the broccolini
Sher Castellano/Mashed
Spread the broccolini over a baking sheet and drizzle it with the oil. Sprinkle on the salt, then use your hands to gently massage the broccolini, coating it with the 2 other ingredients.
Roast the broccolini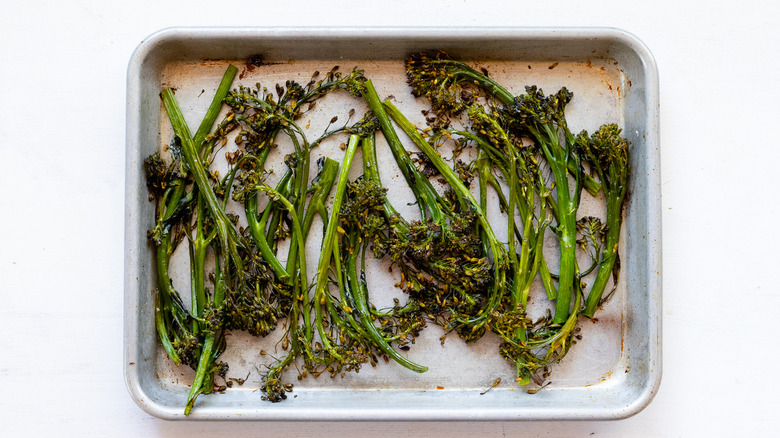 Sher Castellano/Mashed
Cook the broccolini for 15 minutes, after which time Castellano says it should be lightly browned in spots while still bright green in others. She does caution, however, that "overcooking will cause [the] broccolini to be soggy, like asparagus." We don't want that.
The broccolini can be served with a squeeze of lemon, if you like. Should there be leftovers, Castellano shares that you can keep them in the fridge for 2 days before the flavor and texture start to suffer.
Roasted Broccolini Recipe
It takes just three ingredients and 20 minutes to make this simple broccolini side dish, making it a great choice to add to you weeknight dinner rotation.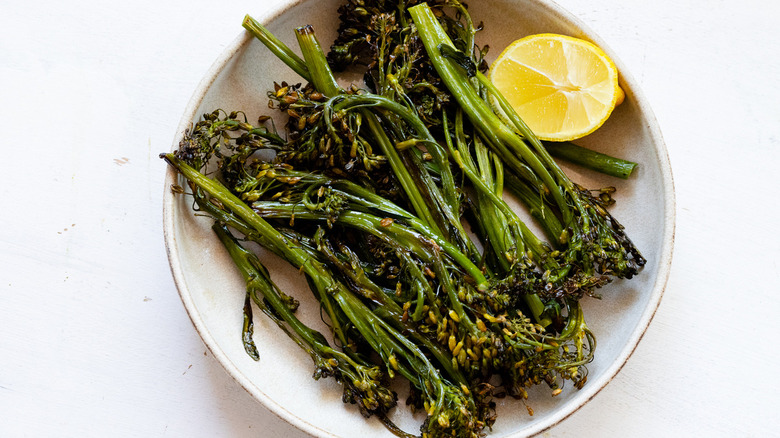 Ingredients
½ pound broccolini
1 tablespoon olive oil
¼ fine sea salt
Optional Ingredients
Directions
Preheat the oven to 425 F.
Wash the broccolini and trim the pieces to a fairly uniform size.
Spread the broccolini on a baking sheet. Drizzle with olive oil and sprinkle with salt.
Use your hands to massage in the salt and oil.
Roast the broccolini for 15 minutes, or until bright green in some spots and lightly browned in others.
Serve the broccolini with a squeeze of lemon, if desired.
Nutrition
| | |
| --- | --- |
| Calories per Serving | 49 |
| Total Fat | 3.6 g |
| Saturated Fat | 0.5 g |
| Trans Fat | 0.0 |
| Cholesterol | 0.0 mg |
| | |
| --- | --- |
| Total Carbohydrates | 3.8 g |
| Dietary Fiber | 1.5 g |
| Total Sugars | 1.0 g |
| Sodium | 139.7 mg |
| Protein | 1.6 g |