Pepsi CMO Todd Kaplan Explains Pepsi's Latest Creation, Pepsi-Roni - Exclusive Interview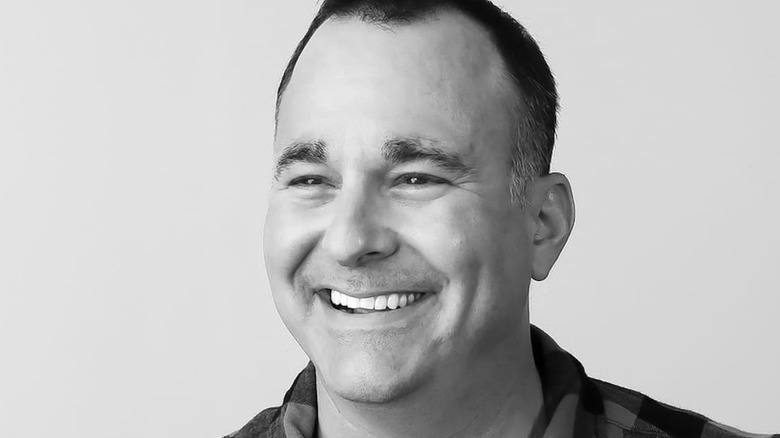 Pepsi CMO Todd Kaplan sat down with Mashed to discuss the latest phase of the company's #BetterWithPepsi marketing campaign: Pepsi-Roni. After running ads to convince consumers that burgers go better with Pepsi, the brand has set its sights on pizza. 
Pepsi already has a head start in this arena: According to Kaplan, most U.S. pizza chains serve Pepsi-branded soft drinks. This time, in addition to emphasizing how delicious pizza tastes when washed down with Pepsi, the brand is taking it a step further by making pizzas with Pepsi in them. Specifically, the Pepsi is incorporated into Pepsi-Roni, which — as you might be able to guess — is pepperoni infused with Pepsi, made in collaboration with the Culinary Institute of America. The pork for this soda sausage is blended with a reduction of Pepsi Zero Sugar, smoked, then sliced and lacquered with a Pepsi glaze.
Pepsi-Roni debuted at an event in New York City on May 20, and it will soon make appearances in other cities around the U.S. We talked with Kaplan about the process of creating the Pepsi-Roni, what it tastes like, how to get it, and why Pepsi and pizza have a special relationship.
Why Pepsi and pizza are a match made in heaven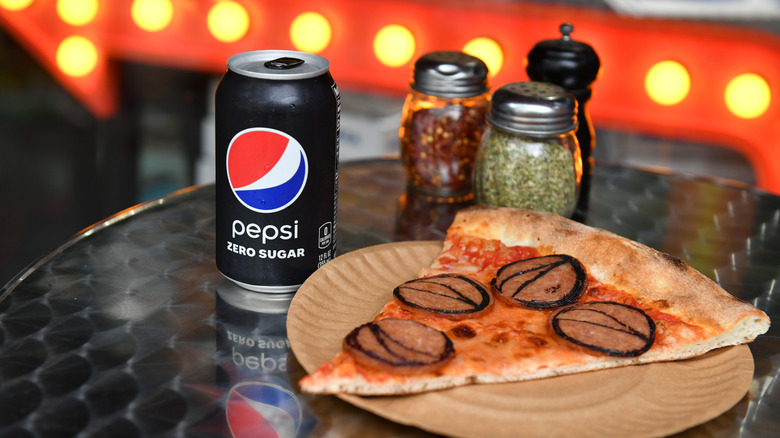 Craig Barritt/Getty Images
What is it about Pepsi that makes it the preferred soft drink for pizza parlors?
There is a lot that goes into why pizza goes #BetterWithPepsi. From the food science perspective, Pepsi provides a bite of acidity that's the perfect complement to the tomato sauce and cheese — two main ingredients of pizza. Additionally, the carbonation of the Pepsi helps break down the grease, while the traditional Italian spices used in the sauce complement the citrusy pop that can only be found in a Pepsi. It's no surprise that the perfect pairing is served at over 70% of national pizza locations across the country.
Why does Pepsi make certain foods taste better?
Overall, the signature flavor and bright citrus blend of Pepsi cuts the fat in foods like hamburgers and pizza, giving them a delicious taste. It's like how adding a touch of citrus in cooking can heighten the flavor. Pepsi is a no-brainer to pair with foods like pizza and burgers.
Todd Kaplan explains the best kind of pizza for complementing Pepsi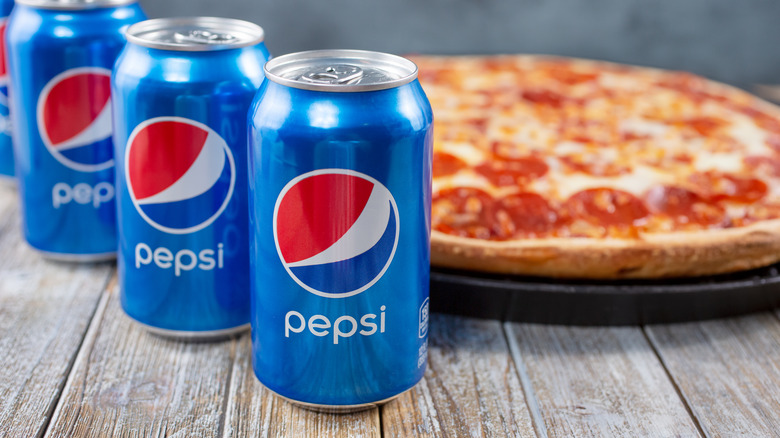 The Image Party/Shutterstock
What kind of pizza do you think perfectly complements Pepsi?
Pepperoni pizza and Pepsi are the ultimate pairing. From the food science angle, Pepsi provides a bite of acidity that's the perfect complement to the tomato sauce and cheese. When you think about eating pizza, the carbonation of the Pepsi helps to break down the grease, while the traditional Italian spices used in the sauce complement the citrusy pop that can only be found within a Pepsi. When adding the pepperoni to the pizza, it blends more of those Italian spices and brings out all the flavor profiles even more.
Do you have any opinion on the New York versus Chicago pizza debate?
That's a great question. It's funny; I've lived in both cities, and I'm from California. You can say, "Does the California pizza even count?" And there's Detroit pizza. There are so many different ways people enjoy pizza, which is also so fun — whether they like Hawaiian pizza [or] sausage pizza, it still goes well with a Pepsi. The foundation of the cheese, the sauce, the meats, the oil, how it all comes together ... It really works well with the formulation of the Pepsi. I like it all. Pizza is one of those things [where] I've never met a slice of pizza I haven't liked. I'm sure a lot of people feel that way.
The history of Pepsi and pizza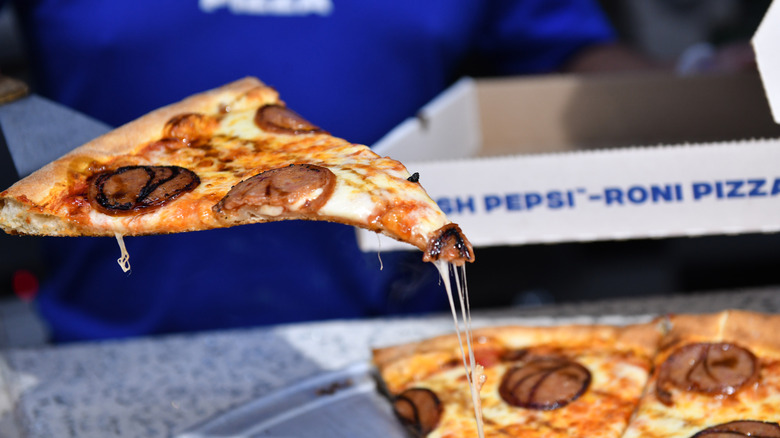 Craig Barritt/Getty Images
What's the significance of holding the Pepsi-Roni event in New York?
The first known mention of pepperoni was created in Lower Manhattan to enhance the taste of pizza, America's take on classic Italian meats and spices. The West Village location is in the heart of where the pepperoni was born over 100 years ago, making it the perfect location to introduce the Pepsi-Roni Pizza.
Going back into the pizza and Pepsi association, do you think is there a lot of history to that relationship? Do you have any sense of when Pepsi became the favorite soda of pizza, so to speak?
Yes. It's a good question. I don't have it documented as much as the story of when the pepperoni came about, but I do know that as you think about people eating meals and eating at home, and you think of people ordering pizza from Pizza Hut and getting a two-liter [soda] when they were growing up, playing games with their family on the couch, it's those moments that pizza actually embodies. It's one of the foods you eat with your hands. You can all share together as a family. 
Those kinds of simple joys and fun moments are the ones that Pepsi, as a brand, likes to be associated with. That's where we started coming into the mix as the beverage of choice. As people combined [pizza and Pepsi], it took off, and we started signing all the national pizza chains and a lot of local businesses as well.
The origins of Pepsi-Roni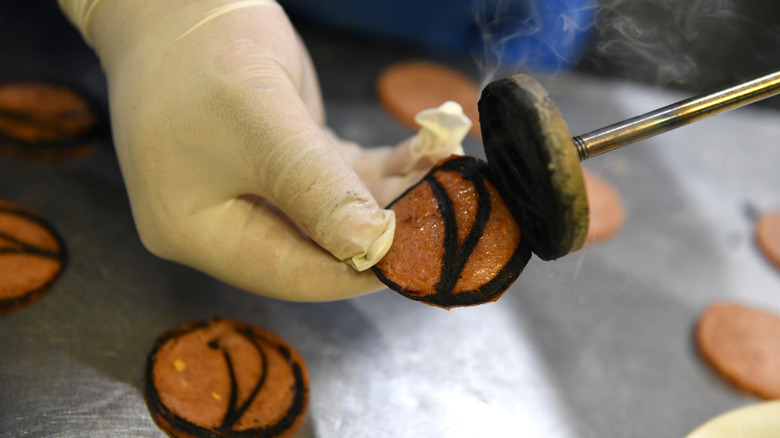 Craig Barritt/Getty Images
How did the idea for Pepsi-Roni start?
Pepsi is all about unapologetic enjoyment. Last year, the brand rallied around National Hamburger Day to launch our #BetterWithPepsi campaign centered around the truth that Pepsi makes our favorite foods tastier and more enjoyable. Following a successful campaign and study results that prove pizza and Pepsi were meant to be together, we wanted to take it one step further. We thought about what would happen if we made the world's first Pepsi-Roni pizza, so we briefed the Culinary Institute of America (CIA) to create it from scratch using the two flavor profiles.
Let's dig a little deeper into the process of creating the Pepsi-Roni. Were there multiple test batches? Were you taste-testing it? Was there a lot of back and forth with the CIA?
Yes. We have our culinary team here in our own R&D facility, and they work on all our great flavors and products that we make. We connected them with the CIA, and they collaborated on how we could approach this in different ways. We had a tasting a few weeks ago where we tried different levels of heat, spices, and smokiness, different things to see what would be the best. Different sizes, how to brand it, how to cut it — you have no idea the amount of thought that's gone into it. There's even a reduced Pepsi glaze that you can put on top of your pizza to add an extra hit if you like it more flavorful, which you'll see at the tasting. It is the most surprisingly delicious taste you've ever had, because it's like sweet sausage — it brings out the sweetness.
Could you describe the flavor of Pepsi-Roni a little bit?
The Pepsi-Roni is pork-based, combining the citrus zest and caramel notes of Pepsi Zero Sugar with traditional savory pepperoni seasonings. The Pepsi-Roni is then smoked for hours and given an additional layer of the reduced Pepsi Zero Sugar glaze to further enhance the flavors.
The future of Pepsi-Roni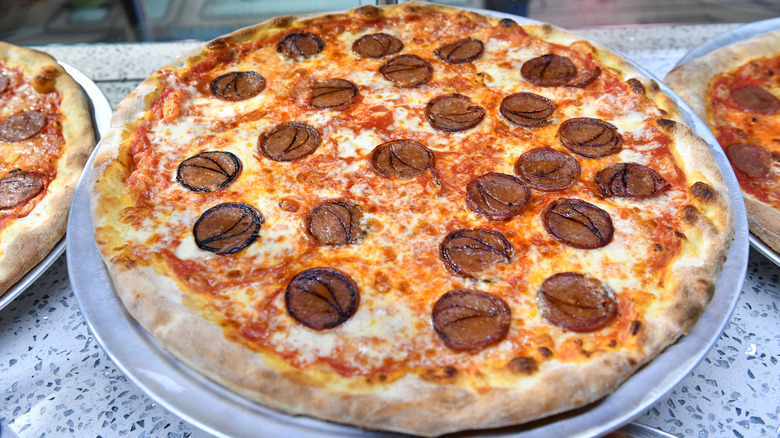 Craig Barritt/Getty Images
Will we be able to buy Pepsi-Roni on its own at any point?
Following the successful debut of the Pepsi-Roni pizza in New York, there will be select rollouts in a handful of other popular pizza markets around the country, including Chicago, Detroit, Los Angeles, and Miami. In the past, limited-time drops have become part of the permanent product lineup as Pepsi is constantly evaluating and evolving the portfolio to continue to engage fans in new ways.
Are there any other Pepsi-flavored pizza toppings in the pipeline?
Right now, we're going to start with the Pepsi-Roni and see where it goes. We'll have to take it from there. We'll see how the world responds.
You can try Pepsi-Roni pizza at events in Detroit and Chicago on May 27, and in Miami and Los Angeles on June 3. Information about these events can be found here.
This interview was edited for clarity.