The Mouthwatering Hack For Crispy Fish You'll Wish You Knew Sooner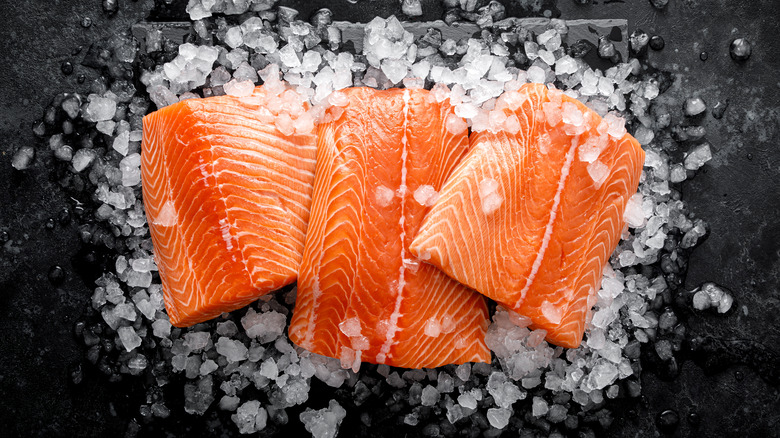 Sunny Forest/Shutterstock
It's easy to worry about making mistakes cooking fish because your flaky, juice filet can turn into an overcooked rubber band in a matter of minutes. Not only that, but you simultaneously try to achieve the crispy, golden skin that you see on TV and social media. There are few things more satisfying than hearing the sounds of crispiness when someone slowly drags their knife across a crunchy exterior.
Despite the delicious possibilities that seafood brings to the table, it seems that not many Americans cook fish at home because according to The Washington Post, only 10% to 20% of Americans consume eight ounces of fish per week. Affordability is also a large factor because 45% of respondents to a national internet survey by the Journal of Foodservice cited the price tag as their reason for avoiding purchasing seafood.
Although seafood can be more expensive than other proteins, it can be an investment in your health. According to The Washington Post, eating fish may have benefits for your brain, weight, and mood. If you want to reap the flavor and health benefits that the food has to offer, we have a method that guarantees a crispy exterior.
A slice of brioche creates the perfect crust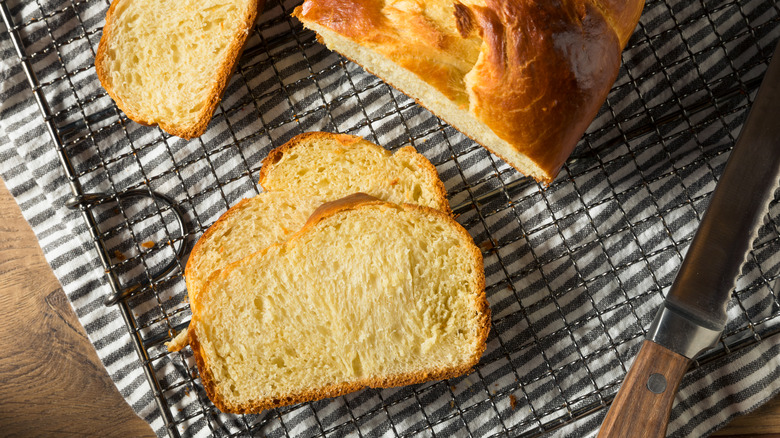 Brent Hofacker/Shutterstock
"Top Chef" Season 15 finalist Adrienne Cheatham has created a recipe for Brioche-Crusted Salmon that she claims is as easy to make as a grilled cheese sandwich (via Epicurious). Cheatham's recipe is based on a dish she prepared at Le Bernardin (Eric Ripert's acclaimed Manhattan seafood restaurant), red snapper with a sourdough crust. The "Top Chef" alum tested many combinations of fish and bread before she landed on salmon and brioche for the final recipe. "I especially like using salmon as it tends to release all of that white albumin," Cheatham says in the recipe description. "It's the perfect glue for toasty brioche."
In order to make the brioche crust the perfect size for the salmon, Cheatham cuts thin, lengthwise slices of the bread, places a salmon filet on top, and slices off the excess. From there, it's as simple as sautéeing the salmon (bread side down), basting it with butter, oil, thyme, and garlic, and then finishing it in the oven. To make a simple recipe even simpler, the chef notes that this fish can be prepped ahead of time if you sauté and baste the fish to get the crispy crust, then transfer it to the fridge, allowing you to finish cooking it in the oven just before you're ready to serve. Not only is this recipe simple, yet impressive, but it's a great example of easy ways to help you eat more fish.