The Fast Food Chain That Brought Demi Lovato To 'Tears Of Joy'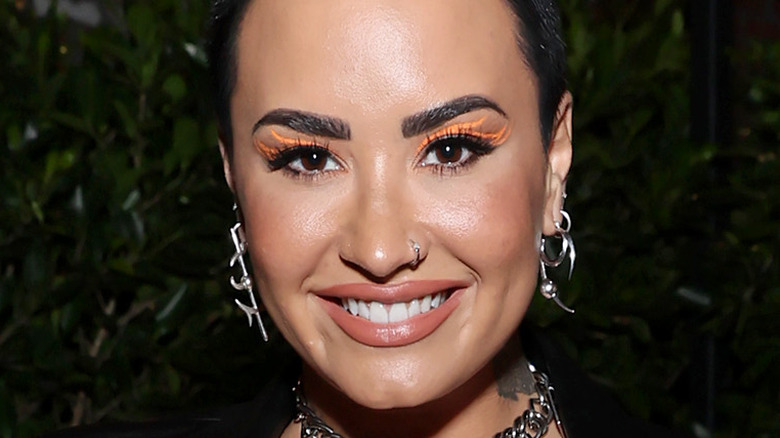 Amy Sussman/Getty Images
Everyone has a go-to fast-food chain either when you're having a bad day and need a pick-me-up or just because you are craving something specific. It hopefully comes with no shame when you decide to go somewhere that will give you that yummy greasy food quickly and help satisfy some cravings. 
Even celebrities partake in a little fast food dining every now and then. In fact, Demi Lovato, the former childhood Disney star and pop artist known for songs like "Cool for the Summer" and "Stone Cold," has always been a big fan of one specific restaurant. When they were younger, it was a staple go-to and helped them through an eating disorder when they were growing up. Furthermore, this restaurant allowed them to overcome a fear of judgment for eating at a fast food restaurant. In an interview with Glamour, Lovato discusses what this meant for them at a time when they were beginning to find themselves in recovery.
Taco Bell brought Demi Lovato 'to tears'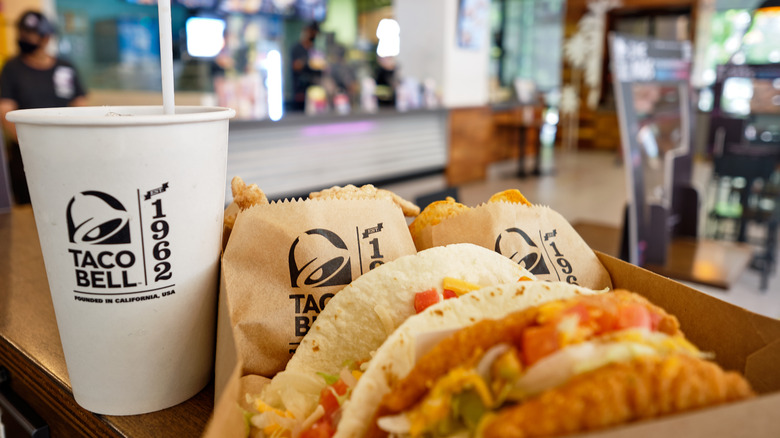 KULLAPONG PARCHERAT/Shutterstock
The 29-year-old singer has remained loyal to Taco Bell for over 10 years, first tweeting about it in 2009. Lovato wrote, "I literally almost cried tears of joy over Taco Bell." The star has been known for their love of Taco Bell over the years, their favorite menu item being the Mexican pizza, which Taco Bell recently brought back. There's even a deleted scene from the YouTube documentary "Dancing with the Devil" in which the singer mourns the loss of the once-popular menu item that was discontinued in 2020. "It's a lifestyle. Taco Bell is a lifestyle," Lovato said.
And still in 2021 the artist has not changed their mind about the chain. In the interview with Glamour, the former Disney star talked about the shame and judgment they felt when their first YouTube documentary, "Simply Complicated," was about to drop and they decided to go on a Taco Bell run to help ease anxiety. Lovato remembers the photographers catching her at Taco Bell and immediately knowing that their team would know they went there to binge and purge.
Lovato has been open about having an eating disorder since talking about it in "Simply Complicated." They discussed going to treatment for an eating disorder in 2010 and battling with what they believed was the standard for health at the time (via Glamour). The singer is now in recovery and shares their journey on social media. 
Pride in Taco Bell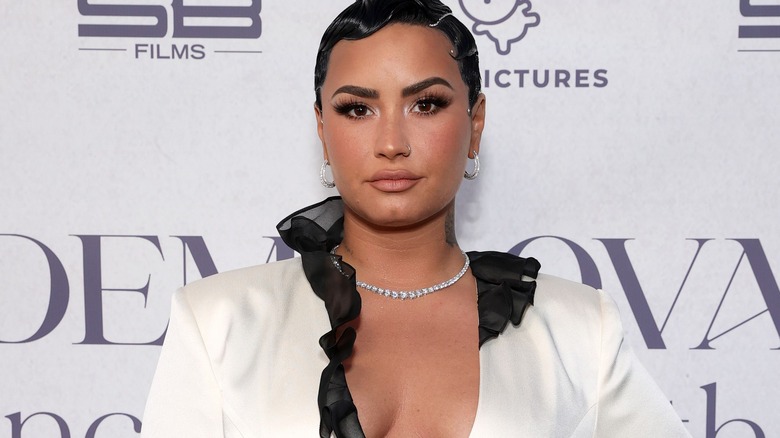 Rich Fury/Getty Images
Demi Lovato no longer feels shame and embarrassment when it comes to going to their favorite fast food restaurant. After years of treatment for their eating disorder and learning what works and what doesn't, the star learned that balance works best when it comes to eating. This means listening to what the body needs and giving it what it wants. In the "Dancing with the Devil" deleted scene, Lovato states, "When I ate a Mexican pizza without sitting with my dietician on my own and didn't throw it up that was the biggest f****** deal. I've only been eating Mexican pizzas for maybe a year without throwing them up. It was a piece of my recovery."
Lovato is now in recovery and goes on those late-night Taco Bell runs without a worry or care in the world about what people are thinking. The star is now doing what they believe is best for themselves and their body. "I love it," the singer told Glamour. Instead of tears from fear taking over, Lovato is once again able to cry tears of joy over their favorite fast food chain: Taco Bell.
If you are struggling with an eating disorder, or know someone who is, help is available. Visit the National Eating Disorders Association website or contact NEDA's Live Helpline at 1-800-931-2237. You can also receive 24/7 Crisis Support via text (send NEDA to 741-741).