Classic Sazerac Cocktail Recipe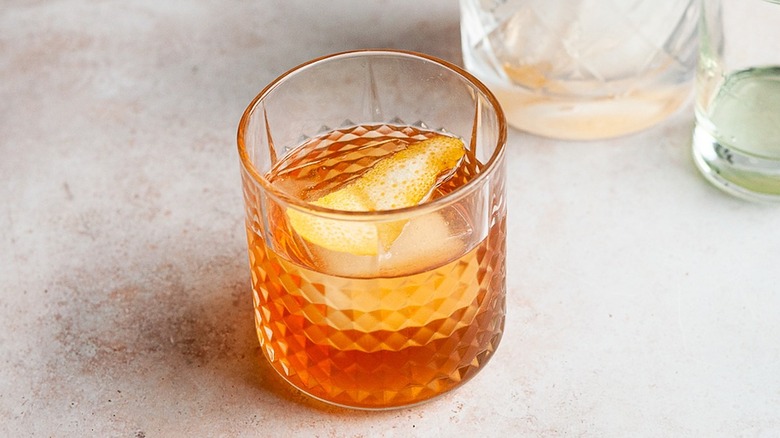 Christina Musgrave/Mashed
If you're a fan of an old fashioned, then there's no doubt you'll also love a classic Sazerac. According to Liquor.com, the Sazerac has been around since the 1800s, officially trademarked by Sazerac Co. in 1900. The strong, brawny cocktail was even dubbed the official cocktail of New Orleans in 2008; that being said, people across the world enjoy the cocktail, which definitely could be classified under the "strong" category.
"I love a good cocktail," recipe developer Christina Musgrave says, "so a Sazerac is always great!" She goes on to explain that "this is a classic Sazerac recipe without any twists," so you know you're making the most authentic cocktail possible. As for flavor, there's a great balance here — it's a whiskey-forward drink, but there are notes of sweetness, thanks to the sugar cube, and some bitterness from a few dashes of bitters. 
Oh, and if you've always wanted to make a cocktail with absinthe, this one will give you the chance! You'll rinse the glass with absinthe before building the cocktail, so there will be some extra flavor without being too overbearing (or boozy, for that matter). 
Gather the ingredients for a classic Sazerac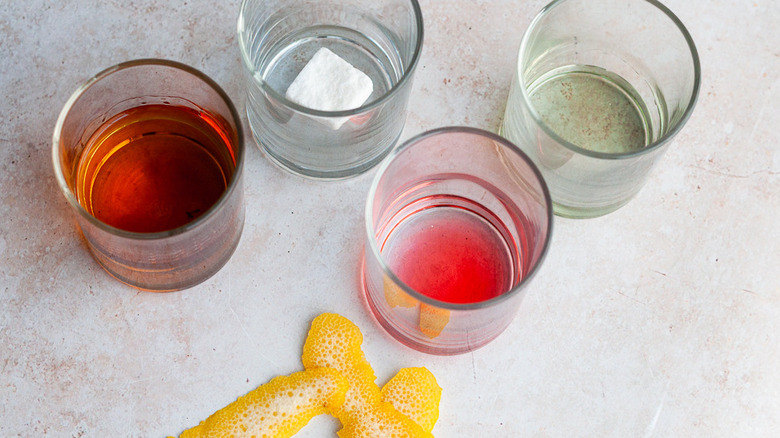 Christina Musgrave/Mashed
To make a classic Sazerac, you'll only need 5 minutes of time and 5 ingredients, including absinthe, a sugar cube, Peychaud's bitters, rye whiskey, and a lemon twist (or peel) for garnish. "I recommend following this [recipe] for the most authentic classic cocktail," Musgrave explains of her ingredients list. "If you wanted to add twists, you can change the different types of bitters and whiskey." 
Rinse the glass with absinthe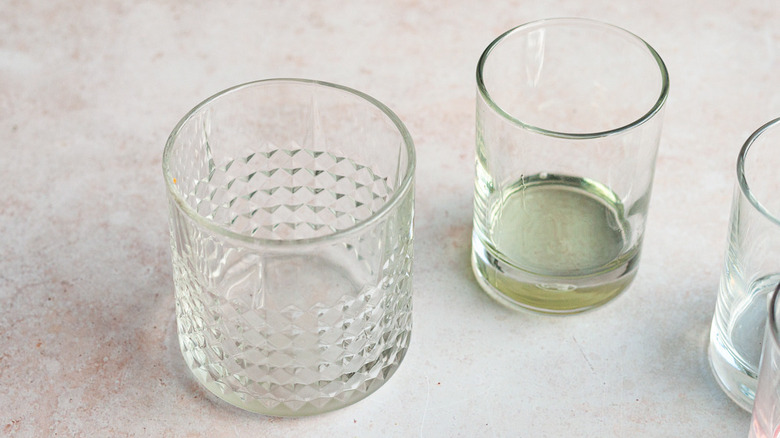 Christina Musgrave/Mashed
You'll be using absinthe in this cocktail, but you're not exactly dumping it right in. Instead, you'll want to grab a chilled cocktail glass and add in the absinthe. Then, swirl the glass so that the absinthe runs along the sides, trying to coat as much of the inside as possible. "Rinsing the glass with absinthe adds flavor to the drink," Musgrave explains. Once you've rinsed the glass, dump out the absinthe and dispose of it.
Stir up the cocktail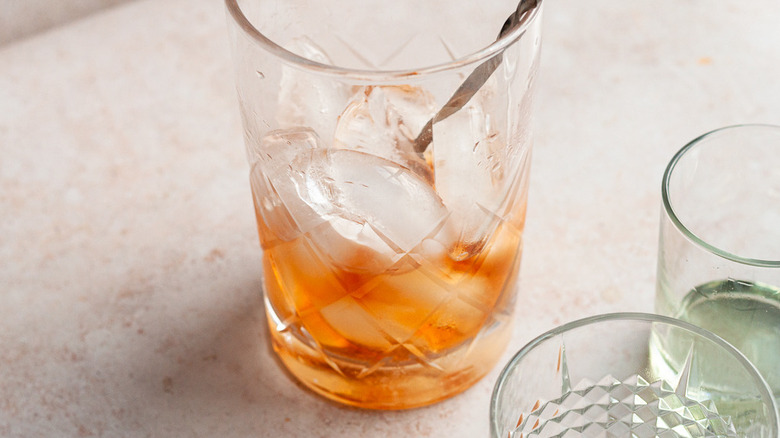 Christina Musgrave/Mashed
In a separate glass, add some ice, the sugar cube, the whiskey, and 2 dashes of bitters. Stir it all up, then pour the liquid into the rinsed, prepared cocktail glass.
Garnish your Sazerac with a lemon twist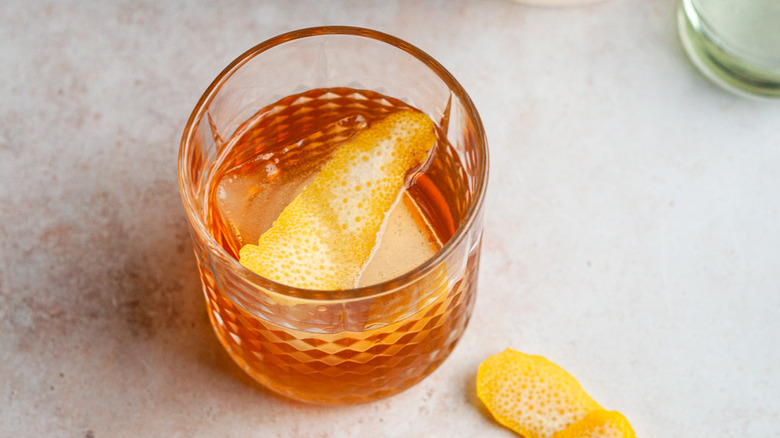 Christina Musgrave/Mashed
Now that you've poured the cocktail into the absinthe-rinsed glass, you're ready to serve and enjoy the classic Sazerac. To garnish the cocktail — because what good cocktail is complete without a garnish? — place a lemon twist right into the drink. Now, you're ready to sip and enjoy — and, since this is a strong, robust, and flavorful cocktail, it's definitely best to sip slowly!
Classic Sazerac Cocktail Recipe
If you love whiskey, but you're looking for an alternative to an old fashioned, then try mixing up a classic Sazerac. It's strong, but it will hit the spot.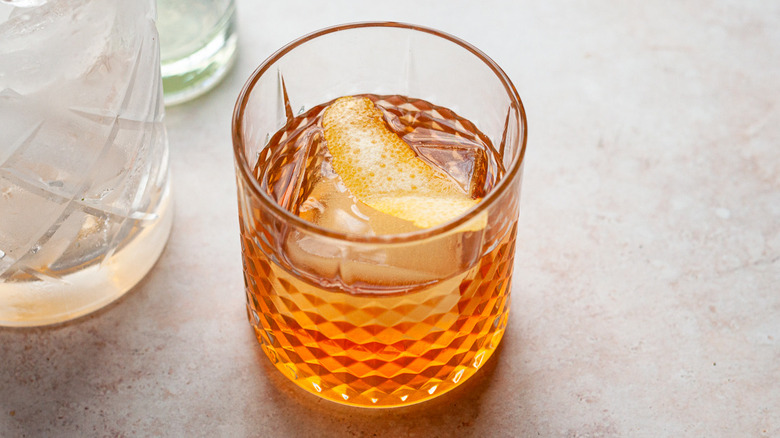 Ingredients
½ ounce absinthe
1 sugar cube
2 dashes Peychaud's bitters
2 ounces rye whiskey
Optional Ingredients
1 lemon twist, for garnish
Directions
Pour the absinthe into a chilled cocktail glass. Rinse the glass by twisting it, ensuring that the absinthe covers all of the inner sides, then discard the absinthe.
Add ice to a separate glass, then add 1 sugar cube, 2 dashes of Peychaud's bitters, and the rye whiskey. Stir.
Pour the cocktail into the prepared cocktail glass.
Garnish the cocktail with a lemon twist, and serve.
Nutrition
| | |
| --- | --- |
| Calories per Serving | 180 |
| Total Fat | 0.0 g |
| Saturated Fat | 0.0 g |
| Trans Fat | 0.0 |
| Cholesterol | 0.0 mg |
| | |
| --- | --- |
| Total Carbohydrates | 0.9 g |
| Dietary Fiber | 0.0 g |
| Total Sugars | 0.9 g |
| Sodium | 0.2 mg |
| Protein | 0.0 g |