Easy Marzipan Recipe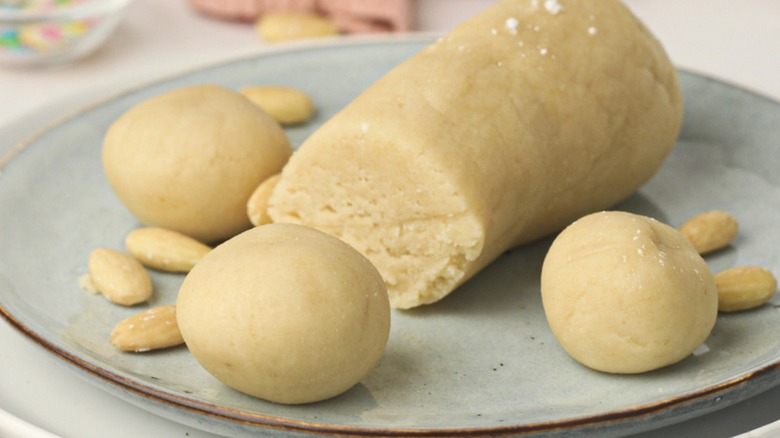 Susan Olayinka/Mashed
Marzipan is a surprisingly polarizing candy, since there are those who do not care for it at all, but those of us who love it, really, really love it. Recipe developer Susan Olayinka is a card-carrying member of Team Marzipan. As she tells us, "This recipe reminds me a lot of my childhood. It's called for in so many recipes that we used to make, and I also [used] to eat it by the spoonful because ... why not?!" Why not, indeed?
While marzipan is sometimes mistaken for almond paste, the two differ in one pretty significant way — while almond paste is primarily used as a baking ingredient, the much sweeter marzipan can be eaten on its own as a standalone candy. Yes, you can just dig straight in with a spoon, but you can also slice it, roll it, or shape it. While marzipan is sold not only in the candy aisle, but also in the baking aisle, you might be surprised how easy it is to make at home. It only takes a few minutes, plus some wait time, and you'll have a delectable treat that can be eaten as-is or put to use in a number of different ways.
Gather your ingredients for easy marzipan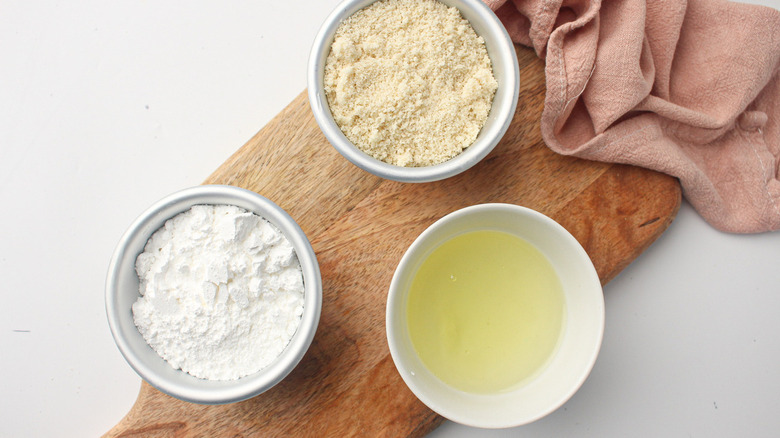 Susan Olayinka/Mashed
To make this marzipan recipe, Olayinka only uses 3 things: almond meal, confectioner's sugar, and a single egg white. She says you can add food coloring or flavor extracts, too. Olayinka suggests that "rose water [or] vanilla extract would be great," or you could even double down on the almond flavoring by adding almond extract.
If you're wondering what to do with that lone yolk leftover, Olayinka suggests using it to make cured egg yolks. She says these can be grated over salads and meats and says they make for "a rich garnish."
Combine the ingredients to form a dough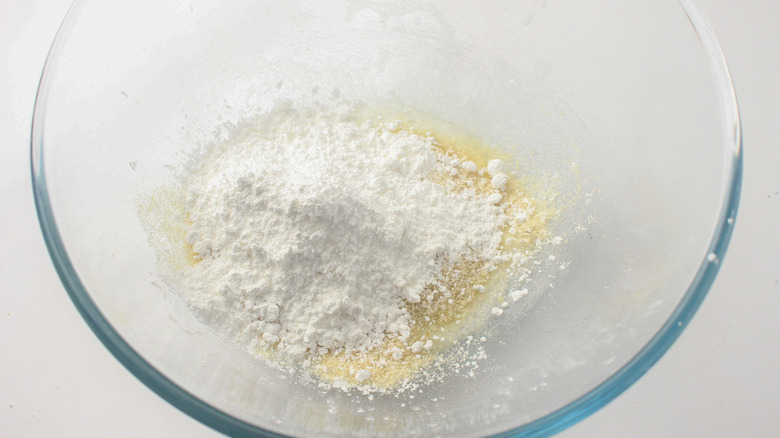 Susan Olayinka/Mashed
Mix the almond meal and the confectioner's sugar, then beat the egg white until it's frothy (Olayinka says this will take about 3 minutes). Stir the egg white into the dry ingredients until you have a smooth dough.
Chill the dough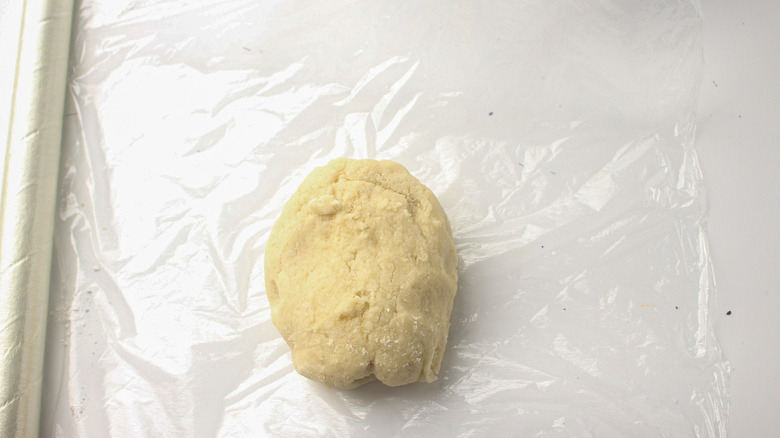 Susan Olayinka/Mashed
Put your marzipan dough onto a large sheet of plastic wrap, then roll it up into a log shape. Place your plastic-wrapped candy log in the refrigerator and allow it to chill for at least 2 hours. This will give it time to firm up a bit.
Put your marzipan to good use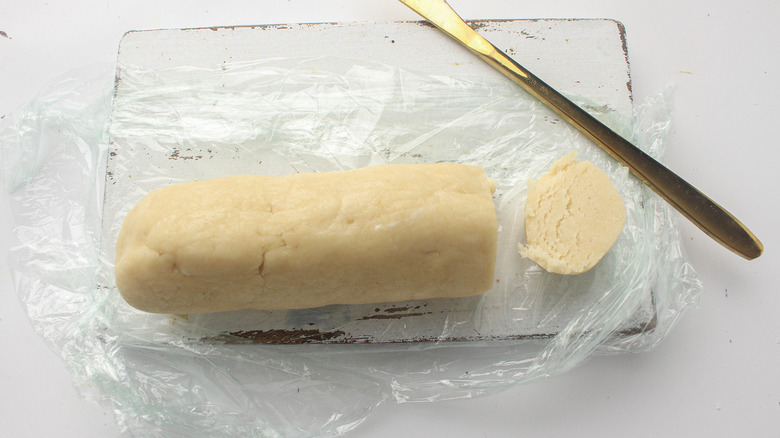 Susan Olayinka/Mashed
You can slice the marzipan into rounds to eat, or maybe fancy them up a bit by rolling the edges of the rounds in colored sugar. Olayinka says "These can also be rolled and colored into fruits for a cake topping." If you're really good at shaping, you could even make them into marzipan pigs, a popular German/Scandinavian Christmas treat.
If you're a fan of the Great British Baking Show, you may have noticed that thin sheets of marzipan are often used in baking, at least in the U.K. Olayinka, who is British herself, says that "fruit cake must be marzipanned" and marzipan balls are an absolute must for decorating simnel cake.
Easy Marzipan Recipe
Marzipan is a surprisingly simple baking supply you can make (and enjoy) at home. It takes just six minutes and three ingredients to whip up.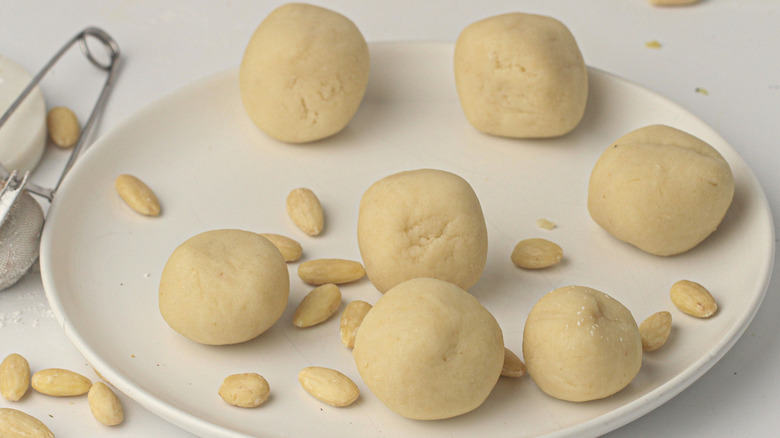 Ingredients
1 cup almond meal
1 cup confectioner's sugar
1 egg white
Directions
Combine the almond meal and confectioners sugar in a medium bowl.
Whisk the egg white for about 3 minutes, or until frothy.
Add the egg white to the almond mixture and stir until it forms a dough.
Place the marzipan dough on a sheet of plastic wrap and roll it into a log shape.
Refrigerate the marzipan for at least 2 hours, or until firm.
Cut the marzipan into slices or form into shapes to serve.
Nutrition
| | |
| --- | --- |
| Calories per Serving | 189 |
| Total Fat | 9.3 g |
| Saturated Fat | 0.6 g |
| Trans Fat | 0.0 g |
| Cholesterol | 0.0 mg |
| | |
| --- | --- |
| Total Carbohydrates | 23.5 g |
| Dietary Fiber | 1.9 g |
| Total Sugars | 20.2 g |
| Sodium | 8.0 mg |
| Protein | 4.7 g |