The Queen Loves Her Sweets, But What Does She Eat As A Main Course?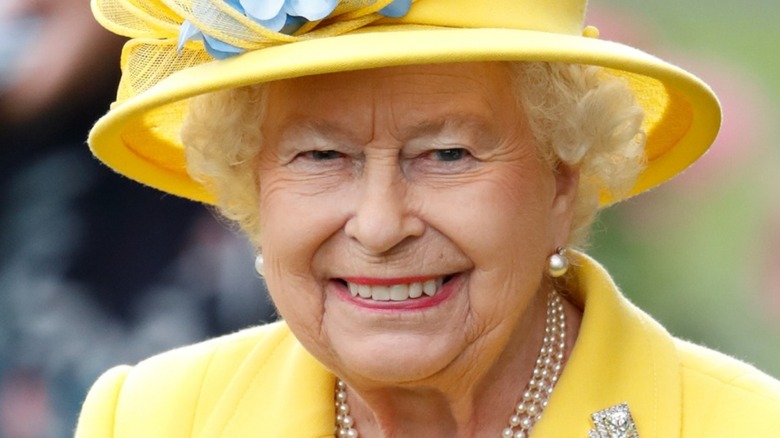 Max Mumby/indigo/Getty
With the Queen's Platinum Jubilee right around the corner on June 2 through 5, the U.K. is preparing for days filled with eating and drinking. The four-day bank holiday weekend honors Queen Elizabeth as the first British monarch to perform 70 years of service, making this occasion especially momentous.
According to research conducted by MoneySupermarket.com, individuals will spend an average of £83 (about $105) each on food, drink, and union flag-inspired decorations for the big weekend (via The Guardian). One item that is contributing to these sales is union jack cake stands, which have been up in purchases by nearly 3% every week at Sainsbury's supermarkets. Other popular foods that Brits are expected to load up on are pork pies and sausage rolls, which were up 8% and 6% for the Diamond Jubilee 10 years ago, respectively, per FarmingUK.
Surely, civilians won't be the only people celebrating the Platinum Jubilee with special foods and drinks. It's possible that Queen Elizabeth's favorite cake, a layered concoction with chocolate ganache, could make an appearance at her parties. But what might she, the center of the celebration, enjoy to eat as her main course during this most historic occasion?
The Royal Family enjoys duck and game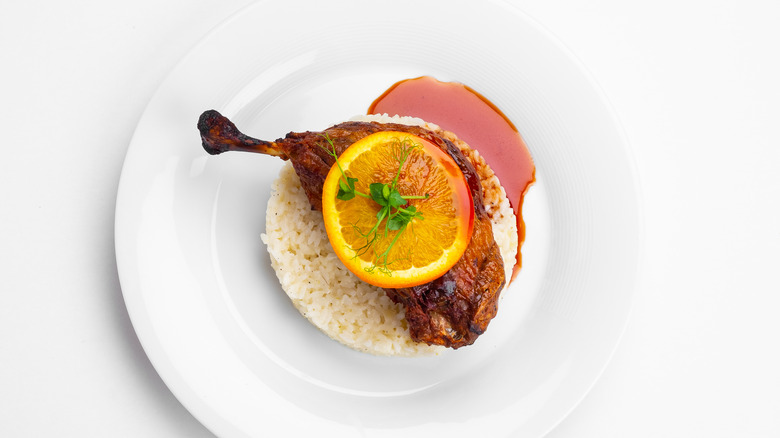 Fenea Silviu/Shutterstock
While we don't know what Queen Elizabeth will be eating during her Platinum Jubilee celebrations, we can take a guess based on past evidence. A Real Royalty YouTube video revealed that the entire Royal Family enjoys duck bigarade, which is the poultry cooked in lemon and orange sauce. According to British Food: A History, duck isn't commonly eaten in the U.K., except for special occasions. But for the head of state, grand parties happen more frequently, providing more of a reason to go all out on extravagant meals.
Former royal chef Darren McGrady, meanwhile, shared with Hello that Queen Elizabeth has long been a fan of game, such as a Gaelic steak made with venison, mushrooms, and a savory whiskey sauce. He knew her favorite foods to be British and French, and he often made her "halibut on a bed of spinach with a Morney sauce." Whatever appears on the royal dinner table, it's sure to be something familiar, as McGrady said the Queen prefers to stick with her tried-and-true favorites. It's also sure to be followed by dessert; she loves her sweets, especially anything with chocolate.