Does Instacart Accept SNAP Benefits?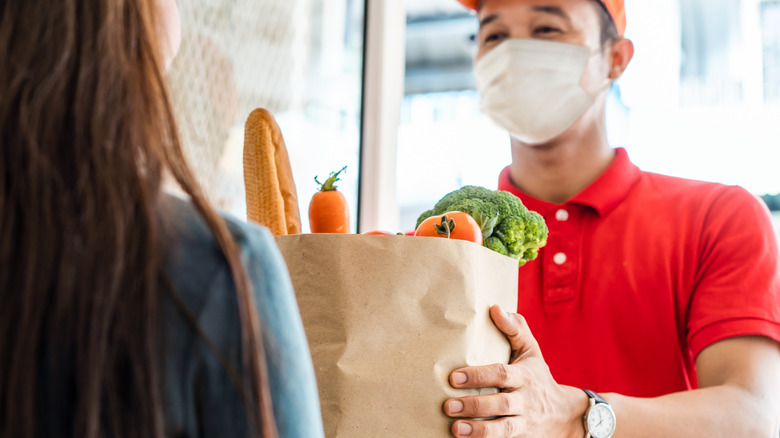 Hananeko_Studio/Shutterstock
After more than two full years of pandemic living, many are struggling. While pandemic unemployment has finally turned a corner and unemployment rates are the lowest they've been since before the mask era, many Americans are still feeling the pinch of financial uncertainty (via Trading Economics). Sticking to cheap and easy recipes and trying out Depression-era foods can help stretch a paycheck, but they can't compare to the improved access to nutritious foods offered by SNAP benefits. As of May 2022, according to the USDA's Food and Nutrition Service, the SNAP program currently helps nearly 42 million Americans. In contrast, the 2019 pre-pandemic numbers topped out at 35.7 million.
With so many now working from home, running off to the store during lunch or stopping for groceries on the way home isn't an option the way it used to be. Especially for those who might be hesitant to make an extra trip out, such as families with young children who might need childcare or those struggling to manage record-high gas prices that are now over $4 a gallon nationwide (via Wall Street Journal). What about the convenience of grocery delivery service Instacart? You might assume grocery delivery would be a luxury that cost-cutters would need to forgo, but the truth is more nuanced.
SNAP deliveries on Instacart are a snap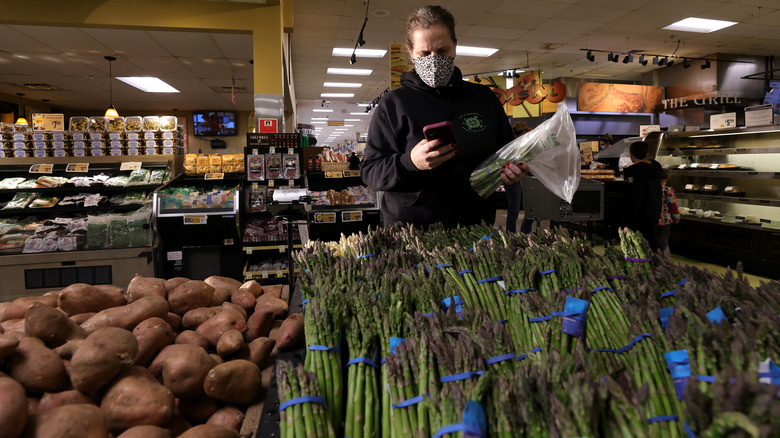 Michael Loccisano/Getty Images
As it turns out, Instacart is super SNAP-friendly. And depending on local gas prices, the miles per gallon on your car, and how far you live from the supermarket, the delivery fee may even be less than the cost of gas for a typical trip to the grocery store.
While participation varies state by state and store by store, Instacart does accept SNAP benefits through EBT. No, EBT won't cover delivery or pickup fees, but until June 30th, the first three EBT orders are delivery-fee-free. Don't worry if you miss the cutoff, Instacart frequently offers this promo (via Progressive Grocer).
A handy label on Instacart lets customers know which items are EBT eligible while they shop. All relevant items in the cart include an "EBT" label so shoppers can easily scroll through their cart to quickly check the qualifying items. To view the EBT label, simply toggle "Show EBT SNAP eligibility by item" in the app so that it turns green. You can also register your EBT card.
Check which stores and items are eligible near you by clicking the EBT icon from the row of round icons on the Instacart home page. Unfortunately, the online program is only available in 37 states, so check your state's website's SNAP page for more information on shopping online with SNAP (via Mass.gov) or check the USDA's SNAP Online Purchasing Pilot resource page (per USDA).