Try This Fish Swap For A Healthier Tuna Salad Alternative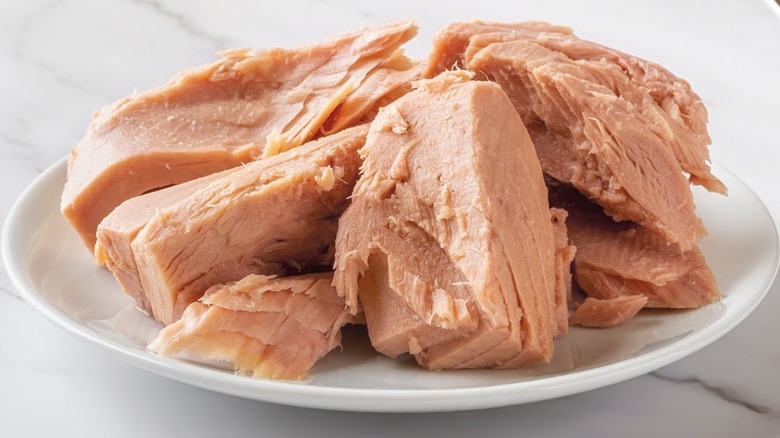 Maryia_K/Shutterstock
If canned tuna hasn't found its way into your kitchen pantry, now's the time to stock up. As the economy ebbs and flows, tuna has stayed affordable — at stores like Walmart, it goes for under $1 per can. It has a shelf life of three to four years, so there's no worry about the fish spoiling faster than you can use it. And with tuna's health benefits, you might find yourself eating it more often.
Tuna is a good source of omega-3 fatty acids, which can lower cholesterol and inflammation, reducing the risk of heart disease and cancer (via WebMD). In addition to being packed with protein, tuna is also high in vitamin D, which provides your body with quick and easy energy and helps to strengthen bones.
But tuna contains mercury. According to the U.S. Food and Drug Administration (FDA), all fish have mercury; some have higher levels due to their size. Consuming too much mercury can affect the neurological system and cause numbness, weak muscles, and no peripheral vision (via the U.S. Environmental Protection Agency). However, there are ways to take advantage of tuna's health benefits while avoiding mercury poisoning.
Swap canned tuna with canned salmon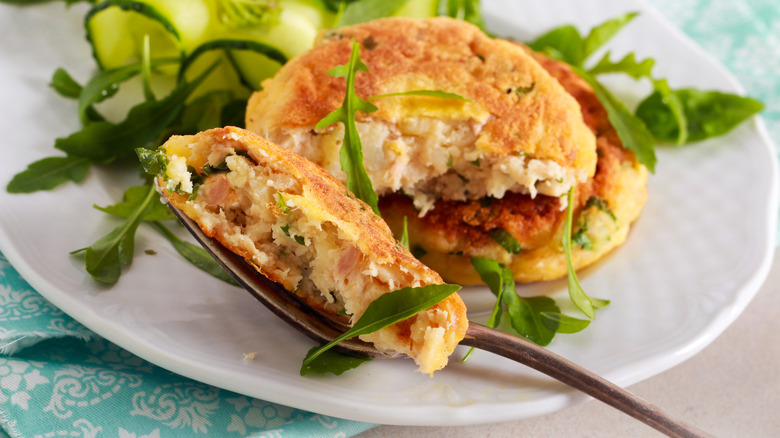 MShev/Shutterstock
According to Cooking Light, canned salmon is full of protein and omega-3 — just like its tuna counterpart — but is lower in mercury. The nutrition you'd get from canned salmon is the same as you'd get from the fresh kind, so your budget won't take a hit if you upgrade your fish. Since canned tuna and salmon are similar in taste and texture, you can use either fish in many recipes — including tuna salad. But we get it: You can only eat so much tuna salad in a week before your taste buds revolt.
How about a throwback to childhood with some crispy tuna cakes? Just mix some tuna — or salmon — with an egg, then add some parsley, breadcrumbs, bell pepper, a blob of Greek yogurt, a splash of lemon juice, and a dash of salt and pepper. Form the patties to your desired thickness, then fry in a skillet until golden brown (via Women's Health). For another dose of nostalgia, make an easy tuna casserole for dinner. If you're feeling adventurous, go for a tuna pizza with red onions and black olives.
As with all things, it's best to enjoy these fishes in moderation. The FDA recommends eating no more than 8 to 12 ounces of fish in a week, and suggests canned light tuna because it's low in mercury.