We Tried McDonald's New Chocolatey Pretzel McFlurry. Here's How It Went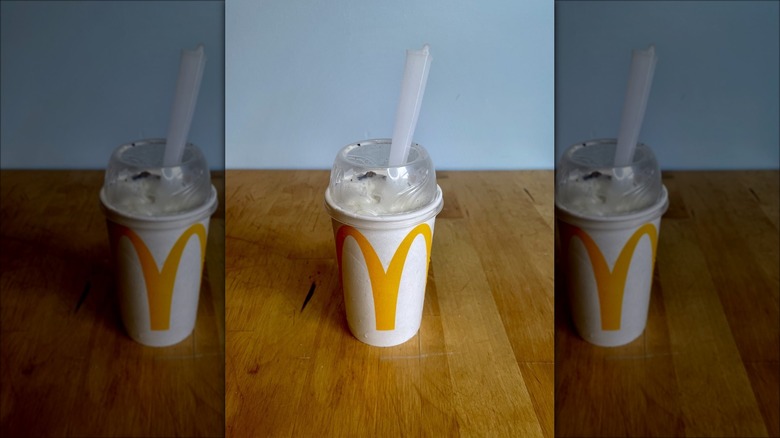 Helena Nichols/Mashed
With summer on its way, McDonald's has seized the moment — and the climbing temperatures — to release a brand new, limited-edition McFlurry flavor: the Chocolatey Pretzel McFlurry. This sweet and salty take on the McDonald's classic is the first new McFlurry flavor of 2022 and will be one of only three McFlurry flavors available in the United States. If you're lucky enough to have a working Mcdonald's soft serve machine near you, you might be tempted to run straight out and get yourself one. But is it worth it? We're here to find out.
The McDonald's McFlurry was first premiered by the fast food chain in 1995 by an enterprising franchise owner, Ron McLellan. When the chain found the item was successful in Canada, they ran a test out of Texas and decided to take it nationwide in the United States in the late '90s. Since its premiere, the McFlurry has made cool waves with fans and has remained a staple menu item. Flavors may come and go, but the McFlurry remains tried and true, and with each new iteration, there's a new chance for taste bud harmony.
What's in the new Chocolatey Pretzel McFlurry?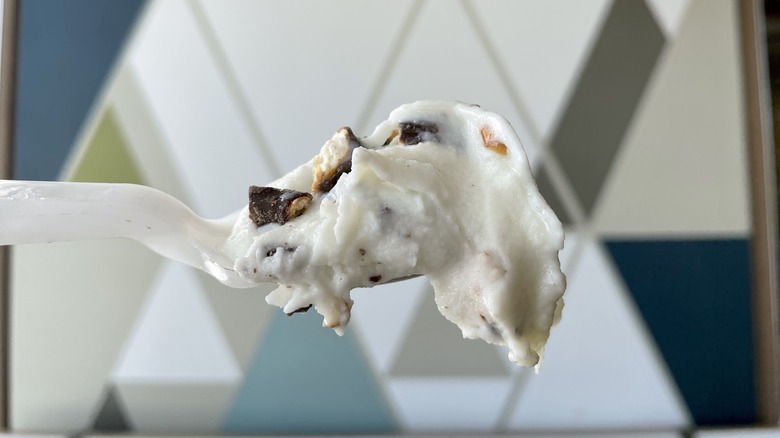 Helena Nichols/Mashed
Like all McFlurries — in the United States, at least — the Chocolatey Pretzel McFlurry starts with a base of their reduced fat vanilla soft-serve ice cream. It's from this point that all other ingredients or toppings are added to make the different McFlurry flavors. Once everything has been compiled into the cup, the contents are blended with that odd McFlurry spoon with the square handle and the McFlurry is ready to enjoy.
Typical mix-ins for McDonald's are candies or other treats, and this McFlurry is no different. For the Chocolatey Pretzel McFlurry, the main add-in is crushed, chocolate-covered pretzel pieces. These add sweetness, a little salt, and a bit of crunch. All of that sounds pretty good, doesn't it? McDonald's doesn't stop there, though. Taking it a step further, McDonald's tops the new McFlurry with caramel topping. This adds an extra layer of decadence and flavor to play off the chocolate-covered pretzel pieces.
Availability and cost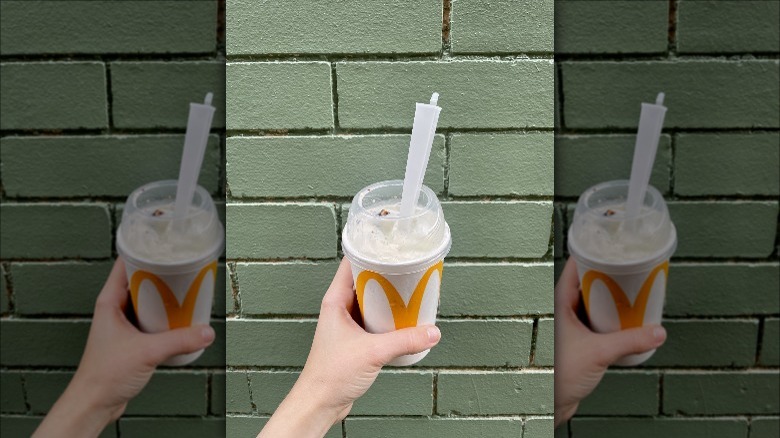 Helena Nichols/Mashed
As of May 25th, 2022 the Chocolatey Pretzel McFlurry is available and ready to be enjoyed at participating McDonald's around the country. The company has not announced an end date for the promotion, so if you want to try the Chocolatey Pretzel McFlurry, you better get to your local McDonald's and pick one up.
McFlurries can be ordered in-store, using the drive-through, and even with the McDonald's app for delivery at participating locations ... because let's be honest, sometimes you just need ice cream delivered to your house.
But now for a bit of bad news: The Chocolatey Pretzel McFlurry is more expensive than McDonald's other McFlurries. While the price of McDonald's menu items fluctuates based on where you are in the country, at our location, a regular-sized Chocolatey Pretzel McFlurry costs $4.09, whereas an M&M's or Oreo McFlurry only costs $3.59. We know fighting over $0.50 isn't very much, but pricing consistency would have been nice for this new McFlurry. 
How does it compare to other popular McFlurries?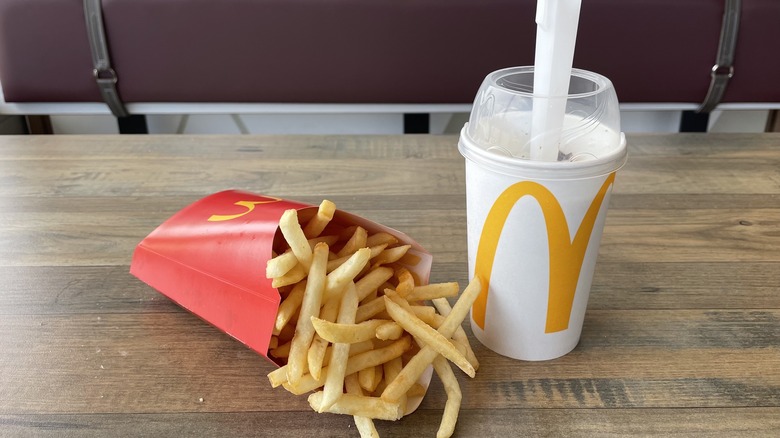 Helena Nichols/Mashed
Once upon a time, consumers could choose from a multitude of McFlurry flavors. When the ice cream dessert first appeared in the late '90s, consumers got a choice of Oreo, M&M's, Heath, Nestle Crunch, and Butterfinger. Since then, the core flavors in the United States have been pared down to just two: Oreos and M&M's.
In our humble opinion, it's hard to beat the Oreo McFlurry. The cookie crumbles so beautifully that you get a bit of cookie in every bite. M&M's may not break down the same way, but they provide a nice crunch and a pop of color. 
The Chocolatey Pretzel McFlurry takes things a step further by offering the candy pretzel mix-in along with the caramel sauce. And the creative flavor pairing places it more on-par with some of the international McFlurry options. For instance, at McDonald's restaurants around the world, you may be able to locate Bubble Gum, Cadbury Creme, Matcha, or Vegan KitKat McFlurries. Hopefully, this limited release flavor is an attempt to bring the variety and interest other countries have been seeing in the McFlurries.
What is the nutritional value?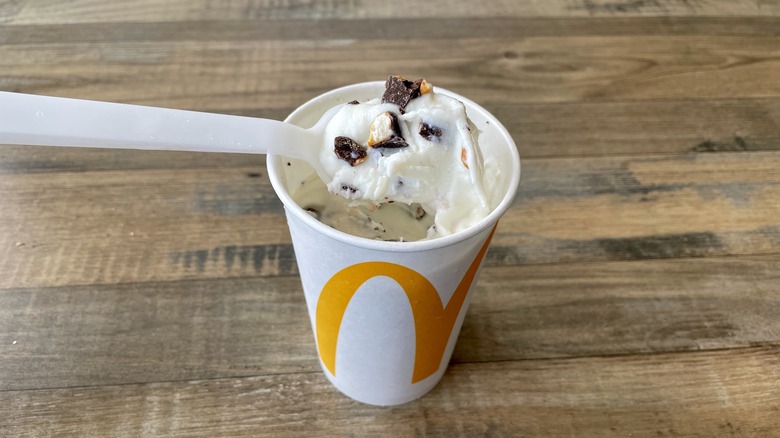 Helena Nichols/Mashed
We know no one goes into a McDonalds looking for a healthy food option. And even more, McFlurries are meant to be enjoyed. So we knew going into this that the McFlurry would qualify as a "treat," rather than a food packed with nutritional value. That being said, the contents of the Chocolatey Pretzel McFlurry were still a bit jarring.
The Chocolatey Pretzel McFlurry comes in two sizes, a "regular size" and a smaller "snack size." The former comes in at a substantial 670 calories, more than 150 calories more than the Oreo McFlurry. We're honestly a little impressed they're able to fit that many calories into the cup. For those looking for somewhat smaller treat, the "snack size" comes in at a more manageable 490 calories.
It's not all bad, though. McDonald's uses a low-fat soft serve ice cream base, which means a regular size only contains 19 grams of fat, less than a single serving of Ben & Jerry's ice cream. The McFlurry also contains 35% of the daily recommended calcium intake. Life is all about balance after all.
Our final verdict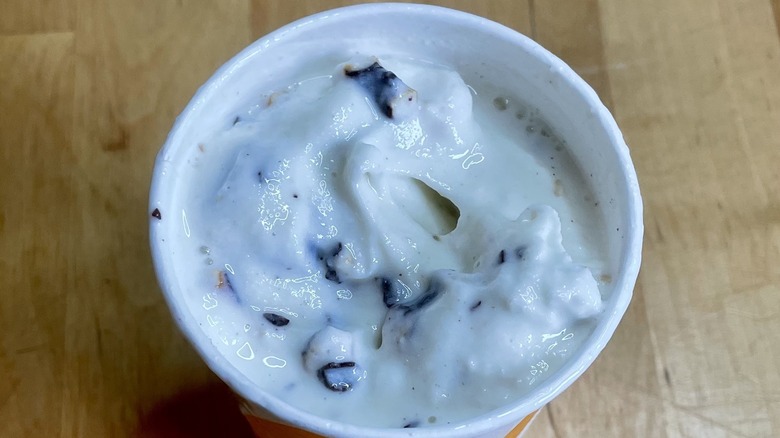 Helena Nichols/Mashed
So ... Was the Chocolatey Pretzel McFlurry worth the hype and expectation? The answer is eh, not really.
Look, it's not bad. Honestly, how can you take two delicious things — vanilla soft serve ice cream and chocolate-covered pretzels — and make them bad? You can't. But part of the problem is that they're actually supposed to be three delicious things. That's right — when we tried the Chocolatey Pretzel McFlurry, it didn't seem to come with the promised caramel sauce.
Heavens, say it ain't so! We know, there are bigger problems. But without the caramel sauce, the McFlurry was truly lacking. We ordered another just to verify that we got it correctly made, and there still wasn't any detectible caramel flavor.
The chocolate-covered pretzel pieces were good, but there weren't enough of them to get some in each bite. So a lot of the time we simply got vanilla ice cream. Was it good? Yes. But it wasn't the indulgent experience we were expecting.
Ultimately, while we wouldn't turn down the Chocolatey Pretzel McFlurry if it were offered up for free, it's just not something we'd rush out to buy again.