The Unexpected Link Between The Queen's Wedding Cake And Her Platinum Jubilee Cake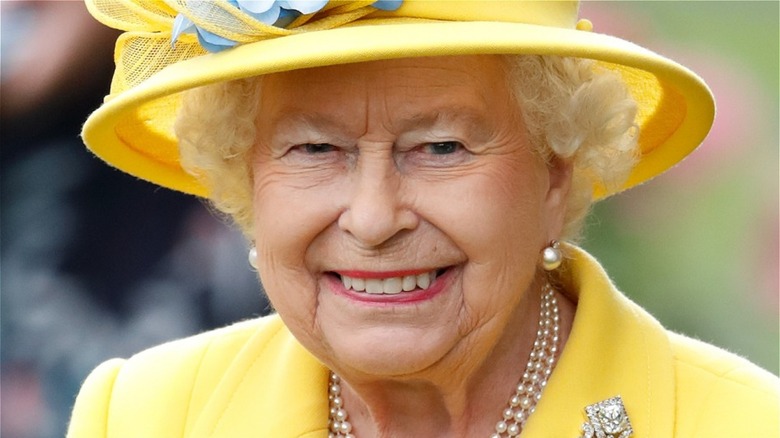 Max Mumby/indigo/Getty
Queen Elizabeth II could be given a serving of the lemon-flavored trifle that was recently named "platinum pudding" to celebrate her 70 years on the throne (via NBC News). But for the royal family's actual celebration, she'll likely only have eyes for a rich, boozy fruitcake that took three months to design and make by a master baker with deep ties to the royal family. After all, the queen loves her sweets.
Mark Bennett is the man behind the actual Platinum Jubilee cake, which is decked out, per the Daily Echo, with "crests, corgis, horses, the Commonwealth flag, Union Jack, Westminster Abbey, flowers, and racing pigeons." In short, nearly everything that matters to the queen is present on the cake.
Bennett outlined what sounded like a laborious process, saying, "I spoke with the household and they said 'yes' straight away ... It was absolutely amazing and I couldn't believe it. I'm a big royalist so it has been an honour to bake the cake," before adding, "I worked with the master of the household and did several Teams calls back and forth. I came up with a design and sent it off to them. They would then come back to me with ideas. We never met face to face."
Bennett also said that the instructions were clear. The royal family wanted a dessert that, by its nature, was "traditional." "They wanted lots of things that depicted Her Majesty's life over 70 years. But they also made it clear that it was my work, albeit with some influence from them," Bennet explained. "They added their suggestions, but the final decision was left with me." This is a lot of pressure to be on a baker, but Bennet has plenty of experience — and he nailed the final product.
The Platinum Jubilee cake took three months from planning to execution
As part of his deal with Buckingham Palace, Mark Bennett didn't breathe a word of his historic assignment until the rich fruitcake had been delivered safely, only then taking to Instagram to say, "The Queen's Platinum Jubilee cake was successfully delivered to Buckingham Palace at 10 a.m. this morning. I could never have imagined that I would contribute to such an unprecedented event in British royal history — the commemoration of Her Majesty's remarkable seventy-year reign."
Naturally, as any baker would feel, Bennett was "humbled" to have the "honour" to make this cake for such a big milestone in Elizabeth's reign. After all, she is the "longest-reigning monarch" in the U.K.'s history, per Reuters. "Anyone who knows me will know I am a keen royalist and a patriot. For obvious reasons, the palace requested that we keep this news a secret until the cake had been safely delivered to the palace," Benett explained in his post.
Bennett couldn't do it alone, though. "This achievement is a testament to our company and the immeasurable contribution of our dedicated team over the last 10 years," he added. "I am grateful to my team for allowing me the time to devote to designing, making and decorating this cake for Her Majesty Queen Elizabeth II." The cake, which is white — a color that represents new beginnings and purity — overall, is adorned with silver accessories from top to bottom, as well as various sigils that are important to the queen.
Mark Bennett has ties to a pastry chef with a historic past
Mark Bennett wasn't chosen at random. In fact, he's actually made cakes for the royal family before. Bennett was part of a team that made a cake for Prince William and Kate Middleton's wedding in 2012, as well as Prince Andrew and Sarah Ferguson's wedding cake in 1986. That team also included pastry chef Eddie Spence who, as an apprentice, worked on Queen Elizabeth's and Prince Philip's wedding cake in 1947.
On this, Spence told the Daily Echo in 2011, "I worked in the bakery, that was where the young apprentices started. I had to go up to the decorators' room, where they were doing the cake, with some egg whites and I had to hand-beat the icing." From there, Spence was asked to make one of the cakes served at Princess Margaret's wedding, and he contributed a cake to Charles and Diana's wedding in 1981. Spence didn't shine until he created the queen's golden wedding cake in 1997.
While most royal suppliers carry a seal known as The Royal Warrant, which designates a person or a company as an entity that supplies both goods and services to the British royal family, Patisserie Mark Bennett doesn't appear to have one. But if he continues in the tradition of making cakes for extra-special occasions, like Spence, Bennett could receive an MBE (Most Excellent Order of the British Empire) for "services to the Sugarcraft Guild and Industry."
Ultimately, if you've ever wondered what Queen Elizabeth eats, you should know that she eats cakes made with a ton of attention to detail.