The Unusual Candy Collab Jell-O Just Announced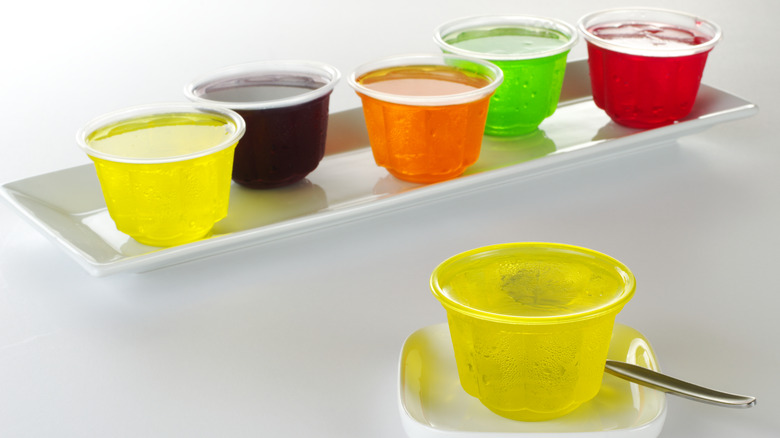 Ildi Papp/Shutterstock
When it comes to Jell-O, the rainbow of gelatin options you can find lined up on a grocery store shelf may be the first thing that comes to mind. Chocolate lovers, on the other hand, might conjure up an image of the brand's chocolate pudding snacks. Meanwhile, '80s babies may have fond memories of another cold treat, but pudding pops have been discontinued. Whichever camp you fall into, it seems the country has been hooked on the dessert since it first made an appearance at the 1904 World's Fair in St. Louis (via Hagley.org).
Though the ready-to-eat cups and make-at-home dessert mixes are likely the most well-known Jell-O products today, younger fans might be familiar with the Jell-O Play lineup. According to a press release from the Kraft Heinz Company, these "toys you can eat" were launched in 2018 combining both playful and edible parts like plastic molds for making Jell-O building blocks and edible stickers. Now, the brand is on the move once again, and this time around its newest offering is both sweet and sour.
Jell-O snacks come in four varieties
Morris National has teamed up with Jell-O to pump out some new candies in packages featuring the iconic logo. According to its website, Morris National was founded in 1950 and created a subsidiary Morris National, Inc. USA in 1974. Today the subsidiary produces a variety of sweets, including the new Jell-O candies. According to Food Business News, those packaged Jell-O treats come in four options: gummies, milk chocolate pudding cups, sour cherry candy squares, and sour berry blue squares. (The square options happen to look a lot like Morris' Tangy Zangy squares.)
The new Jell-O sweets have already hit the candy aisle, and the reviews are in. Over on Instagram, user @the.sweet.foodie posted about the pudding cups variety, writing the "The filling reminded me of a caramel texture, but milk chocolate. These are sweet and chocolatey" but concluding that they were "really nothing too special." On YouTube, Tami Dunn and her husband taste-tested the milk chocolate pudding cups and the gummies, finding the pudding cups "really tasty." The duo smartly discovered the shape of the gummies was modeled after the "O" in the Jell-O logo, but unfortunately found some of those open Os to be lacking flavor. As for the sour varieties, we couldn't find any feedback just yet, but @letstalksnacks pointed out on Instagram that you might be able to find them at Dollar Tree for $1.25, in case you want to run your own taste test.