The Best Woks Of 2022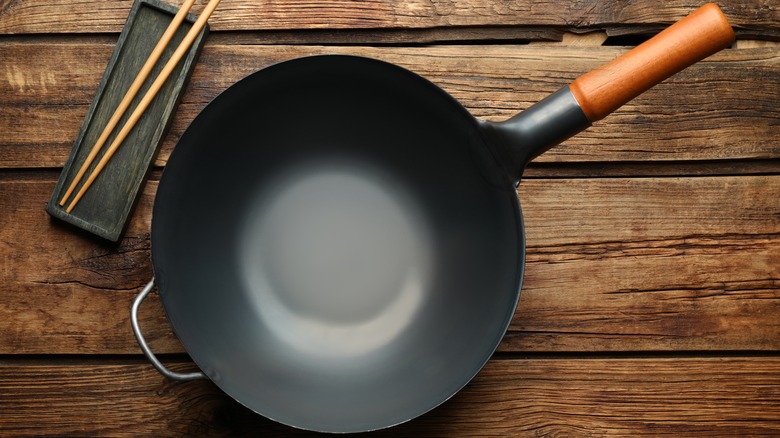 New Africa/Shutterstock
We may receive a commission on purchases made from links.
Woks are much more useful than most people realize. While woks are renowned for their ability to sizzle up some excellent stir fry, you can also use a wok in other inventive ways like whipping up fresh popcorn, or frying fresh tortillas. The wok's deep, rounded shape also makes it a practical choice for other tasks like steaming, braising, boiling, and frying.
Woks can be made from a variety of materials including carbon steel, cast iron, and stainless steel. While most woks are designed for gas ranges and electric stove tops, some woks are also entirely electric, which adds an element of convenience since they need less care than traditional models made from metals like cast iron or carbon steel. Woks come in two main designs: northern (or Mandarin) and Cantonese. 
The Cantonese-style wok has two small handles on opposite sides and is best-suited for serving. While cooking in Cantonese-style woks is certainly possible, its small handles make flipping food in the pan particularly challenging. The northern-style wok has a single long handle and is probably the model that most people think of when they picture a wok. The northern-style wok's long handle makes flipping food in the pan much easier.
At this point, you're probably on board for adding a new wok to your kitchen. Still, you may not be entirely sure which wok is best for you or what features to look for. Luckily, we've stepped in and done most of the work for you. 
How we selected products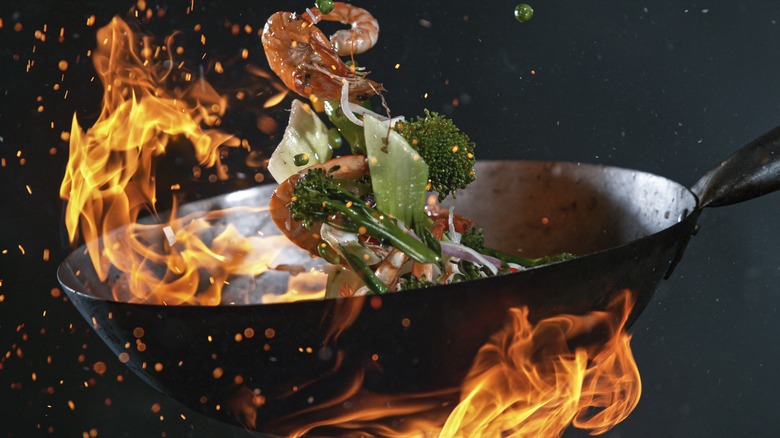 Lukas Gojda/Shutterstock
This list of woks was curated through expansive research and analysis. We've carefully evaluated user reviews, press coverage, and professional recommendations to compile a list of top-notch woks that offer a wide range of valuable features. Whether you're looking for something on the cheaper side, a versatile bundle pack that comes with a bunch of accessories, or a traditional wok made from premium material, rest assured that all the models on this list can produce satisfying results. Without a doubt, there's a wok on this list that can suit your needs.
As you'll see, affordability was also taken into consideration. We've showcased woks at different price points that range from a modest price tag to more upscale models on the higher end. Some of these may cost a little more, but are worth every penny. Regardless of your budget or cooking experience, we've ensured there's a wok on this list that will make a great addition to your kitchen.
Best overall wok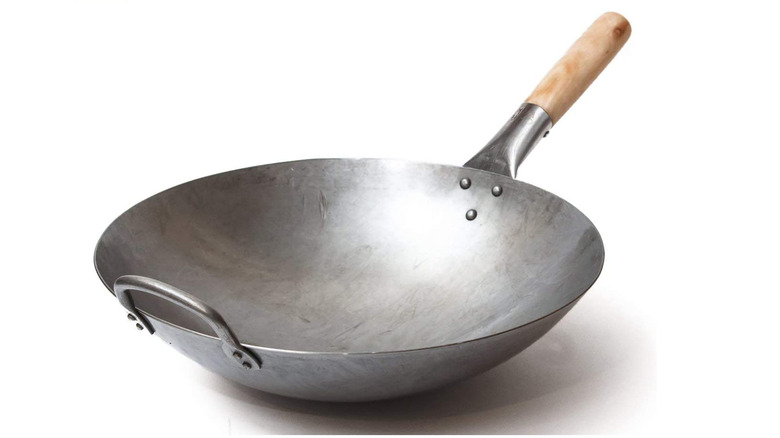 Craft Wok
One of the best woks on the market right now is this carbon steel wok by Craft Wok. This traditional wok is hand-hammered, which is a feature that's highly desirable. According to cookbook author J. Kenji-Lopez Alt, hand-hammered woks are beneficial because the subtle hammered indentations around the pan give food a surface to cling to when you need to clear the center of the pan to add more ingredients (via Serious Eats). While this round-bottomed wok isn't designed for flat induction stoves, it will work wonderfully as intended on a gas range.
Hand-hammered by professionals in China, this wok's wooden handle allows for a solid, comfortable grip. Made with durable carbon steel, it also comes with a metal helper handle to assist with hanging for storage. Study and affordable, this carbon steel wok is well-designed and needs to be properly seasoned before use. This wok also features more than 8,000 customer reviews that average out to an impressive 4.5 stars, ensuring that thousands of other buyers are very happy with their purchase.
You can buy Craft Wok's Traditional Hand-Hammered Carbon Steel Pow Wok on Amazon for $60.
Best budget wok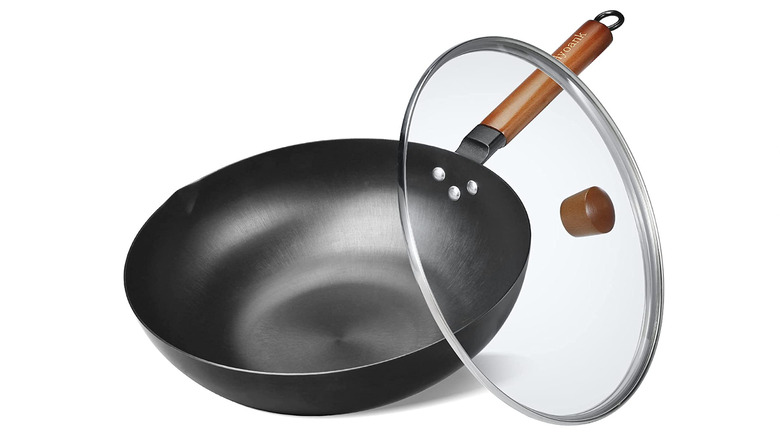 Hyoank
Everyone deserves better tools for the kitchen, but getting new gear costs money. For those on a budget, price is the top concern when shopping around for a new item. The good news is there are plenty of great woks out there for a very affordable price. And at only $30, this carbon steel wok made by Hyoank is definitely one of the best deals on the market right now.
The Hyoank wok is made with durable carbon steel and has an exceptionally smooth surface that will make cooking a breeze. It has a flat bottom that's compatible with different gas and electric stove tops, making it highly suitable for most kitchen setups. With a removable wooden handle, this wok can also slide right into the oven for baking. It also has a pouring spout on the side of the pan so that soups or any other liquids can be easily transferred from the wok into bowls. The Hyoank wok even comes with a tempered glass lid to help with steaming or finishing the cooking process. All in all, there's no doubt that this carbon steel wok gives you a lot of bang for your buck.
Purchase the Hyoank wok pan for $30 on Amazon.
Best carbon steel wok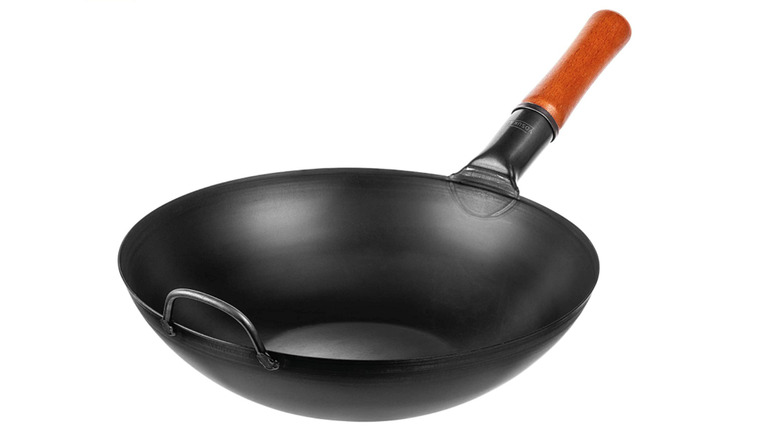 Yosukata
This wok by Yosukata is made with premium Japanese steel that's specifically produced for this product. It has a flat bottom and a welded handle base for stability. The special carbon steel is rust resistant and ensures an even distribution of heat. With superbly uniform thickness, it works on gas, electric, ceramic, and induction stove tops, or over open fire. And while it comes pre-seasoned, keep in mind that it still needs to be fully seasoned before use. If you're unclear about the seasoning process, this wok comes with a manual and a video guide that should clear up any questions you have.
It's also important to note that the Yosukata wok comes recommended by one of the most influential chefs and food writers in the game, J. Kenji Alt-Lopez (via Serious Eats). It's fair to say that he knows a thing or two about woks, considering he's a best-selling author who published a critically acclaimed book about them. Between the widely-respected endorsement from one of America's most popular chefs, to the thousands of positive reviews from satisfied buyers, it's clear that this Yosukata carbon steel wok is the real deal. Once you experience the wonders of this wok, you'll wonder where it's been all your life.
You can buy the Yosukata Carbon Steel Wok Pan on Amazon for $60.
Best cast iron wok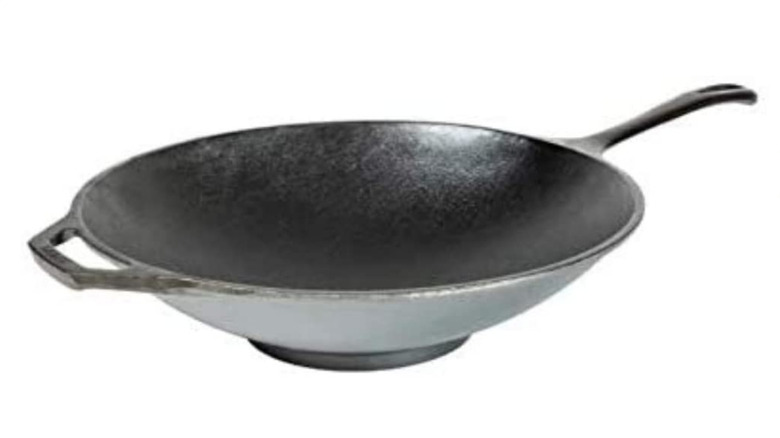 Lodge
Cast iron can last for generations if you take good care of it (via Almanac). So it would make perfect sense to get yourself a cast-iron wok, considering how durable and well-made they tend to be. This 12-inch wok by Lodge is definitely one of the best deals you'll find on the market for a brand new cast iron pan.
This Lodge cast iron wok has a flattened bottom and can work on both gas and electric stove tops. Its specially-designed ergonomic handle allows for enhanced control with maximum comfort. Another bonus of using a cast iron wok is that cast iron has excellent heat retention (via Serious Eats). This means that once your cast iron pan gets hot, it's going to stay hot for an extended period of time. There's no doubt that a pan's ability to effectively maintain consistent heat has its advantages in the kitchen, especially in processes like searing or frying. 
Lodge is a family-owned American company that's been in the cast iron cookware business for more than 120 years, so you know this is an investment you can trust. Once you start using your new cast iron wok in the kitchen, you'll wonder where it's been all your life. Treat yourself to a top-notch cast iron pan that will last a lifetime.  
Purchase the Lodge 12-inch cast iron wok for only $60 on Amazon.
Best hand-hammered wok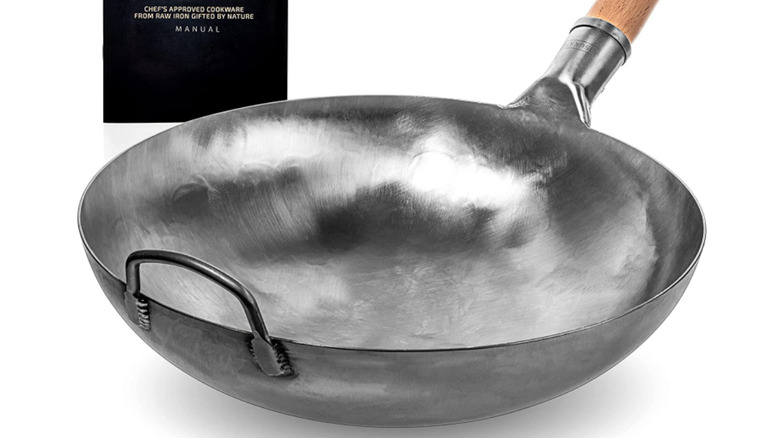 Yosukata
If you're in the market for a pan that's been hand-crafted by artisans, then the Yosukata carbon steel wok is a great choice. Why choose a hand-hammered wok? According to a wok artisan who shared some of his work with food historian and cookbook author Grace Young, hand-hammering has its advantages (via Grace Young). Hand-hammering makes slight alterations in the metal that not only gives it a more personalized touch, but also renders it more durable.
Made with carbon steel, this round-bottomed wok works well on gas stove tops or over an open fire. This Yosukata wok is also easy to handle and store, considering it weighs less than 5 pounds. At 14 inches, this wok can hold nearly 2 gallons and is easily spacious enough to cook good-sized meals for family and friends. The treated beech wood handle is over 5 inches long to provide a solid grip and smooth control. Handmade in China, you'll be hard-pressed to find a more authentic wok that's this high-quality and affordable.
You can buy the Yosukata Silver Round Bottom Wok on Amazon for $75.
Best Cantonese-style wok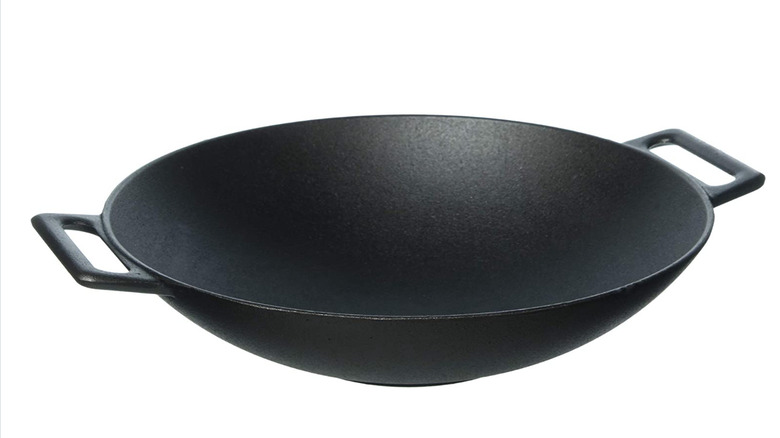 Jim Beam
Whiskey and woks. The connection between these two industries may seem elusive, but somewhere along the way, the Kentucky-based, bourbon-loving aficionados at Jim Beam took an unexpected turn and decided to expand their portfolio by making cast-iron Cantonese-style woks. And we're here for it, especially considering that the model it released has garnered nearly 3,000 positive reviews from satisfied customers. This wok can truly do it all, and it's also compatible with different types of stove tops and cooking surfaces.
Even though Cantonese-style woks have shorter handles, they still have their advantages. That's because Cantonese-style woks tend to have a little more space inside the pan which makes it easier to cook larger batches of food (via Wok All). So if you're looking for a little more room to cook bigger meals, a Cantonese-style wok may be a good fit for you. Just be aware that flipping your food with the mini-handles on a Cantonese-style wok is much more challenging that flipping food in a Northern-style wok. That said, a Cantonese-style wok makes a wonderful serving dish once the food is ready. Heavy-duty and well-designed, this wok is also safe for your grill, oven, or over an open flame.
Purchase the Jim Beam Pre-Seasoned Cast Iron Grilling Wok on Amazon for only $40.
Best northern-style wok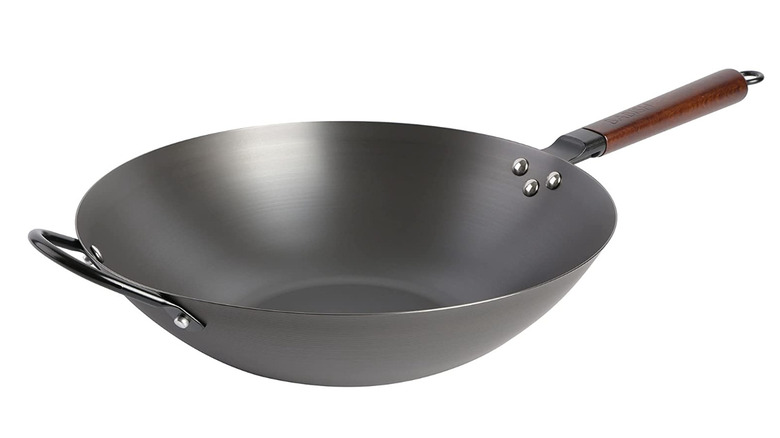 Babish
Andrew Rea, the creator and chef of the wildly popular cooking show Binging with Babish, also creates some high-quality cookware — including this northern-style wok. This heavy-gauge carbon steel flat-bottomed wok has a riveted wooden handle to ensure a safe and comfortable grip while you're cooking. It's safe for all types of cooking surfaces, it's rust-resistant, and it's easy to clean.
Northern-style woks are often preferable over Cantonese-style woks because they have a long handle that makes it much easier to flip food while it's cooking in the pan. The Babish wok is 14-inches in diameter, which is a great size that's capable of cooking meals for two, or even a small group. If you're not sure how to properly season this wok after you buy it, instructions are conveniently included under the product description on Amazon. All things considered, this is a well-made wok made by a trusted source that's teeming with a wealth of culinary knowledge.
You can buy the Babish Carbon Steel Wok on Amazon for $50.
Best wok bundle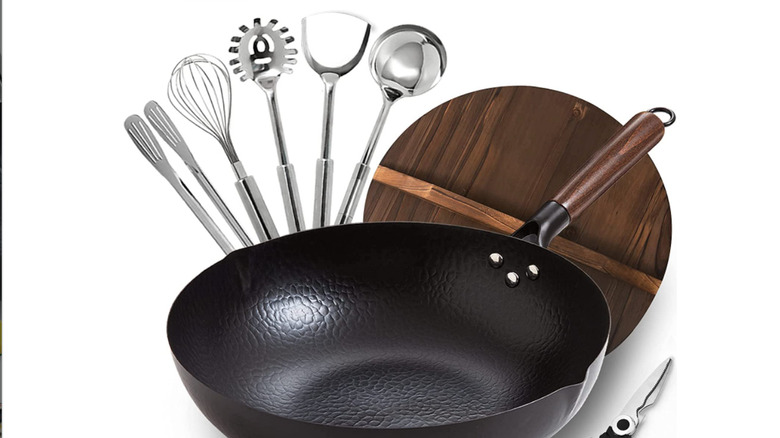 BrBrGo
Depending on your situation in the kitchen, sometimes it's best to shop around for a bundle package. That way you'll have everything you need to get started right away without having to track down a bunch of other accessories. This carbon steel wok comes as part of a generous 10-piece set that includes other important tools that can help you get fresh food from pan to plate in no time.
This deal comes with a 13-inch flat-bottomed wok, a wooden lid, spatula, soup ladle, spaghetti spoon, tongs, an egg beater, two scouring pads, and a pair of kitchen scissors. The BrBrGo wok's versatile design and composition allows it to work on multiple cooking surfaces and stoves including gas ranges and induction stoves. It has a detachable handle with a metallic ring hanger and dual soup spouts on each side of the pan for easy pouring of liquids. It also weighs less than 3 pounds which makes it a breeze to handle and store. There's no doubt that this affordable bundle package is an amazing deal you should take advantage of while you can.
Purchase the BrBrGo carbon steel wok bundle on Amazon for only $37.
Best flat-bottomed wok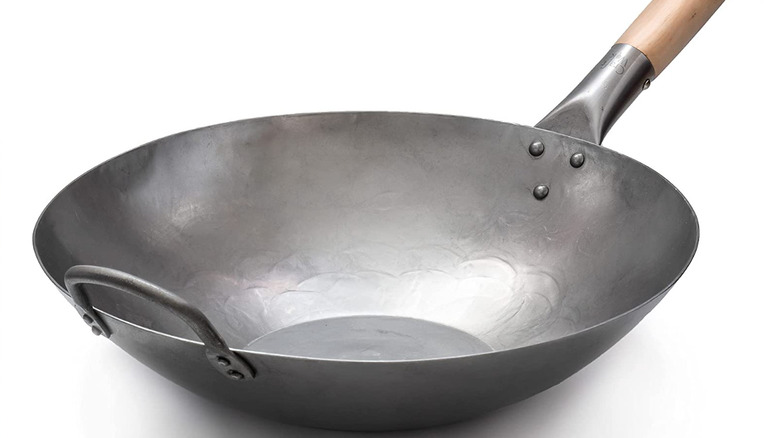 Craft Wok
This flat-bottomed wok by Craft Wok is made with commercial grade carbon steel and comes recommended by many professional chefs. Its flat bottom is suited for all types of stove tops including gas and electric. Hand-hammered in China, this wok has an authentic aesthetic and a steel helper handle that makes hanging for storage nice and easy.
Weighing less than 5 pounds, this wok is also very lightweight and extremely easy to work with. Its 1.8 millimeter thickness provides just the right amount of distance between the heat source and your food to create an ideal cooking temperature. All in all, this Craft Work is sturdy and well-designed, making it worth every penny. You don't have to just take our word for it — the hundreds of positive reviews from customers speak for themselves. If you're looking for a flat-bottomed wok that can do it all without breaking the bank, this might just be the one for you.
You can buy the Craft Wok Flat Hand Hammered Carbon Steel Pow Wok on Amazon for $60.
Best round-bottomed wok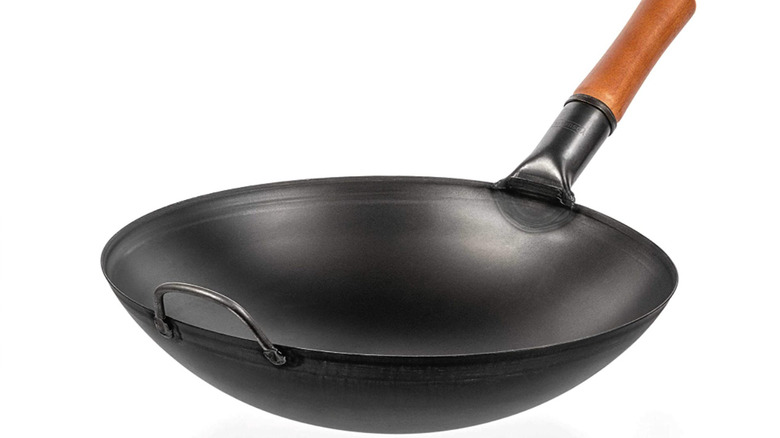 Yosukata
This round-bottomed wok by Yosukata is made with special black carbon steel that's designed to last a lifetime. Its round-bottomed shape makes it ideal for cooking on a gas stove top or over an open flame. The 16-gauge steel it's composed of creates an optimal environment for even heat distribution.
This wok comes pre-seasoned and treated at high temperatures, but you'll still need to give it a full season with more oil before you work with it. This is because all new woks comes with a thin coating from the factory that needs to be cleaned off before the pan comes into contact with food and direct heat (via Fine Cooking). This first cleaning can be accomplished very easily with a good scrub in some hot water, followed by a rinse and a dry over low heat. Once dried, rub the wok down with some oil and you're good to go! If you're looking for a versatile round-bottomed wok that won't let you down, this model by Yosukata was made with you in mind.
Purchase the Yosukata Carbon Steel Wok Pan on Amazon for $62.
Best wok with a lid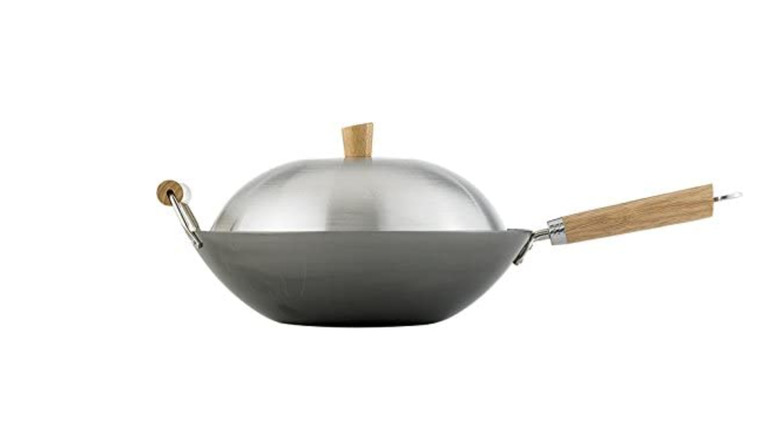 Helen's Asian Kitchen
This wok was developed by chef and cookbook author, Helen Chen. Even though woks tend to be used for stir fry, which doesn't typically require a lid, other tasks like steaming, braising, or boiling often require one. The high dome on this lid is perfect for bamboo steam baskets and ensures that none of the food piled in your wok will come into contact with the lid, helping it to seal tightly against the pan. Its heat-resistant bamboo handle is designed with safety in mind to keep your hands protected from the heat.
Its flat-bottomed design and metallic composition allows it to be used on gas and electric stove tops, making it a good fit for just about any kitchen. After nearly 3,000 positive reviews, the Helen's Asian Kitchen wok has a high star rating from plenty of satisfied buyers. If you're looking for a solid wok with a high-domed lid, this will definitely do the trick.
You can buy Helen's Asian Kitchen Wok on Amazon for $50.
Best mini wok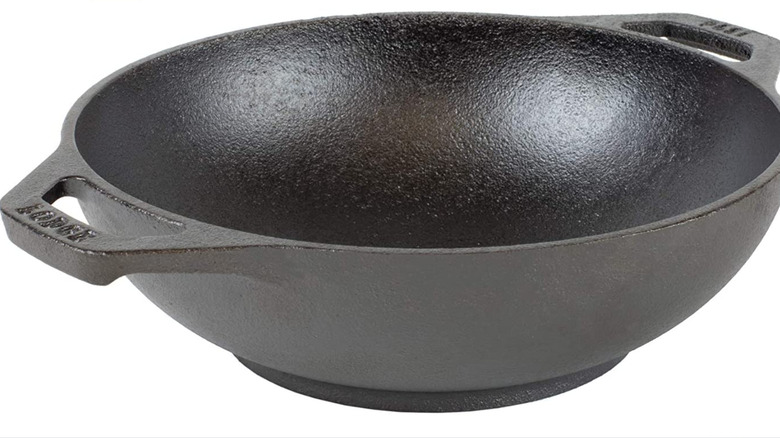 Lodge
Woks tend to be used for cooking bigger batches of food, but that's not always the case. Some woks are specifically designed to be smaller for the convenience of cooks who cook single meals or happen to have less space for storage. This mini wok model by Lodge is a great choice if you're on the prowl for a modest-sized pan.
Made with cast iron, this little wok has the potential to last generations. It's also comforting to know that Lodge doesn't use any chemicals or synthetic coatings on its pans. With a diameter of 6 inches, this mini wok is an ideal choice for preparing Korean dishes like bibimbap that require small metallic bowls so the rice on the edge of the pan gets a light crunch. And because it's made of cast iron, it can easily be used on the stove or grill, in the oven, or over a fire.
Purchase the Lodge Cast Iron Mini Wok at Amazon for $38.
Best electric wok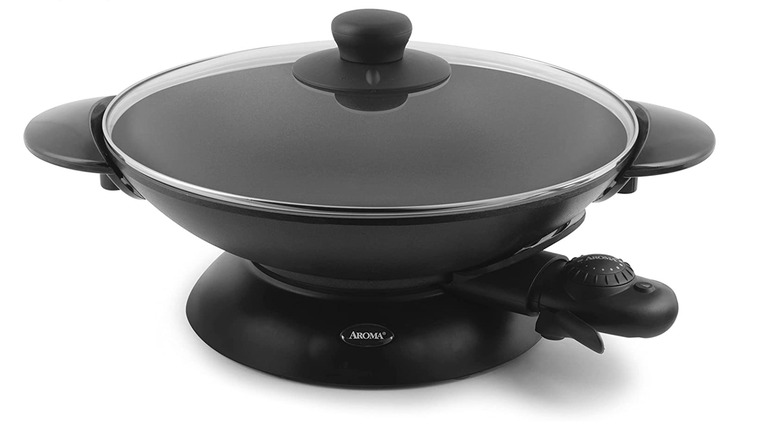 Aroma
While electric woks are far from authentic or traditional, there's no denying that they're extremely practical and convenient for many people. This electric wok model by Aroma comes with a tempered glass lid, extra long chopsticks, and racks for steaming and tempura. The glass lid has an adjustable steam vent that allows you to control the amount of moisture circulating in the wok, and it also has a temperature probe so you can check the exact heat level inside.
The Aroma wok can hold 5 quarts, which is plenty of space to cook a large meal. It's designed to hit high temperatures and heats up at a rapid rate. It also has a nonstick coating to ensure a smooth cooking process every single time. Every piece on this model is detachable and dishwasher safe so you can cleanup with ultimate efficiency.
You can buy the Aroma Housewares Electric Wok on Amazon for only $54.