The Snack That Kept Millie Bobby Brown Going On The Stranger Things Set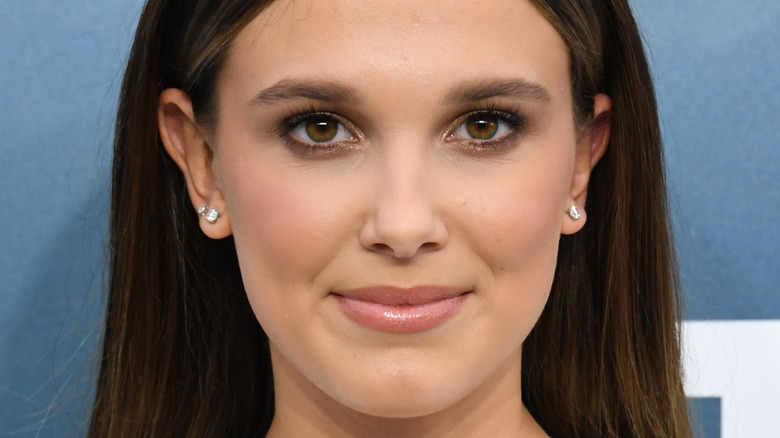 Jon Kopaloff/Getty Images
"Stranger Things" fans rejoice! At long last, Netflix has finally returned with the fourth installment of this supernatural series. In this latest chapter, the Hawkins gang must solve a deadly mystery plaguing their beloved town (via Collider). As always, the show's creators have left us with a series of questions that we hope are answered before volume two comes to an end. But rest assured, this is not the last you will be seeing of the Upside Down. Although the show has not yet been renewed for a fifth season, the Duffer brothers claim that this season is not the last. "We know what the end is, and we know when it is," Ross Duffer teased to The Hollywood Reporter.
During the show's three-year hiatus, the devoted cast and crew weren't resting on their laurels. In fact, it was quite the contrary. In an interview on The Tonight Show, Finn Wolfhard, who plays Mike Wheeler on the Netflix show, revealed just how long it took to film the fourth season. "We just finished shooting, and it was Day 300," the 19-year-old actor revealed. The actors and crew members all needed their own special way to get through the late-night shoots and long hours on set. On an episode of "Hot Ones," Millie Bobbie Brown revealed the special snack that kept her fueled and fired up.
Millie Bobby Brown was fueled by McCods during Stranger Things shoots
Most actors have their go-to snack that keeps them from getting hangry on-set. While Jennifer Lawrence loves Cool Ranch Doritos, Hilary Duff can't resist snacking on spicy watermelon (via Insider). Meanwhile, Milo Ventimiglia had an unexpected snack stash that he kept on the "This is Us" set. Millie Bobbie Brown is no different. On an episode of "Hot Ones," the "Stranger Things" actor opened up about the savory snack that she would repeatedly dip into on-set. Ever heard of a McCod? We haven't either.
Host Sean Evans asked the British actress if she could walk him through how to make one of these unique creations. According to Brown, you start out with a shred of lettuce as your base. Then, you pile on some sliced ham and peppers. Finally, she likes to drizzle the entirety of her wrap with some Sriracha. "They usually make me like six of them and that's what keeps me going on set," the 18-year-old star shared. "It's the best ever."
And how did the lettuce wrap get its unique name? Apparently, the creation is named after the man who makes the snack for the actress. "Shout out to Crafty Dave," Evans joked.