Easy Seven Layer Salad Recipe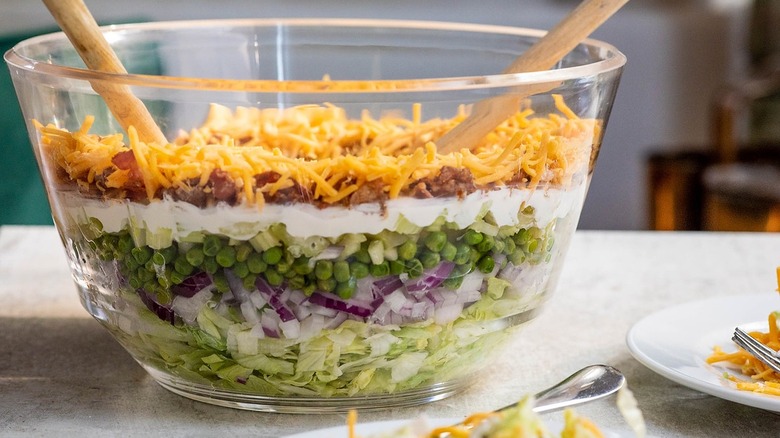 Michelle McGlinn/Mashed
If you're looking for a little taste of the Midwest, you'll want to give this easy seven layer salad recipe a try. As the title suggests, you'll build this dish in layers, and when it comes time to serve, you'll toss all of those layers together, ensuring that each diner has a little bit of everything. Recipe developer Michelle McGlinn grew up eating seven layer salads, and she explains that her own recipe is based on one from her own family. 
"My favorite thing [about this salad], and I'm sure everyone else's too, is that it's very easy to make but feeds a crowd," McGlinn explains. "And, like most Midwestern recipes, it's built as a casserole and mysteriously tastes absolutely amazing." It's true; there are some interesting combinations of ingredients that go into this, like sour cream and sugar. While McGlinn acknowledges that such a pairing looks strange on paper, she assures us that the end product is well worth it. But don't take her word for it! Whip up an easy seven layer salad yourself, and you'll savor the flavor of each and every layer.
Gather the ingredients for this easy seven layer salad
Michelle McGlinn/Mashed
There aren't too many ingredients that go into this salad, which adds to the overall ease of the recipe. To make it, you'll need a head of iceberg lettuce (just give it a shred or chop), diced red onion, chopped celery, peas, mayonnaise, sour cream, sugar, bacon, and some shredded cheddar cheese. 
While McGlinn's ingredient choices stem from how her family used to make the salad, she notes that there is plenty of room for interpretation. "A lot of seven layer salads use hard boiled eggs as a layer, often in place of the celery or peas," she explains. She also notes that you could add a layer of green bell peppers for extra crunch, use a different kind of onion, swap out bacon for ham, or opt for a cheese other than cheddar. There is one thing that McGlinn does insist on keeping, no matter what other variations you may make: "As weird as it sounds, I recommend keeping that sugared sour cream layer."
Prep the dressing and cook the bacon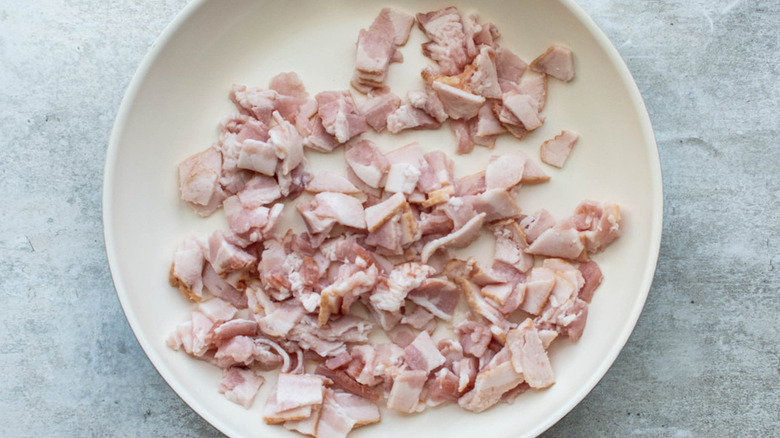 Michelle McGlinn/Mashed
First, you'll want to mix the sour cream and mayonnaise together in a bowl, then set it aside. Now, chop the bacon up into small pieces and add them to a skillet. Cook the bacon on the stovetop over medium heat, stirring often, until it gets brown and crispy on all sides. At that point, remove the bacon from the skillet and place the pieces on a layer of paper towels to absorb excess grease. 
It's time to start layering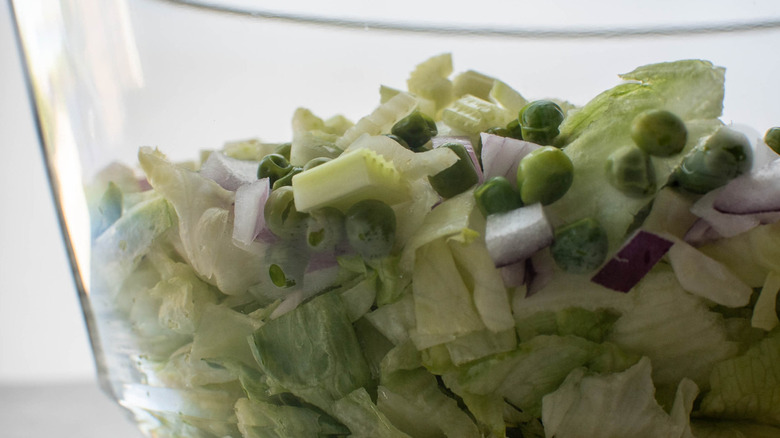 Michelle McGlinn/Mashed
Grab a large glass bowl or casserole dish and begin layering the salad. Start with your shredded or chopped iceberg lettuce. On top of that, layer on the diced red onion, peas, and chopped celery. Be sure that the peas are thawed (a quick blanch or microwave steam will do), cooled, and drained before adding them to the salad.
"You can always just toss it all in a bowl together, but the idea is that it's served in a glass bowl with all the layers stacked on top of each other. It's fun and looks so good on the buffet table," McGlinn says. She goes on to explain that it's important to get the method right, and it all starts with choosing the right bowl. If the bowl is too big, some of the ingredients might get lost in the middle. So, you'll want to choose a bowl that will show off each layer, and be sure to spread those layers evenly and to the edge!
Finish layering the salad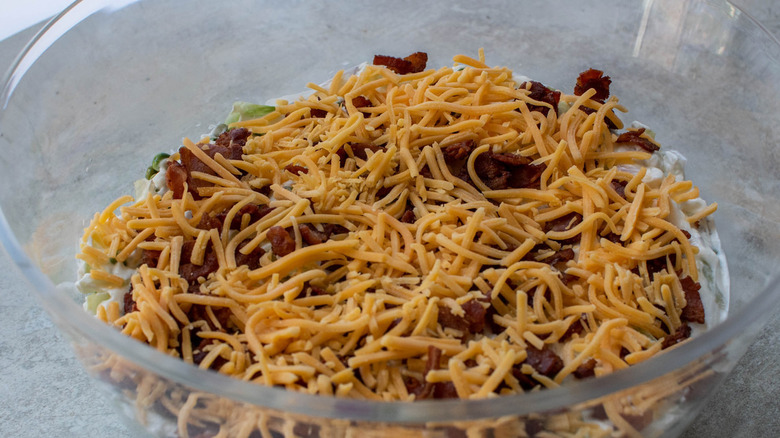 Michelle McGlinn/Mashed
Grab that small bowl you set aside with the mayo and sour cream mixture, then slather that right on top of the celery. Now, sprinkle the sugar on top of the creamy layer, and just trust us when we say that it will taste good! Then sprinkle the cooked bacon pieces, and finally, the shredded cheddar cheese. At this point, cover the bowl with plastic wrap and pop it in the fridge for at least 2 hours, but ideally overnight.  
Toss the layers together and serve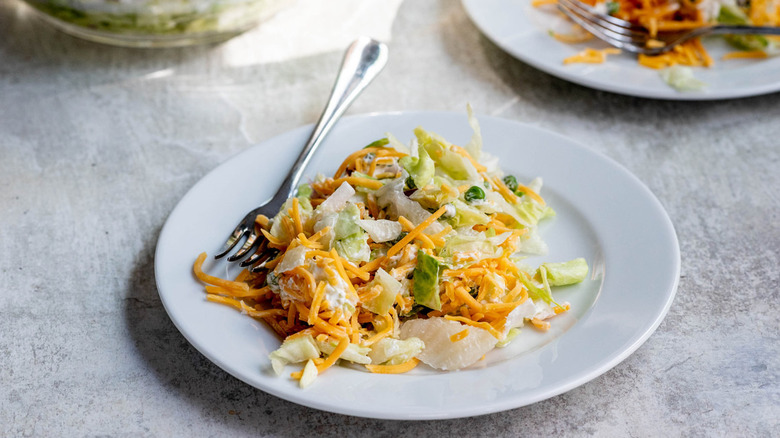 Michelle McGlinn/Mashed
After the salad has had adequate time to chill, remove it from the fridge, toss the layers together table-side, then serve immediately. Because of the cool and refreshing nature of the salad, McGlinn says that it is great for the summer, and that it "pairs really well with grilled foods like hamburgers, chicken, and hot dogs." She also says that "it's a great replacement for potato salad or coleslaw." Each bite of this salad will have a little bit of crunch, a little bit of creaminess, and even a hint of sweetness from the sugar. Who knew seven layers could come together to make something so tasty?
Easy Seven Layer Salad Recipe
A fixture of the Midwestern buffet spread, the seven layer salad is a celebration of different flavors and textures. And, of course, mayonnaise.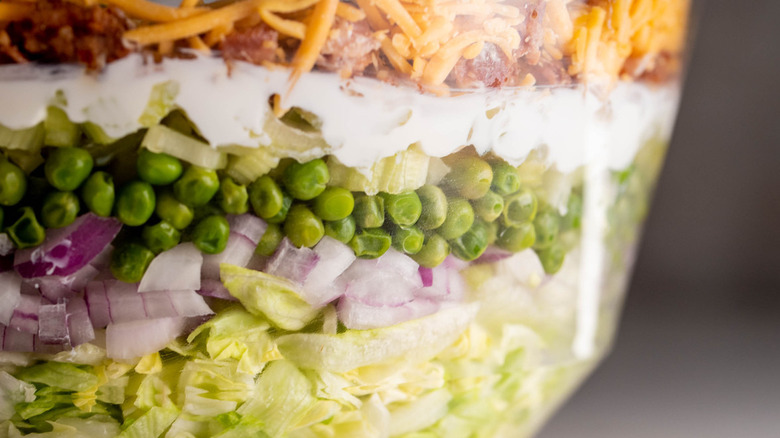 Ingredients
½ cup mayonnaise
1 ½ cups sour cream
8 strips bacon
1 head iceberg lettuce, shredded or chopped
½ cup diced red onion (about ½ onion)
1 (10-ounce) package cooked, cooled, and drained peas
½ cup chopped celery
1 tablespoon sugar
6 ounces (about 1 cup) shredded cheddar cheese
Directions
Mix together the mayonnaise and sour cream, then set aside.
Chop the bacon into small pieces, then heat in a skillet over medium heat, stirring often, until browned and crispy on all sides. Remove the bacon from the skillet and place on a paper towel-lined plate to drain.
In a glass bowl or casserole dish, layer the lettuce, red onion, peas, and celery.
Smooth the mayonnaise mixture over the celery so that it covers the entire layer. Sprinkle the sugar onto the mayonnaise mixture evenly.
Sprinkle the bacon crumbles over the mayonnaise layer, then top with cheese.
Cover the salad with plastic wrap and place it in the fridge for 2 hours or overnight.
When ready, toss the layers together table-side and serve immediately.
Nutrition
| | |
| --- | --- |
| Calories per Serving | 585 |
| Total Fat | 51.4 g |
| Saturated Fat | 19.5 g |
| Trans Fat | 0.4 g |
| Cholesterol | 91.8 mg |
| | |
| --- | --- |
| Total Carbohydrates | 15.3 g |
| Dietary Fiber | 3.8 g |
| Total Sugars | 9.2 g |
| Sodium | 594.9 mg |
| Protein | 16.4 g |