The Mindy Project Actor You Never Knew Does TikTok Food Reviews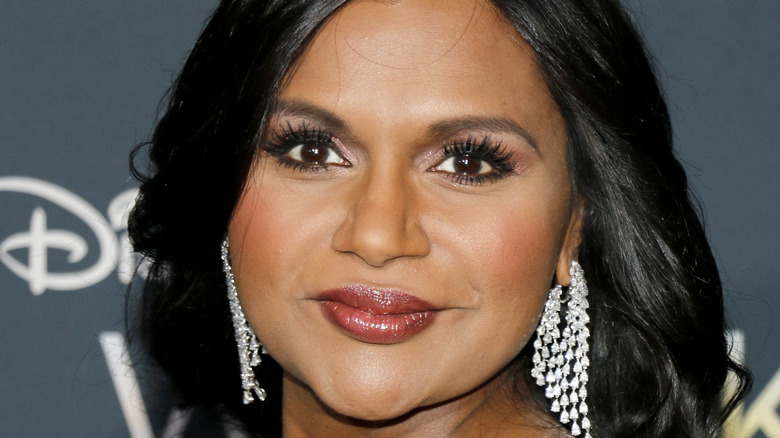 Tinseltown/Shutterstock
From "Never Have I Ever," to the "The Sex Lives of College Girls," Mindy Kaling has been the mastermind behind many legendary comedy shows over the years. One of her most personal roles to date was a series that she both created and starred in: "The Mindy Project." This sidesplitting comedy revolved around an Ob/Gyn and her eccentric group of friends and co-workers. Over the course of six seasons we got to watch as ridiculous drama ensued in and outside of the office (via IMDb). While it's been off the air for several years now, we can thankfully still relive the most memorable moments from the show on Hulu, from Mindy and Danny's first kiss to Danny's iconic secret Santa dance (via Watch Mojo).
While Kaling certainly has a busier schedule than most, the mother of two still has time for food. The Emmy Award-nominated writer and producer consistently uses her Instagram page as a platform to share her favorite new restaurants or recipes and has also dished about her go-to McDonald's order and the restaurant rule that she never breaks. While the Massachusetts native is notoriously an adventurous foodie, so is one of her co-stars from "The Mindy Project" who also does restaurant reviews.
Ed Weeks invited Mindy Kaling to join him for Indian food on WeeksEats
Surprise, surprise! Ed Weeks, who plays ladies' man Dr. Jeremy Reed on "The Mindy Project" also shares a passion for trying out the latest food fads and trendy restaurants. In fact, the "LA to Vegas" star even has a TikTok account dedicated to tasting foods from around the world. In each video, viewers can enjoy a review of different dishes and restaurants, along with Weeks' trademark wit and charm. From a soft Spanish omelet in Barcelona to a chicken fried steak at an American diner, there's a little bit of everything that can be found on WeeksEats.
In some episodes, the English-Salvadorian actor invites a guest to join him for a meal. In a special two-part episode, fans of "The Mindy Project" get to witness a reunion between Kaling and Weeks at an Indian restaurant. At Roots Indian Bistro in Los Angeles, California, the former co-stars reminisced over their days on "The Mindy Project," and the actress admitted that "the set of the show was very food-related." As she said, "The sheer amount of it ... I had to kiss Ed on camera ... we've both just had ribs."
Over the course of their lunch together, the actors noshed on Paneer Masala Fries, Vindaloo, and a Pink Punjabi, among other things. The Pink Punjabi included sprite, milk, and rosewater. While Kaling thought the drink sounded like "a recipe for throwing up," after trying it, Weeks admitted it resembled an In-N-Out milkshake (via TikTok). Here's to hoping these two team up again soon!