TikTok Is Raving About Giada De Laurentiis' Chocolate Amaretti Cake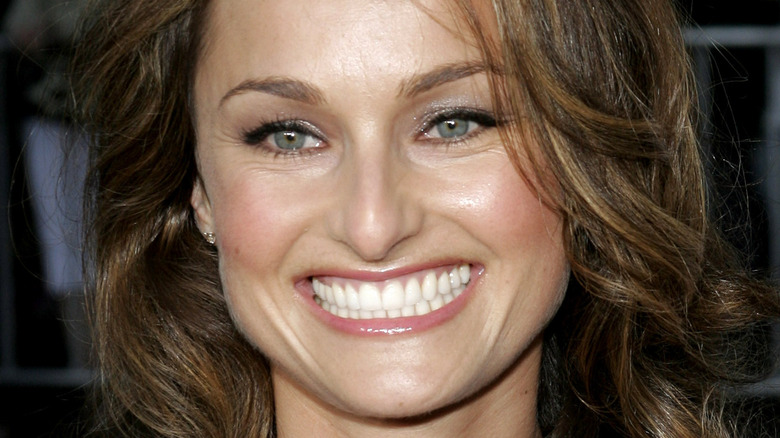 Tinseltown/Shutterstock
No one can help you tap into your inner Italian — regardless of what your actual background may be — like Giada De Laurentiis. The Food Network chef has embraced her Italian heritage from the word "vai" (that's Italian for "go"), never shying away from an authentically pronounced pasta or rewarding her American daughter's good deeds with Nutella, an Italian staple. And De Laurentiis isn't reaching way back into generations past to connect with her Italian roots, either. The chef told Business Insider she led a "very Italian [life]" even after her family moved from Rome, Italy, to the United States when De Laurentiis was just 7 years old. "We spoke Italian at home, we only ate Italian food — and let me tell you, back in the late '70s and early '80s, people were not as proud of their unique heritage as they are now."
It's to our great fortune that times have changed and that De Laurentiis, while playing for Team America, is proudly waving the flag for all things Italian, too. After all, without her bi-patriotism, we wouldn't have the chocolate Amaretti cake — a decidedly Italian dessert, made on American soil — taking the TikTok world by storm, now would we? Kids may have made fun of De Laureniis' Nutella sandwiches back in the day (per Insider), but now they're praising an authentically Italian cookie cake from the chef's repertoire.
Giada-bing, Giada-boom, you've got yourself an authentic Italian dessert
On Giada De Laurentiis' TikTok, the chef explains that she is making her cake using Amaretti cookies that are "straight from Italy." No doubt that running Giadzy, a website that De Laurentiis uses to share recipes and ship her favorite Italian products to home cooks across America, has perks. At the time of this writing, the Lazzaroni Amaretti cookies listed on Giadzy in their rad, retro tin, were completely sold out. It wouldn't be surprising if the popularity of De Laurentiis' TikTok recipe helped with that. As one viewer said, "Omg I want that tin." Another inquired about where to buy the cookies.
In the video, the chef pulverizes the almond-based cookie and a bunch of slivered almonds, for good measure, into a crumbly base. Set to the music of Harry Styles' "Music for a Sushi Restaurant," the cake De Laurentiis bakes in the video is about as far from sushi as you can get: a rich, chocolatey concoction topped with cocoa powder and chocolate shavings, that looks like it could be sitting in any Roman bakery window. "Chocolate almond decadence!" De Laurentiis writes in the caption. While some viewers metaphorically (and maybe literally) drooled over the cake with words, another declared, "I've been making this recipe for 10+ years and it never fails!" (Details and ingredients can be found on Giadzy, less the sold-out Amaretti biscuits). Che buono.