The Thomas' Bagels Commercial You Never Knew Charlie Day Starred In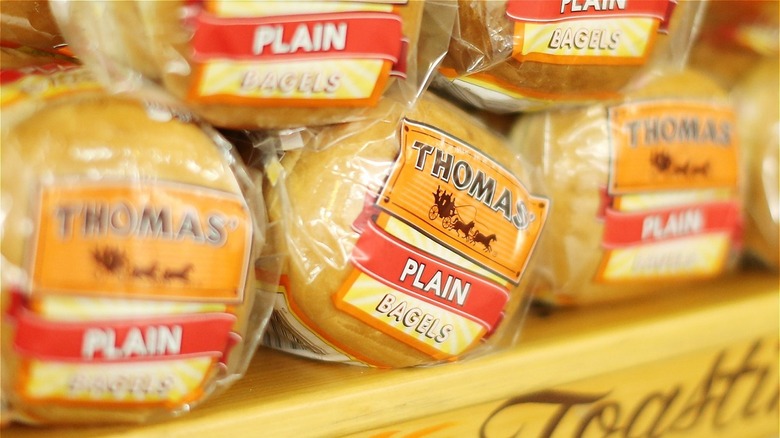 Neilson Barnard/Getty
Charlie Day is a writer, producer, and actor best known for his roles as Charlie Kelly in the sitcom "It's Always Sunny in Philadelphia," Dale the dentist in the black comedy films "Horrible Bosses" and its sequel; Peter in the romcom "I Want You Back," and Art in Pixar's "Monsters University," to name a few, per IMDb. Often portraying uptight, apprehensive, and boisterous characters — not to mention possessing one of the most recognizable voices of all time — Day has certainly made a name for himself in Hollywood. He was even a guest interviewee on "Hot Ones" back in 2017, a coveted line on many celebs' résumés.
Along with a number of entertainers in their early days of auditioning for any part they could land, it took Charlie Day a few small gigs until he was hired for more distinguished roles. In other words, before he became famous, the funnyman mainly appeared in TV ads, including one for a brand with which breakfast buffs might be familiar.
Charlie Day plays a distracted roommate in a hilarious Thomas' Bagels commercial
Charlie Day played a key role in a Thomas' Bagels commercial that folks might remember from years ago. Day recalled the experience not-so-fondly on an episode of "The Tonight Show" with Jay Leno in 2013, heavily underlining feelings of frustration. "Here I am thinking I nailed it and the director would come over and be like, 'Charlie, Charlie, Charlie, Charlie, Charlie. I don't know how to say this, but are you connecting with Thomas?'" The 15-second spot required a mere 109 takes to achieve the desired result, Day quipped (via HuffPost).
The commercial is simple and silly: Day is shown carrying a couch up a flight of stairs with an apparent roommate when a female tenant carrying groceries hurriedly scoots past them. Lo and behold, a package of Thomas' Bagels sits at the very top of the bag. Instead of noticing his attractive new neighbor, the bagels catch his eye, causing him to lose his grip on the heavy piece of furniture, sending the other mover tumbling down the steps. Moments later, Day and his roommate — who is now sporting a neck brace and upper body cast due to his injuries — are munching on bagels with cream cheese in their abode. Day, seemingly oblivious to his struggling roomie, exclaims, "Thomas' makes good bagels!" Oh, Charlie Day. The world is grateful for your lively humor — and for bagels, of course.