Over 29% Agree This Restaurant Has The Best Fried Chicken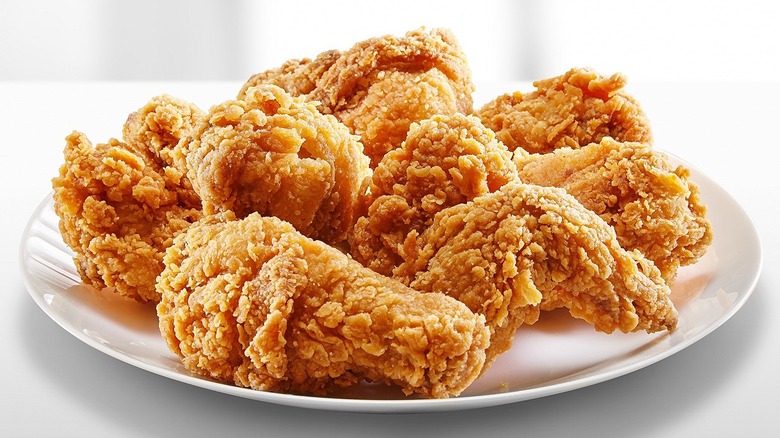 Fierman Much/Shutterstock
When it comes to American comfort food, fried chicken ranks high up there as one of the most beloved choices. In fact, according to a YouGov survey, it's the sixth most popular American dish, just behind cheeseburgers and French fries. In its finest form, fried chicken is crispy and crunchy on the outside and moist and juicy on the inside. However, with so many restaurants serving up their own takes on the Southern dish, it seems that every person has their own opinion on what makes the very best piece of meat. 
There's Popeye's, which ignited a wildfire of excitement across social media with its coveted fried chicken sandwich. There's Bojangles, famous in the South for its fresh-never-frozen chicken served with biscuits. And then, of course, there's the OG KFC, championed by Colonel Sanders. Of all the options, which fast food joint has the best fried chicken? To find out which place folks would flock to, Mashed polled 553 people across the country. Here's which restaurant reigns supreme, according to 29% of respondents.
Nearly a third of people picked Popeyes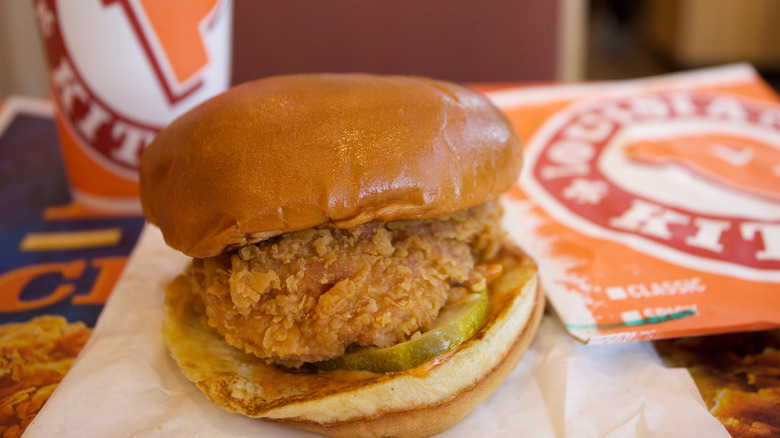 Elliott Cowand Jr/Shutterstock
Of all the restaurants famous for their fried chicken, it turns out that Popeye's is considered the best, according to Mashed's poll results. In the survey, the Louisiana-born fast food chain was the top pick, with 29.11% of respondents deeming it their go-to. As for what makes Popeye's chicken stand out in consumers' mouths, it could be the fact that each piece — thighs, breasts, wings, and drumsticks — marinates for 12 hours before going into the fryer. or it could be the blend of Cajun spices mixed into the batter that has just a little bit of a kick. A reviewer on Influenster might agree with the latter. "The BEST CHICKEN I HAVE EVER HAD!!!!!" the fan exclaimed, explaining, "It is seasoned perfectly and is as tender as can be."
How did the other popular fried chicken joints compare to Popeye's? KFC — a.k.a. Kentucky Fried Chicken — was a very close second, receiving 28.39% of the votes, while Raising Cane's came in third with 15.73%. Bojangles and Church's Chicken both earned 8.5% of the votes, followed by Zaxby's with 8.14%. Unfortunately for Jollibee, it took last place with only 1.63% of people dubbing it their favorite.