Why Cracker Barrel Is Increasing Its Prices This Summer
Since the COVID-19 pandemic began more than two years ago, the restaurant industry has arguably struggled more than any other industry. As of November 2021, Fortune reported that some 90,000 restaurants shut their doors in the previous year and a half. And it wasn't just mom-and-pop spots that felt the pressure. Even McDonald's announced that it would shutter 200 locations, per USA Today. Whole Foods saw profits fall in 2021, too, and the grocery chain opted to close multiple stores, leaving shoppers upset.
Cracker Barrel, which has somewhat of a cult following, has been serving up family favorites for decades. However, like many food and beverage chains around the world, the company has struggled to handle pandemic-era changes. The restaurant brand recently announced price hikes, and it cited two main reasons why it needs to increase the cost of its menu items despite the fact that consumers won't be excited to see a pricier food selection.
Cracker Barrel plans to increase its prices this summer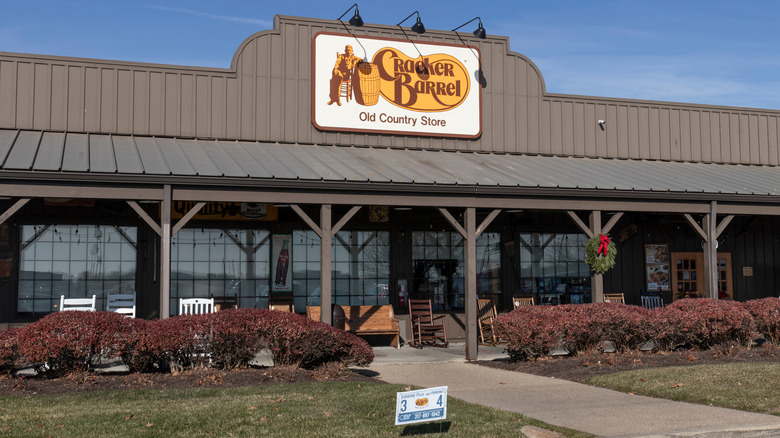 Jonathan Weiss/Shutterstock
Cracker Barrel CEO Sandra Cochran admitted recently that the chain did not see its best third quarter, which ended April 29, and that things probably won't get better just yet, per Nation's Restaurant News. The company's chief financial officer, Craig Pommels, said that the chain plans to take price increases "in a staged and thoughtful manner," totaling to a 7% increase, as a result of two main factors: inflation and higher gas prices. Though inflation has hit every restaurant, Cracker Barrels tend to be parked alongside highways; if people aren't traveling as much due to high gas costs, the restaurant could see fewer customers. Two price hikes will come in June and early August.
Of course, Cracker Barrel isn't the only chain to announce price hikes. Back in February 2022, Starbucks announced that it would raise prices; it, too, cited inflation as the main cause. Twitter users were infuriated with Starbucks' rising prices, mostly because the company's CEO earned a whopping $6 million raise between 2020 and 2021, per MarketWatch. Plenty of other companies, including Hershey's and Clorox, also announced price hikes, per Reuters.