Grace Young's Spicy Ginger Chicken With Peppers And Baby Bok Choy Recipe - Exclusive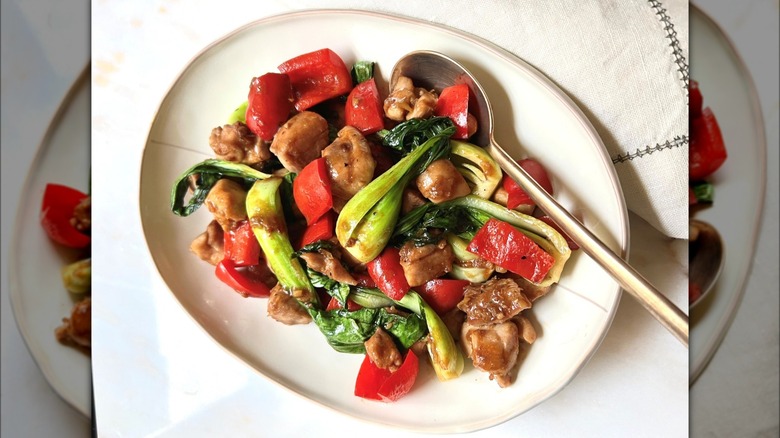 Grace Young
In celebration of Asian American and Pacific Islander month, we are honored to have an exclusive recipe from the distinguished author, culinary historian, and food activist, "The Stir-Fry Guru" herself, Grace Young.
Young is the author of several cookbooks, including "Stir-Frying to the Sky's Edge: The Ultimate Guide to Mastery, with Authentic Recipes and Stories," which won the James Beard international cookbook award. Throughout her career, Young has worked to educate and preserve the use of the iron wok. Her impact is palpable, including expanding the western food lexicon to include terms such as "breath of wok," Young's translation of wok hei, or the flavor food takes on from wok.
When the 2020 pandemic hit, Young saw her beloved Chinatown restaurants struggling, and many closed permanently. She has since become an advocate for not just her own Chinatown but Chinatowns and AAPI-owned businesses everywhere. Her work earned her a 2022 James Beard Humanitarian of the Year award.
Receiving the Julia Child Award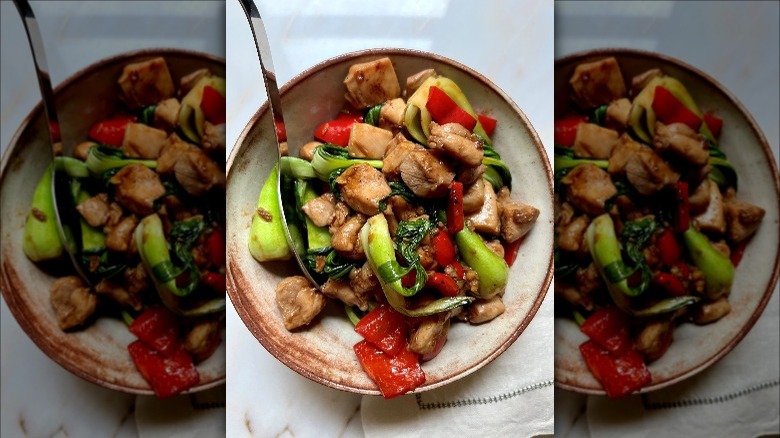 Grace Young
Most recently, Young has become the 2022 recipient of the Julia Child Award. The Julia Child award is given annually to a group or individual who has made a profound difference in how Americans cook, eat, and drink. It is no wonder that Grace Young would receive this award, as her impact on American food culture is untenable, and in a fun coincidence, Young and Child met prior to Child's 2004 death.
Of her recent award, Young had this to say:
"My career has been grounded in the preservation and elevation of Chinese culinary traditions. My love of cooking was influenced by Julia Child at such a young age, and I'm so grateful to have been honored with this year's Julia Child Award. It all has come full circle. Similar to how Julia brought appreciation of French cuisine into millions of homes across the country, I've crafted accessible and comforting traditional dishes that uplift Chinese cuisine and culture. There has never been a more important time than now to honor your heritage, and creating dishes like the Spicy Ginger Chicken with Red Pepper and Bok Choy brings awareness to how influential Chinese culinary traditions are to the fabric of American society. I plan on using the grant from the Julia Child Award to support Chinatown legacy restaurants to feed those in need."
Grace Young's Spicy Ginger Chicken With Peppers And Baby Bok Choy Recipe - Exclusive
Learn a new spicy chicken stir-fry recipe from distinguished author, culinary historian, and food activist, "The Stir-Fry Guru" herself, Grace Young.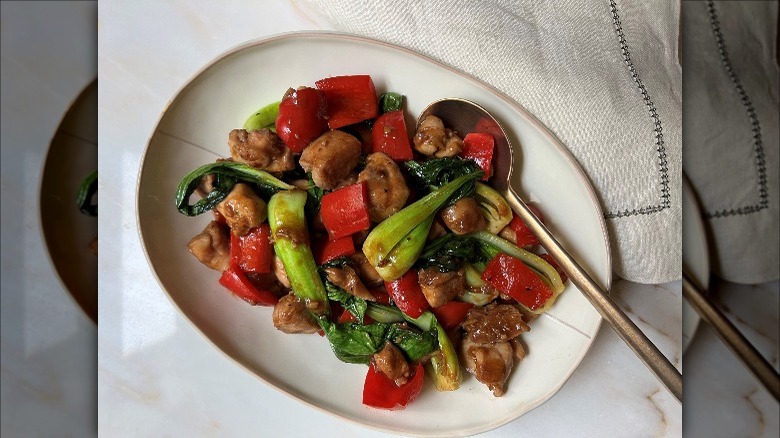 Ingredients
1 pound boneless, skinless chicken thigh or breast, cut into ¾-inch cubes
2 tablespoons minced ginger
2 teaspoons cornstarch
2 tablespoons dry sherry, divided
3 teaspoons soy sauce, divided
1 teaspoon plus 2 tablespoons peanut or vegetable oil, dicided
3 tablespoons chicken broth
1 tablespoon ketchup
1 tablespoon hoisin sauce
1 teaspoon chili garlic sauce
½ teaspoon salt
¼ teaspoon sugar
1 large red bell pepper, cut into 1-inch squares
¼ pound baby bok choy, halved
Optional Ingredients
Directions
In a medium bowl, combine the chicken, ginger, cornstarch, 1 tablespoon sherry, and 2 teaspoons soy sauce until cornstarch is no longer visible. Stir in 1 teaspoon of the oil.
In a small bowl, combine the broth, ketchup, hoisin sauce, chili garlic sauce, salt, sugar, and the remaining 1 tablespoon sherry and 1 teaspoon soy sauce. Set aside.
Heat a 14-inch wok or 12-inch skillet over high heat until a bead of water vaporizes within 1 to 2 seconds of contact. Swirl in 1 tablespoon of the oil, carefully add the chicken, and spread evenly in one layer in the wok. Cook undisturbed 1 minute, letting the chicken begin to sear. Then, stir-fry 1 minute, or until the chicken is lightly browned but not cooked through.
Swirl the remaining 1 tablespoon oil into the wok, add the bell peppers and bok choy, and stir-fry for 1 minute or until bok choy begins to turn bright green.
Swirl the broth mixture into the wok and stir-fry 1 to 2 minutes or until the chicken is just cooked through and vegetables are tender crisp. Serve alongside rice.
Nutrition
| | |
| --- | --- |
| Calories per Serving | 267 |
| Total Fat | 13.3 g |
| Saturated Fat | 1.9 g |
| Trans Fat | 0.1 g |
| Cholesterol | 107.1 mg |
| | |
| --- | --- |
| Total Carbohydrates | 10.0 g |
| Dietary Fiber | 1.4 g |
| Total Sugars | 4.7 g |
| Sodium | 528.0 mg |
| Protein | 23.9 g |