Why Beer Brands Haven't Been Hit By Inflation Yet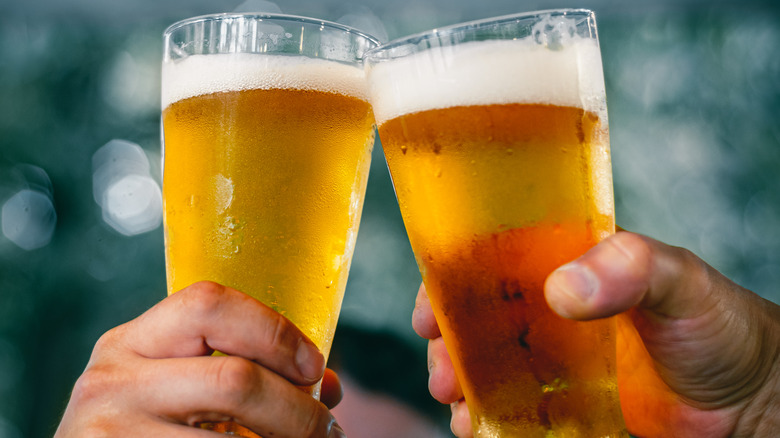 siamionau pavel/Shutterstock
With soaring inflation triggering skyrocketing prices for meat, poultry, fish, and eggs, many Americans have been forced to tighten their wallets and budget accordingly. Fruits and vegetables have seen steep increases as well, albeit to a slightly less extent (via KXAN).
According to Nation's Restaurant News, food costs continue to rise and impact consumer spending habits at grocery stores and restaurants. The resulting sticker shock has caused people to shun brand names and opt for store brands and private label brands instead, which are generally less expensive. Shoppers are searching for any way they can to save money and find deals on items at the supermarket. Restaurants, thanks to the ongoing COVID-19 pandemic, are now faced with the prospect of declining sales once again as people eat out less (via Forbes).
One segment that hasn't seen as much of a consumer shift yet toward cheaper brands is the beer industry. Beer drinkers haven't adjusted their drinking habits much up to this point. So, why haven't beer brands been as affected by inflation yet?
We're here for the beer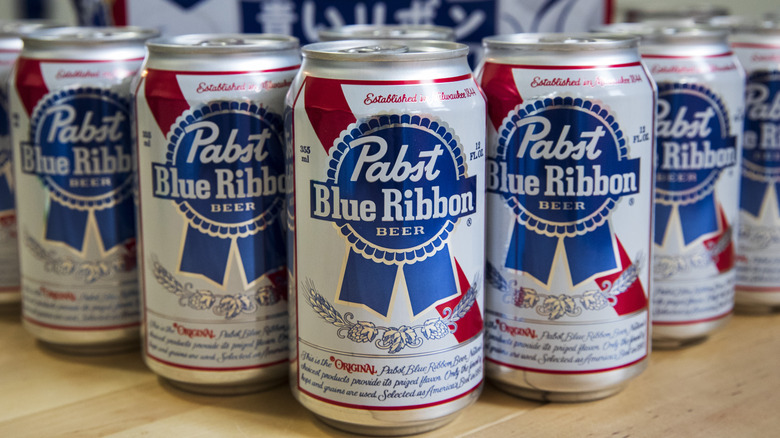 Drew Angerer/Getty Images
One of the things beer drinkers are doing during this time of rampant inflation is spending money on higher-priced craft brews that they buy at the store and imbibing them at home (via Food Dive). They're still purchasing expensive beer, but they ultimately pay less than they would at a bar or brewery, especially when you factor in the tip. While they're not abandoning pricier beer yet in favor of cheaper alternatives, beer drinkers are slightly modifying their behavior in terms of where and how they get their booze.
Additionally, the inflation rate price increases for beer aren't currently as high as that of many food items when compared to the double-digit increases for meat, poultry, fish, and eggs. Brewing company Molson Coors, which owns brands such as Miller Lite and Coors Light, raised prices 4 to 5% in early 2022 but saw no subsequent drop in consumer demand for its products. The beer market is holding steady for now, as noted by Molson Coors' Q1 earnings for 2022, but only time will tell whether cost hikes compel more craft enthusiasts to trade in their bourbon-barrel-aged stouts for a Pabst Blue Ribbon.