Classic Lemon Drop Martini Recipe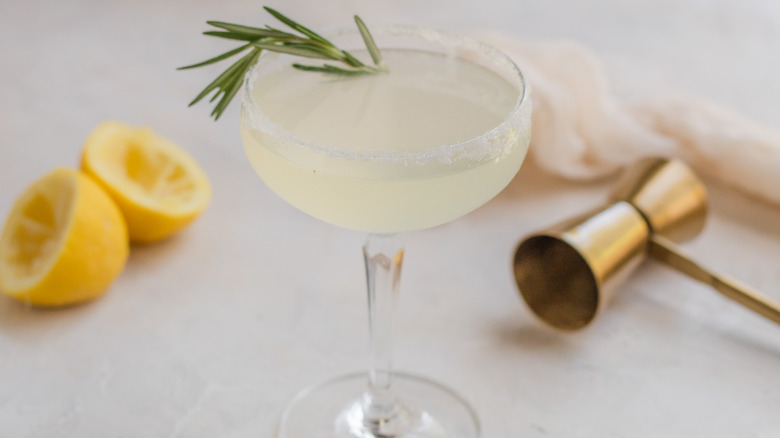 Jaime Shelbert/Mashed
People typically serve traditional martinis with gin or vodka and a little bit of vermouth, and it's incredibly delicious. But if you're looking for something with a sweeter twist and more of a summer vibe, look no further than this classic lemon drop martini recipe. This recipe requires just a few ingredients, and it's super easy to make. The citrus in the lemon complements the vodka well, and the sugar-rimmed glass adds a hint of sweetness to every sip. To jazz things up, you can garnish your glass with a lemon peel or rosemary sprig, giving the cocktail that "ordered from a fancy restaurant" appearance.
Recipe developer Jaime Shelbert of Wholly Nourished came up with this delicious cocktail that's light, refreshing, and is sure to hit the spot, especially on a hot day. "[It's] one of my favorite cocktails," Shelbert raves. "I'm a huge fan of lemon, which is why I wanted to make this one. [It's] ice cold and refreshing — so perfect to sip on in the summer." 
Gather the ingredients for a classic lemon drop martini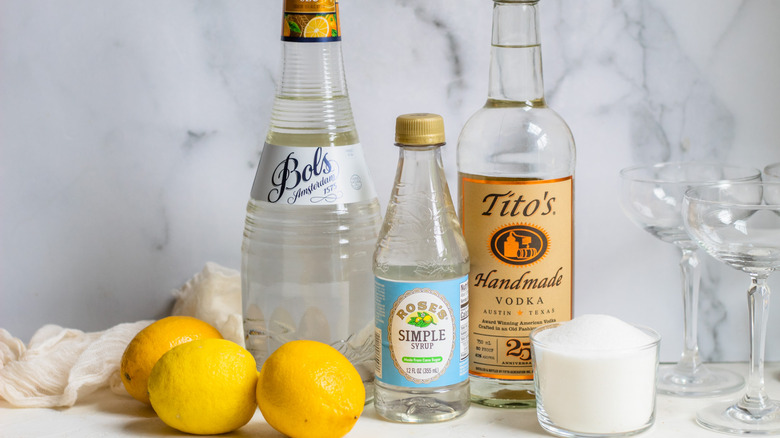 Jaime Shelbert/Mashed
To start things off, head to the store to purchase all the necessary ingredients. You'll need to get sugar, fresh lemons, ice, vodka, triple sec, and simple syrup. The recipe also calls for optional rosemary sprigs for garnish, although you can simply use lemon peel from your fresh lemons, if you'd prefer. 
Prepare the sugar on a plate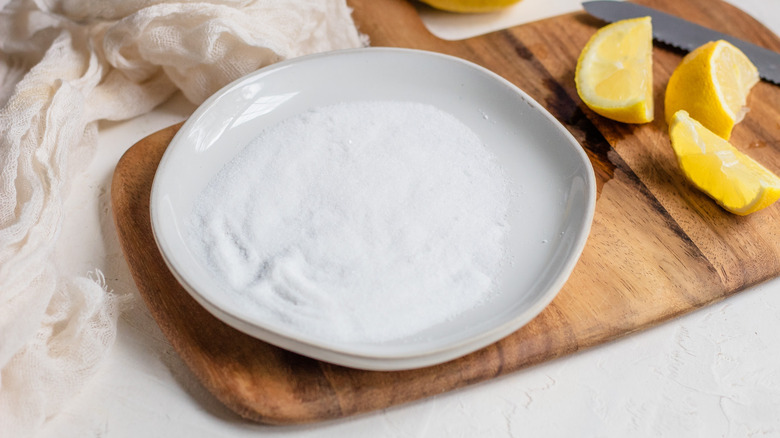 Jaime Shelbert/Mashed
This is probably the easiest step in the whole recipe. Grab a small plate and pour the sugar on it. A plate is best so you can keep the sugar spread out as you'll need to dip the rim of the glasses in it. 
Add lemon to rim and roll in sugar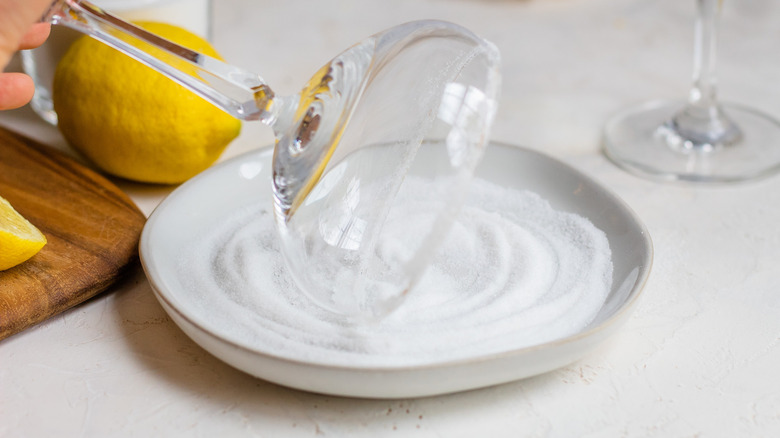 Jaime Shelbert/Mashed
Cut a single lemon wedge and run the wedge around the rim of the martini glass. This lemon juice is the "glue" that will help the sugar stick on the edge, but it also adds a nice sour flavor to complement the sugar. 
Next, roll the rim of your martini glass in the plated sugar to sugar the rim. Repeat with the second glass and set them both aside.
Juice the lemon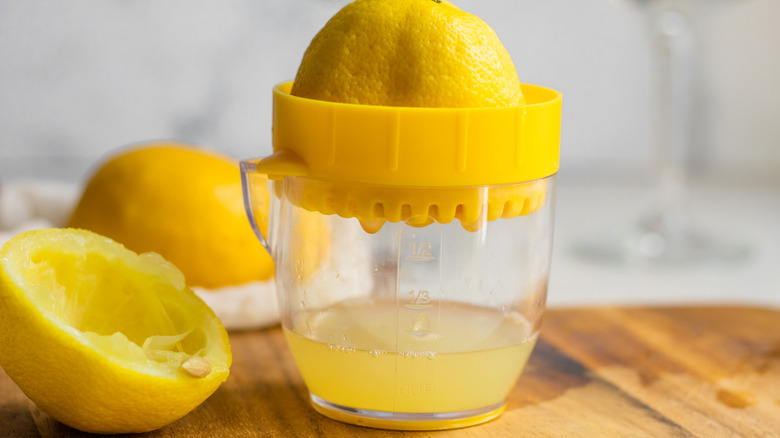 Jaime Shelbert/Mashed
It's time to get that lemon juice going. Simply use your lemon wedges and juice them enough to get about 2 ounces of liquid. "You could use pre-made lemon juice, but nothing compares to fresh squeezed, and it doesn't take much extra effort," Shelbert shares. 
Add ingredients to a cocktail shaker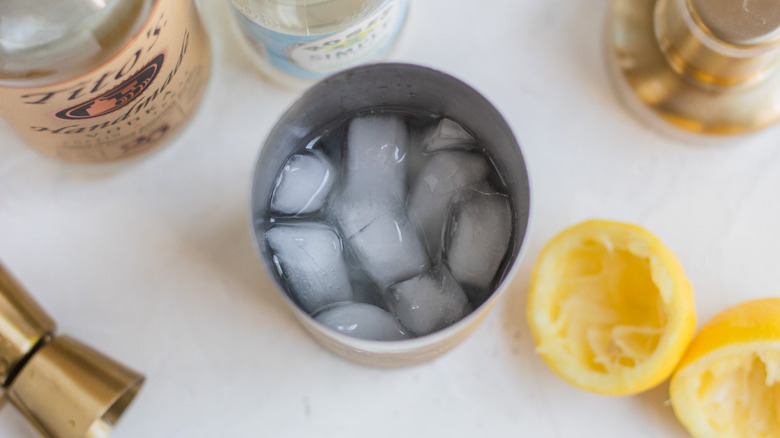 Jaime Shelbert/Mashed
Fill your cocktail shaker with ice, then start adding the liquids to make the cocktail. Begin with the vodka, followed by the lemon juice, triple sec, and simple syrup.
Shake and serve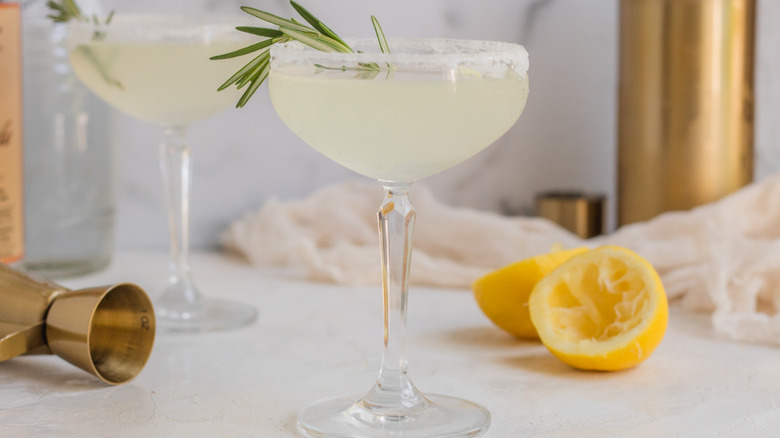 Jaime Shelbert/Mashed
Place the lid on the cocktail shaker and give it a few good shakes. Strain the drink and pour half of the contents into each glass.
At this point, you can add the lemon peel or a sprig of rosemary as garnish. "I used a rosemary sprig for garnish. When you have a bit of extra time, I highly suggest making your own rosemary simple syrup to add to this one," Shelbert shares. 
Now, the only thing left to do is clink your glass and cheers your friends. "I think this martini makes for a great aperitif paired with savory appetizers," Shelbert says. "Some examples include a crudité platter or charcuterie. Or consider seafood, which pairs well with lemon." 
We hope this classic drink hits the spot! 
Classic Lemon Drop Martini Recipe
If you're a diehard martini fan, but you want a more refreshing cocktail for the summer months, try this easy and delicious classic lemon drop martini recipe.
Servings
2
Lemon Drop Martinis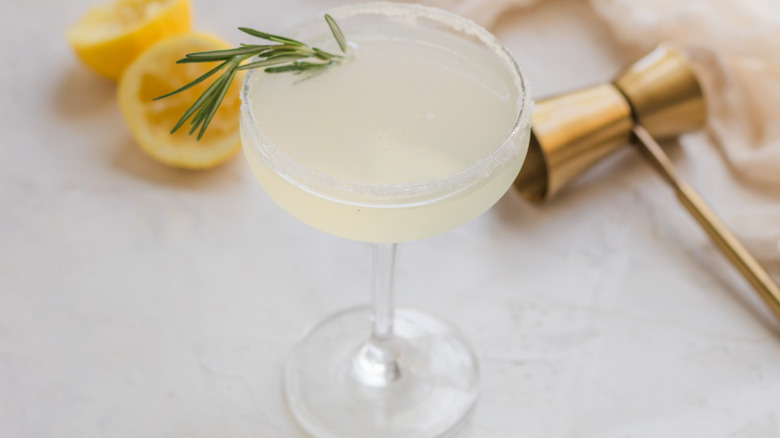 Ingredients
2 tablespoons sugar
1 lemon wedge
2 ounces fresh squeezed lemon juice
4 ounces vodka
1.5 ounces triple sec
1.5 ounces simple syrup
Optional Ingredients
ice, for shaking
lemon peel, for garnish
rosemary sprig, for garnish
Directions
Pour the sugar onto a small plate.
Run a lemon wedge around the edge of a martini glass. Roll the rim of the glass in the sugar to coat. Repeat with the second glass. Set aside.
Juice the lemon — you'll need 2 ounces of juice.
Fill a cocktail shaker with ice. Add the vodka, lemon juice, triple sec, and simple syrup.
Place the lid on the cocktail shaker. Shake, then strain the drink evenly between the two glasses.
Garnish the glasses with lemon peel or rosemary, as desired. Serve.
Nutrition
| | |
| --- | --- |
| Calories per Serving | 309 |
| Total Fat | 0.1 g |
| Saturated Fat | 0.0 g |
| Trans Fat | 0.0 g |
| Cholesterol | 0.0 mg |
| | |
| --- | --- |
| Total Carbohydrates | 37.2 g |
| Dietary Fiber | 0.2 g |
| Total Sugars | 35.7 g |
| Sodium | 15.1 mg |
| Protein | 0.2 g |