Simple Baked Sweet Potato Recipe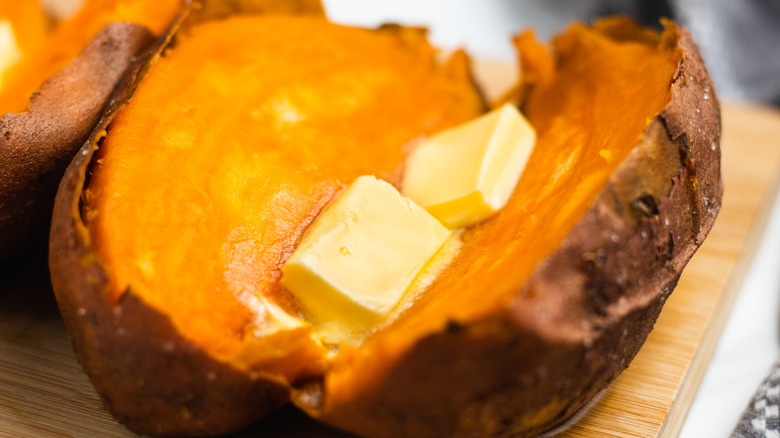 Catherine Brookes/Mashed
You've got a perfect roast, turkey, or ham ready to go ... but you need the proper side dish. Well, how about a baked sweet potato? You don't need to rely on russets to make a good baked potato, and Catherine Brookes' baked sweet potato recipe will have you opting for the russet's orange cousin. "I'm such a fan of a simple baked sweet potato," Brookes raves. "Tender on the inside, crisp on the outside, and topped with creamy butter. It's such comfort food, and healthy, too!"
Indeed, a sweet potato does manage to check both boxes when it comes to "comfort" and "healthy" food. You can load a sweet potato up with all of the fixings that you might a russet potato — butter, herbs, or sour cream — but you can also take a sweet route, and opt for brown sugar, molasses, or honey. A baked sweet potato leaves the door open for customization, and when you're feeding a crowd, you can't ask for anything more convenient than that. 
Gather the ingredients for a simple baked sweet potato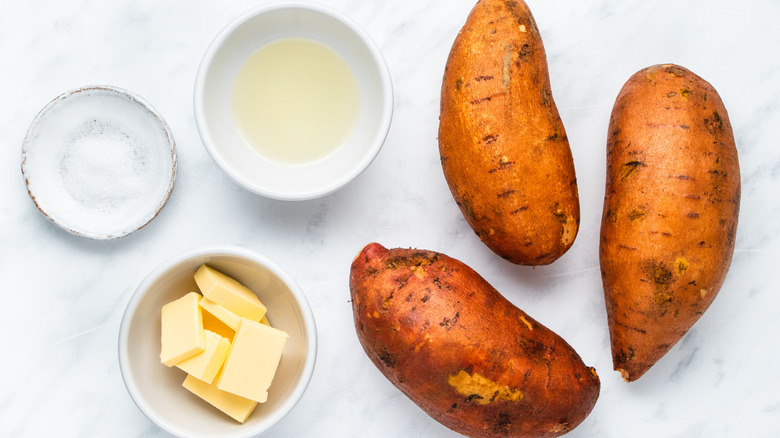 Catherine Brookes/Mashed
Perhaps one of the best things about this recipe is that it requires just four ingredients. To make your sweet potatoes, you'll of course need some sweet potatoes — scrubbed, cleaned, and dried — along with olive oil, salt, and butter. 
Prepare the potatoes for baking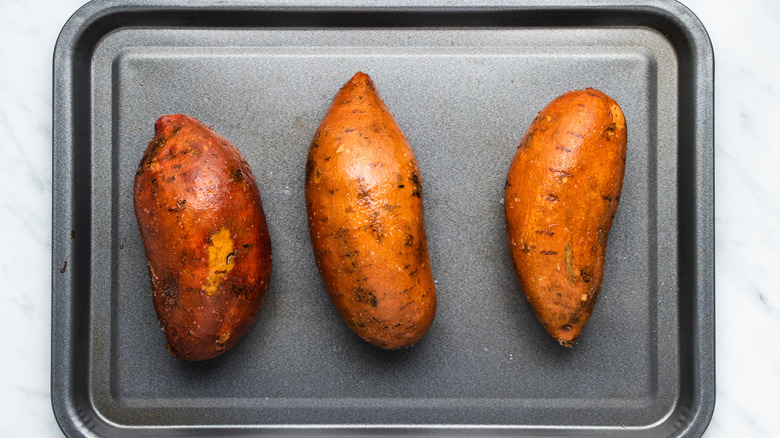 Catherine Brookes/Mashed
First, preheat your oven to 410 F. Once the sweet potatoes are throughly cleaned, go ahead and drizzle on the olive oil. Make sure each potato is evenly oiled, then sprinkle on the salt, to taste. Finally, prick each sweet potato with a knife or fork, which will help ensure that the steam can release as the potatoes bake, preventing the potatoes from exploding in the oven.
Bake the sweet potatoes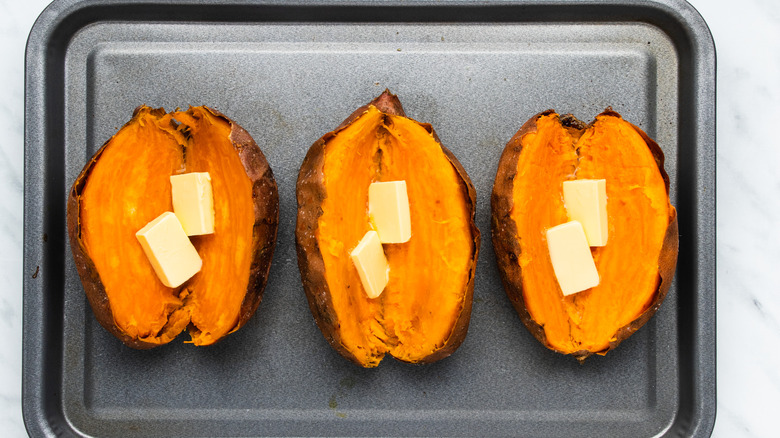 Catherine Brookes/Mashed
It's time to bake some sweet potatoes! Place them onto a baking sheet and pop them in the oven for 45-50 minutes. You'll know they're done once a knife or fork inserts easily into the middle of the potato and comes out clean. At that point, slice each potato in half and top them with the butter, which will melt right into the potatoes' flesh. 
Serve and enjoy your simple baked sweet potatoes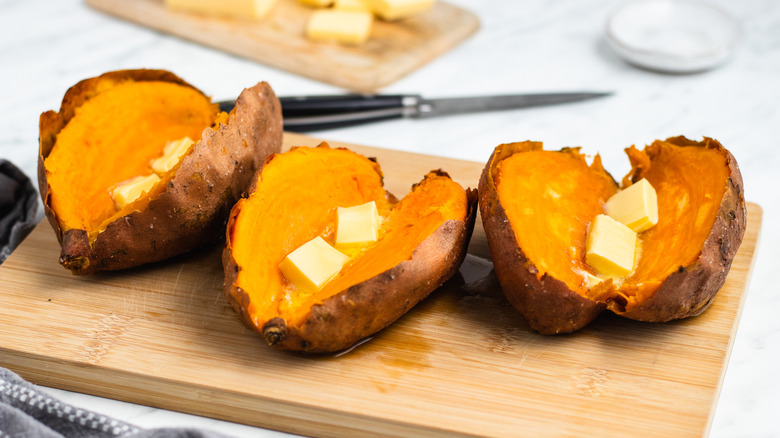 Catherine Brookes/Mashed
Now that your sweet potatoes are baked and buttered, it's truly a choose-your-own-adventure situation. "You could perhaps top them with chili, or tuna mayo, or roasted peppers," Brookes suggests. Of course, you could also take the sweet route and opt for brown sugar or cinnamon — the possibilities are endless!
There's a good chance that you're pairing the potato as a side dish for a larger meal, for which Brookes suggests that "half a potato also makes a great side for pairing with fish or other meats." However you pair it — savory or sweet — you can do so knowing that your sweet potato will be perfectly cooked, tender, and ready to enjoy. 
Simple Baked Sweet Potato Recipe
You don't have to serve your steak with a regular baked potato — for something a little sweeter, try this simple baked sweet potato recipe, instead.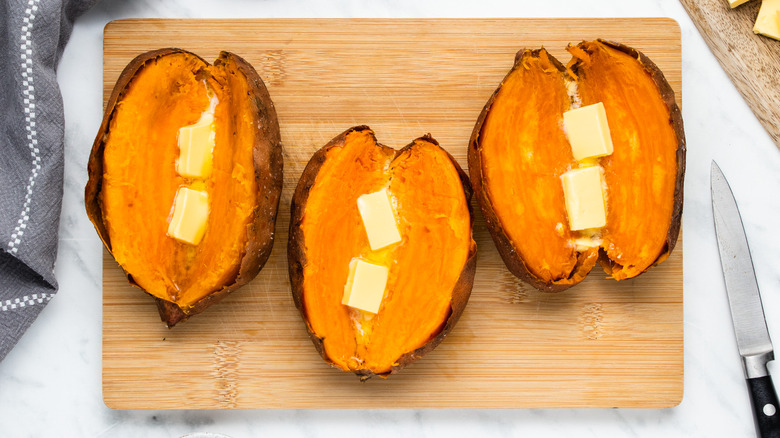 Ingredients
3 sweet potatoes, cleaned and dried
2 teaspoons olive oil
Salt, to taste
3 tablespoons butter
Directions
Preheat the oven to 410 F.
Rub the olive oil and some salt on the sweet potato skins, to taste.
Prick the skins all over with the end of a sharp knife.
Place the potatoes on a baking sheet and bake them for 45-50 minutes, or until they're tender in the middle.
Slice the potatoes in half and top them with the butter before serving.
Nutrition
| | |
| --- | --- |
| Calories per Serving | 240 |
| Total Fat | 14.6 g |
| Saturated Fat | 7.7 g |
| Trans Fat | 0.5 g |
| Cholesterol | 30.5 mg |
| | |
| --- | --- |
| Total Carbohydrates | 26.2 g |
| Dietary Fiber | 3.9 g |
| Total Sugars | 5.4 g |
| Sodium | 342.3 mg |
| Protein | 2.2 g |