Classic Paloma Cocktail Recipe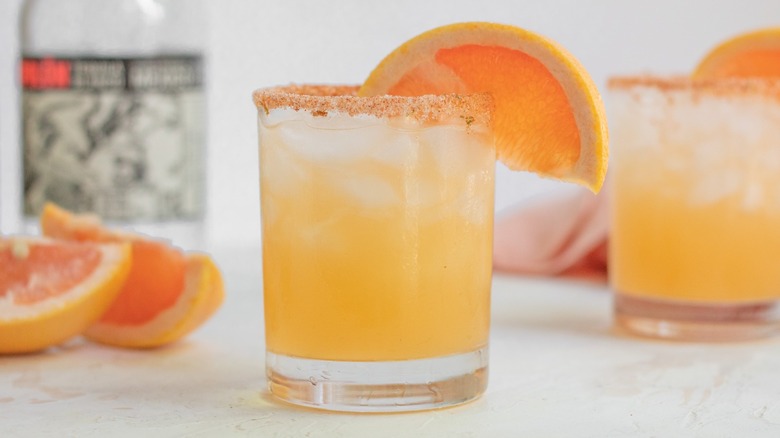 Jaime Shelbert/Mashed
When you think about tequila-based cocktails, a margarita is probably the first drink to come to mind. But according to Texas Monthly, that tangy Taco Tuesday staple isn't actually the most popular drink in Mexico. That honor goes to the paloma. If you've never encountered this refreshing, citrusy creation, you're missing out on what recipe developer Jaime Shelbert calls "the perfect summer tequila cocktail."
A paloma and a margarita both typically include tequila, lime, and salt, but instead of triple sec, a paloma contains the distinct addition of zesty grapefruit juice. The drink has plenty of variations — Texas Monthly says the original version is simple, made with only tequila and the soda Squirt. In this recipe, Shelbert adds a sophisticated touch with sparkling water. "A paloma is usually a pretty simple 2-ingredient cocktail using tequila and grapefruit soda," she says. "I wanted to give this one more of a fresh spin using grapefruit juice and sparkling water. The spicy rim adds a fun twist." It's easy to shake up your own Paloma at home — here's how.
Gather the ingredients for a classic Paloma cocktail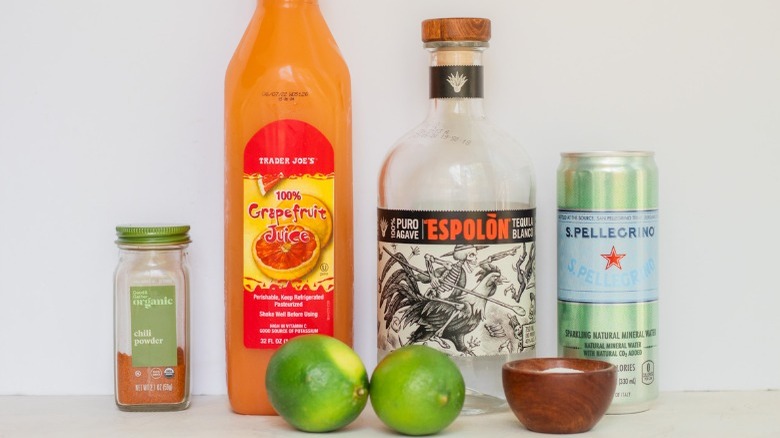 Jaime Shelbert/Mashed
Making quality cocktails requires a little bit of prep beforehand. For this paloma, you'll need tequila, of course. "I prefer tequila blanco in a paloma because it pairs well with citrus and results in a crisp cocktail," Shelbert says. You'll also need club soda or sparkling water, the juice and zest of a lime (plus a lime wedge), kosher salt, chili powder, and grapefruit juice. "The grapefruit juice can be fresh or bottled. Depending on the sweetness, you may choose to add agave to your cocktail," Shelbert adds. You can also garnish your drink with a wedge of grapefruit, if you wish.
Prepare the glasses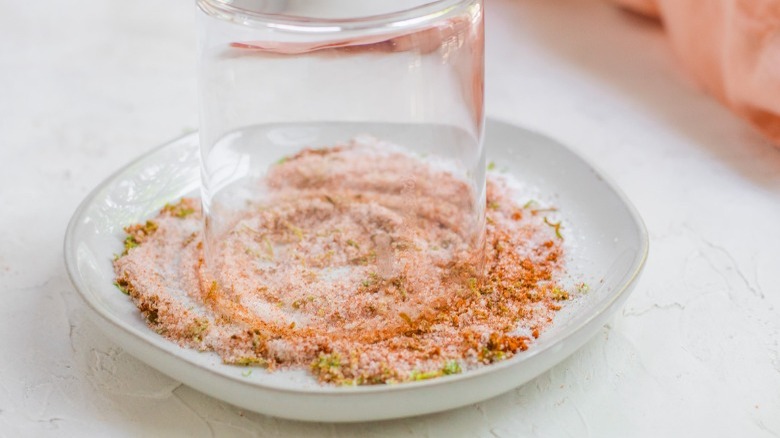 Jaime Shelbert/Mashed
This paloma is served in spice-rimmed glasses. Doing this might seem intimidating, but it's actually very simple. Just put the salt, chili powder, and lime zest in a dish. Rub the rims of your cocktail glasses with a lime wedge so the salt sticks, and place the glass rim-down into the dish. Voila — your glasses are prepped for your palomas! 
Shake up the cocktail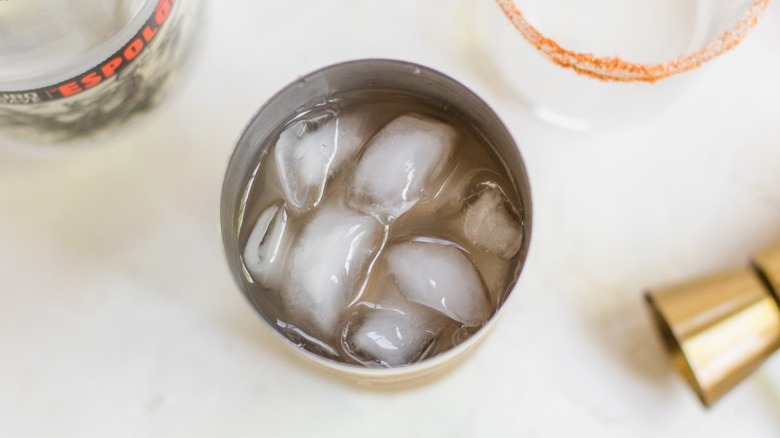 Jaime Shelbert/Mashed
Now that you've prepped your glasses, it's time to get down to business. Take your cocktail shaker and fill it with ice, tequila, and grapefruit juice (plus agave, if desired). Put the lid on the shaker and give it a good shake. Then, strain the liquid into the two ice-filled glasses, and pour the sparkling water on top. Finally, add your grapefruit garnish, if you plan to use it.
Cheers to a refreshing Paloma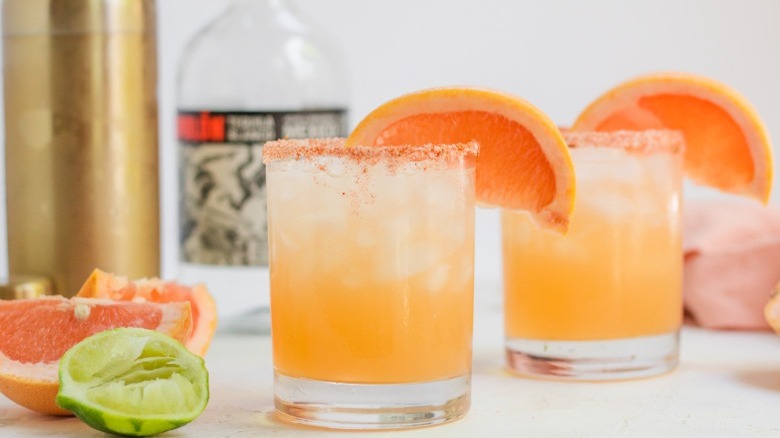 Jaime Shelbert/Mashed
You've done it! You've made a delicious paloma that looks like you could've ordered it at a rooftop cocktail bar. "I like to garnish or infuse drinks with spices or herbs that pair well with the cuisine with which the cocktail will be consumed," Shelbert says. "A chili lime salt complements flavors of Mexican dishes. I like to enjoy palomas with tacos, chips and salsa, or even a ceviche." This recipe makes two drinks, which is perfect for raising a glass with a loved one. Cheers, to Mexico's favorite drink — and now maybe yours, too.
Classic Paloma Cocktail Recipe
The next time you want a cocktail with your Mexican dinner, skip the margarita and try this tequila-and-grapefruit classic Paloma cocktail, instead.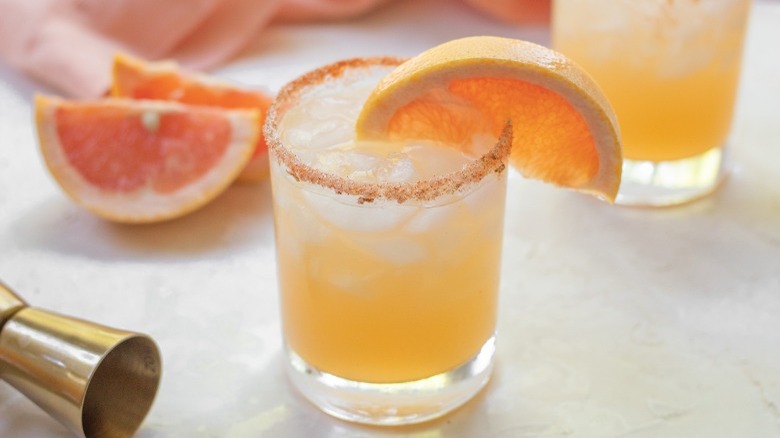 Ingredients
2 tablespoons kosher salt
1 teaspoon chili powder
1 small lime, zested and juiced
4 ounces tequila blanco
6 ounces grapefruit juice
4 ounces sparkling water or club soda
Optional Ingredients
grapefruit wedge, for garnish
simple syrup or agave, to sweeten
Directions
Place the salt and chili powder onto a small plate. Add the zest from one lime and stir to combine.
Run a lime wedge around the rim of two cocktail glasses. Press the wet rims of the glasses into the chili lime salt mixture to coat the rims.
Add ice to a cocktail shaker, followed by the tequila and grapefruit juice. Place a lid on the shaker and shake.
Fill the two glasses with ice and strain the tequila grapefruit mixture over the ice.
Divide the sparkling water between the two glasses.
Garnish with a grapefruit wedge and serve.
Nutrition
| | |
| --- | --- |
| Calories per Serving | 175 |
| Total Fat | 0.3 g |
| Saturated Fat | 0.1 g |
| Trans Fat | 0.0 g |
| Cholesterol | 0.0 mg |
| | |
| --- | --- |
| Total Carbohydrates | 11.1 g |
| Dietary Fiber | 1.3 g |
| Total Sugars | 8.3 g |
| Sodium | 523.1 mg |
| Protein | 0.8 g |