The Unexpected Thing Ree Drummond's Husband Wore To Their Wedding
If you're a fan of Ree Drummond, aka The Pioneer Woman, chances are you have at least a bit of familiarity with her husband, rancher Ladd Drummond. The Food Network personality, cookbook author, and entrepreneur is always whipping up comforting dishes in the kitchen on the Drummond family's Pawhuska, Oklahoma ranch. But fans are often treated to glimpses into what ranch life is like, too, including glimpses of her children and husband. Drummond may be spotted whipping up hearty fare for the cowboys to enjoy once they're done with their work or even delivering something out to the fields to tide them over. In fact, over the course of the show's 320 episodes, Ladd Drummond has appeared as himself in a staggering 88 episodes, according to IMDb.
Since Drummond started her Oklahoma empire way back in the day, she's shared plenty of personal stories and memories on her blog as well as in snippets on her show. And, in one particular Pioneer Woman blog post released in January 2021, fans got a glimpse into the Drummonds' lengthy marriage and love story, including information about what exactly Ladd wore when he and Ree got hitched.
It turns out, one of the items he wore to tie the knot harkens back to what he was wearing when the two met at a Bartlesville, Oklahoma dive bar — talk about a signature look.
Drummond's formal-meets-ranch attire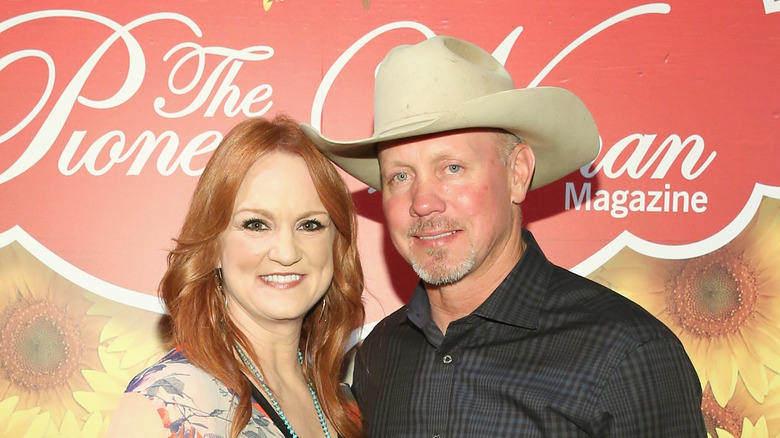 Monica Schipper/Getty Images
When it came time for Ree and Ladd Drummond to tie the knot in their traditional Episcopal church ceremony, as The Pioneer Woman explains, the glamorous city girl turned rancher's wife got all dolled up in a white wedding dress. Ladd, in turn, traded his classic jeans and ranch work shirts for a slick black tuxedo. There was one area where he didn't compromise on his typical style, though: his accessories. Ladd ended up pairing that formal black tuxedo with a pair of cowboy boots for the occasion, walking down the aisle in a blend of formal and country that perfectly encapsulated the unlikely union.
And it seems Ladd isn't the only one tempted to eschew traditional dress shoes in favor of cowboy boots. According to Best Horse Rider, cowboy boots aren't an entirely uncommon footwear choice, although they're more typically worn in weddings that have a rustic or equestrian theme or that take place outdoors. But given that the groom is a rancher, perhaps his mere presence is enough to satisfy that brief. In fact, there are even some Western wear brands such as Sheplers that have a category specifically called wedding boots — presumably a more formal, flashy take on the type of footwear you'd rock while doing all the chores on the ranch.
Given that the two are still married nearly a quarter of a century later, it seems Ladd's choice to rock cowboy boots helped start their marriage off on the right foot.