The Concerning Reason Costco Contacted Members About A Snack Box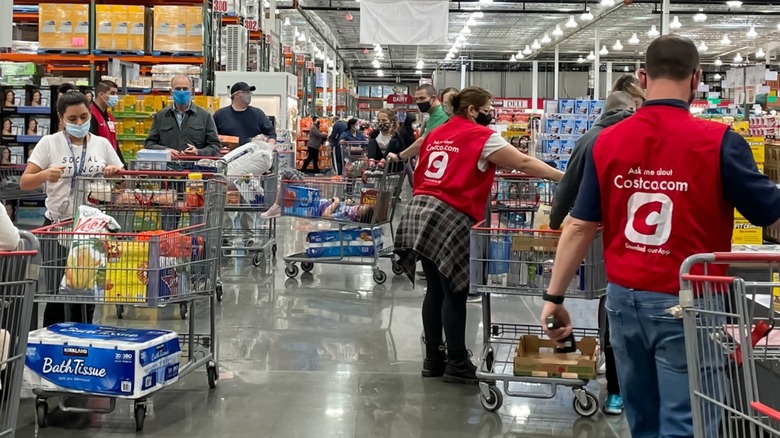 Jiujiuer/Shutterstock
Peanut butter is a great addition to many things — toast, sandwiches, pretzels, and celery, just to name a few. The classic condiment is even a favorite among picky kids and teens, who love to pair it with anything and everything. 
Therefore, it's extra concerning that Costco has contacted its customers about a snack box that contains Jif peanut butter, which has been recalled because of potential salmonella contamination. The specific product the store is warning patrons about is its Dorm Room Snack Box, which contains Jif peanut butter to-go cups. 
The grocer's message explained that if you bought item number 1377354 between April 20 to May 23 of this year, you may have purchased the tainted food. The FDA reports that 16 people have already become sick, and two have even been hospitalized after eating different varieties of Jif brand peanut butter that were linked to the J.M. Smucker company facility in Lexington, Kentucky. 
Multiple Jif peanut butter products have been linked to the contamination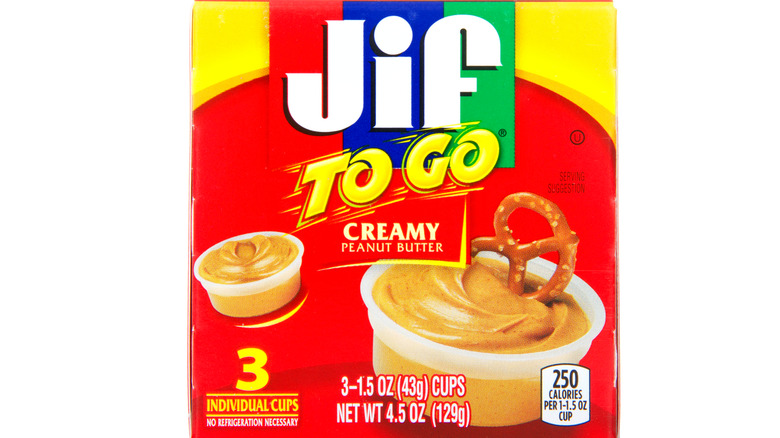 Sheila Fitzgerald/Shutterstock
The FDA recommends looking to see if your peanut butter has the code numbers 1274425 through 2140425 and that the first seven digits end with 425. If they do, the organization advises you to wash and sanitize anything that could have touched the contaminated item. 
Jif peanut butter is also distributed nationally and internationally. So far, products that have been found to have salmonella in them have been found in 12 different states, ranging from Washington to New York. The agency also suggests contacting your healthcare provider if you've consumed this peanut butter.
The CDC reports that symptoms of salmonella usually start within six hours to six days after you've consumed food that's been contaminated. Symptoms typically include diarrhea, fever, or stomach cramps. For additional information about the recall, the FDA suggests going to the organization's recall site for a more detailed list of UPC codes that have been impacted.