Why Father's Day Is Celebrated With Wagons Of Beer In Germany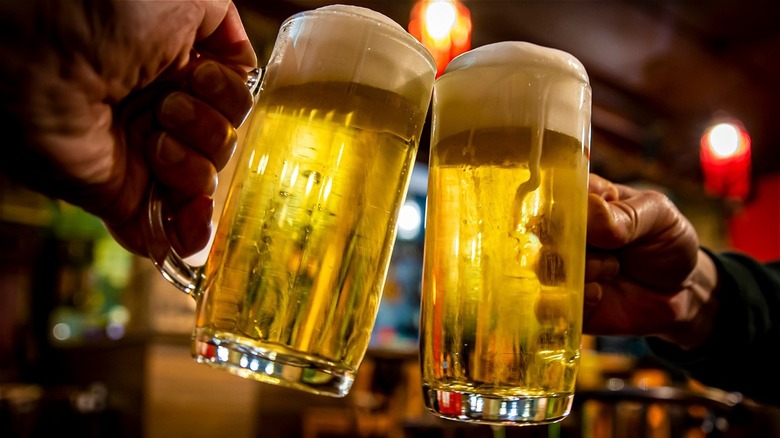 siamionau pavel/Shutterstock
Germany is a country synonymous with beer-drinking culture and beer festivities. In 2020, Germans drank more than 95 liters of beer per capita, and the country landed in the top 10 in total beer consumption (per World Population Review). With over 1,300 breweries producing more than 5,000 different types of beer, there are copious ways to indulge one's affinity for hoppy and malted beverages. 
Revelers from all over the world descend on Munich, Germany, each fall for its more than two-week-long Oktoberfest celebration typically held during late September and early October. Throngs of people pack beer halls, beer tents, and biergartens, hoisting colossal steins of the sudsy drink to their lips while clad in Lederhosen and high-stepping to Polka music.
The event has grown so popular internationally that it has been emulated and observed in other countries, including America. The Oktoberfest festivities in Helen, Georgia, a town that reinvented itself in the image of a Bavarian village, last nearly two months. As a nation with such a storied tradition of beer drinking and an abundance of beer offerings, perhaps it should come as no surprise that Germany's version of Father's Day, not typically regarded around the world as a drinking-centric holiday, has evolved through the years to the point where it is now celebrated with wagons of beer (via Ideal Home).
Männertag is about dads being dudes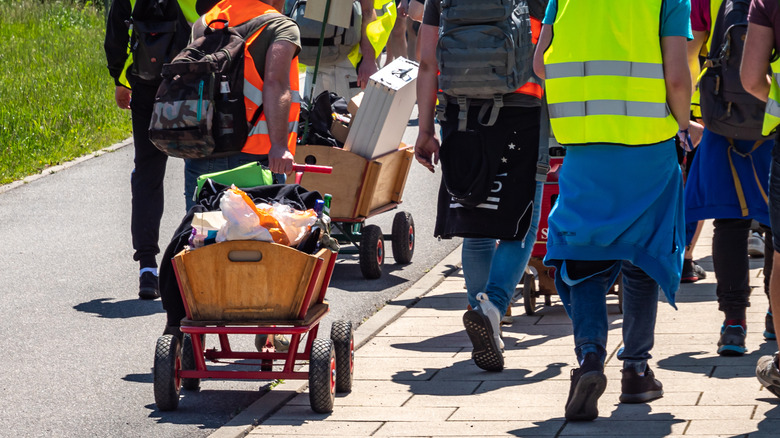 Animaflora PicsStock/Shutterstock
Known as Männertag (Men's Day) or Vatertag (Father's Day) in Germany, Father's Day in Deutschland isn't quite like the U.S. holiday. It has less to do with children honoring their dads with cards and presents and a whole lot more to do with men carousing and doing "manly" things (via The Local).
In Germany, Männertag falls during the same time as Ascension Day, a religious holiday occurring on the 40th day after Easter, according to the website germanculture.com. But Männertag doesn't have much to do with religion these days, at least for many Germans who participate. Popular male activities on Männertag include hiking, biking — or stumbling — through the town streets with beer and food in tow, typically hauled around in a wooden hand cart called a Bollerwagen. Evenings on Männertag are known for pub crawls.
The holiday began in the 1700s as a religious ceremony paying tribute to fathers, who would be carted through the village. The father who brought out the most children would receive gifts such as a ham. By the 1900s, Männertag had transformed into a party where the featured activity was drinking. The religious aspect vanished, but the tradition of the cart remained.
These days you don't even have to be a father to join in the drunken mirth of Father's Day, you just have to enjoy a little tippling (per Spiegel International). Just be careful not to spill your Bollerwagen.