The Classic Cocktail That Will Soon Be Available In A Can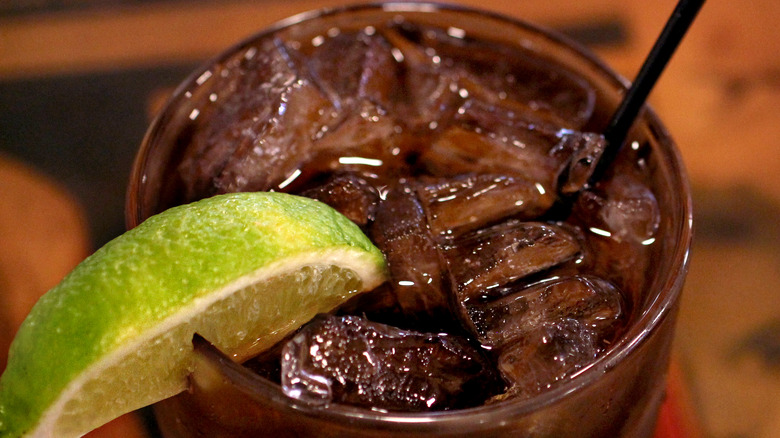 Jessica Jean Schmidt/Shutterstock
Classic cocktails are classics for a reason. Many adult beverages have withstood the test of time, and you probably know some of the most popular ones. There's the Manhattan, a mixture of rye whiskey, sweet vermouth, and bitters. Then there's the Whiskey Sour — a frothy-topped combination of whiskey, lemon juice, simple syrup, and egg whites — or the refreshing Tom Collins, a concoction made with gin, lemon juice, sugar syrup, and club soda.
A sub-category under the classic cocktail umbrella are those made with Coca-Cola. One example is the Cuba Libre, a simple combination of Cuban rum, Coke, and lime that came to be following the Spanish-American War, though its popularity never waned (via Imbibe Magazine). Now, another classic Coke-based libation will soon be available in a canned version as a portable and convenient way to indulge when you don't feel like making the drink yourself.
Canned Jack and Coke will be available in Mexico later this year
CNBC reports that Coca-Cola paired up with Brown-Forman (the distiller of Jack Daniel's) to make a canned version of the bar favorite known as Jack and Coke. The reason for this partnership is simple: Since 2018, the market for ready-to-drink boozy beverages has seen the fastest growth of any other alcohol category. Considering the economic opportunity for the brands, it's no wonder that customers will soon have the chance to sip Jack and Coke from an aluminum can. The cocktail will debut in Mexico in both zero-sugar and regular versions later in 2022, while launches in other countries will soon follow. 
Whether made in a bar or at home, Jack and Coke is typically stirred and served over ice "in an old-fashioned or collins glass, with a lemon wheel garnish," per TasteAtlas, which means that the canned version will have to be well-chilled in order to be fully enjoyable. Jack and Coke fans outside of Mexico will just have to make sure to have some ice on hand when the classic in a can expands to more markets.