A Fast-Food Favorite Finally Made Its Way To Britain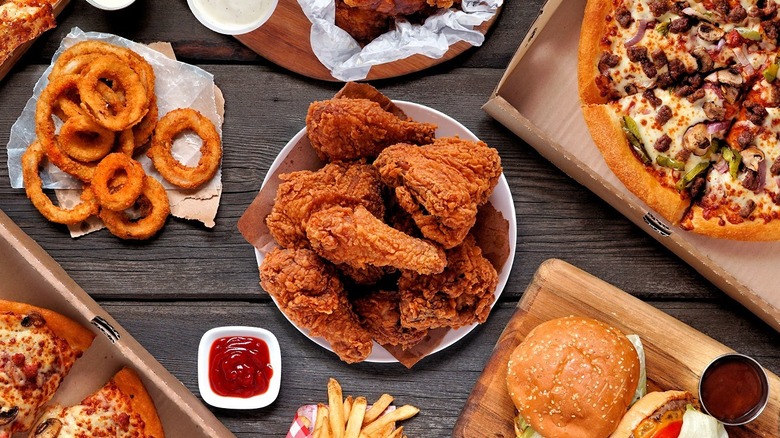 Scott Olson/Getty Images
There are plenty of fast-food chicken joints all claiming that they're the best in the United States, and there are plenty more that can claim global fame. One particular favorite, originally known as Chicken on the Run, celebrated its 50th anniversary on June 12 after a humble beginning in New Orleans in 1972. Now, it boasts more than 3,500 stores and franchises worldwide, including places such as Nepal, Bhutan, Germany, France, and Japan. 
While its 12-hour marinated, breaded, and Cajun-spiced chicken is what put Popeyes on the map, it's the chicken sandwich that it's best known for these days. And in a poll of Mashed readers, more than 29% of survey participants agreed that Popeyes had the best fried chicken out of all of the fast-food spots listed, including KFC, Raising Cane's, Church's Chicken, and more.
It's safe to say Popeyes deserves its worldwide reputation — and now, the chicken chain is expanding its global footprint.
Popeyes deserves its worldwide spotlight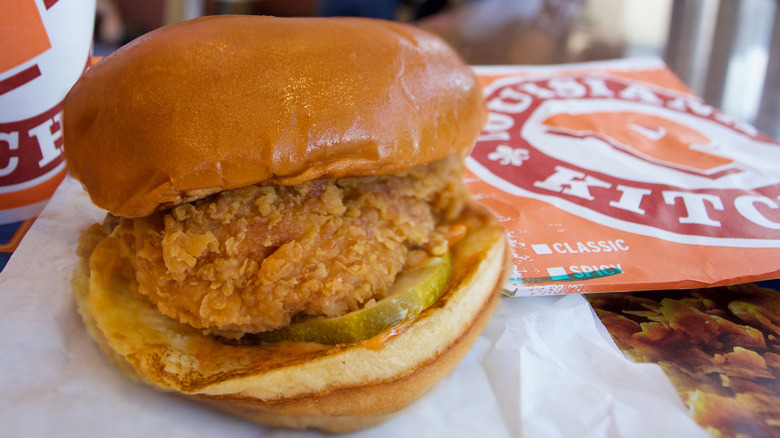 Elliott Cowand Jr/Shutterstock
Whether it's the tender chicken that never loses its crispy texture, the soft brioche bun, or the taste of the generous slice of pickle as you bite into it, the Popeyes chicken sandwich has legions of fans. Countless fried chicken enthusiasts have patiently joined the drive-thru line to get some of that yummy goodness. 
Britain has been teased with one small Popeyes outlet in a Westfield mall in Stratford, London. But as of June, Popeyes now has its first full restaurant in Chelmsford, just east of London. According to the Popeyes U.K. site, the chain has plans to expand its presence in Britain, including places such as Brighton, on the south coast, and Nottingham to the north. 
Popeyes U.K. is owned by Restaurant Brands International, which also has Burger King and Tom Horton's under its umbrella. Even though there are many chicken-based fast-food joints in Britain already, CEO, Tom Crowley believes the fried-chicken market is ready to expand in the U.K., he told Business Insider. (The fact that the Westfield mall location topped the profitability chart over all other franchises worldwide supports his idea.) Crowley told the outlet there are hundreds more Popeyes U.K. locations coming soon.