The Artistic Starbucks Name Board The Internet Can't Get Enough Of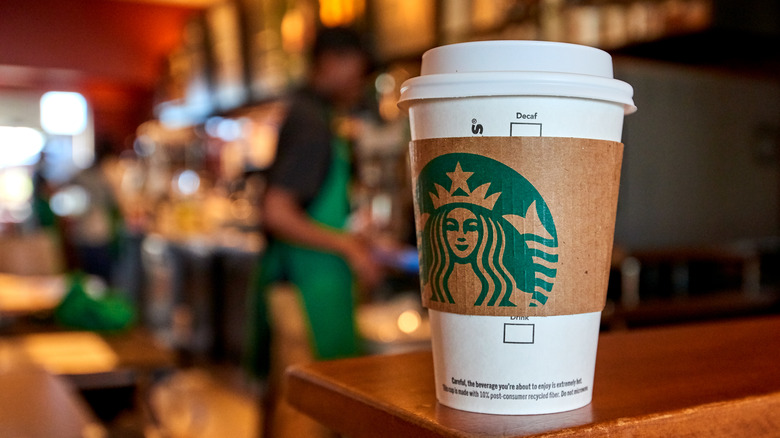 Harun Ozmen/Shutterstock
You never really know your co-workers until they reveal their hidden talents. For example, who knew University of Texas alum and pro basketball player Myles Turner can snap Lego bricks together with such precision to build the Death Star or Millennium Falcon? Or that NFL kicker Justin Tucker likes to keep his operetta vocals in tip-top shape to sing his favorite Christmas carols in church (via Aleteia). "Grey's Anatomy" star Patrick Dempsey let the world know he can juggle during an appearance on "Rachael Ray," and Justin Bieber showed off his Rubik's Cube skills while singing and driving on "Carpool Karaoke" with James Corden. 
People in the service industry are no different. Many workers making your favorite combos or piling meats and cheeses onto your foot-long sandwich have talents that have nothing to do with their job. Remember when McDonald's worker Rebecca Grace was featured on "The X Factor UK" and she blew away the judges by singing Kelly Clarkson's hit "Piece by Piece?" And then there's "American Idol" Season 3 contestant Camile Velasco, who worked at a Subway in Los Angeles, per HuffPost. Well, now the Reddit community is losing their minds over some impressive artwork by a Starbucks barista on a coffee shop's name board.
Starbucks barista makes o-fish-ially awesome art
As far as Starbucks name board art goes, this barista's work is in a class of its own. The sign was posted on Reddit for the launch of the summer season, reading, "Meet our Fin-tastic baristas," and it definitely has the internet's seal of approval. The artist paired each employee's name with a seafaring creature, and the online community is loving the nautical vibes ahead of some fun under the sun. A fellow barista expressed their admiration for the artistic talent and called the colorful work of art a "Picasso." From Jade, the dead fish, who thinks her rendering is spot on, to Helene, the cute little "blobfish," to Tatum, the shark, the general consensus among the artist's peers seems to be that this name board is pretty "amazing."
Still, other baristas who are in charge of their chalkboards lamented that they wish they had time to do something similar, with one commenting, "As the resident chalkboard artist, I wish I was allotted more than 5 minutes for a sign." But this under-the-sea masterpiece was truly a labor of love, as the creator revealed, "Lol! I had no time at all, I was getting one sea creature done a day due to how busy, I ended up just taking it home."