Japanese Whiskey Highball Recipe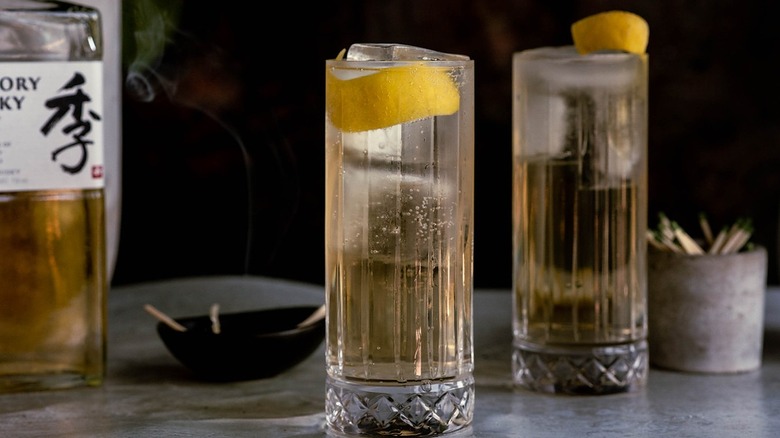 Michelle McGlinn/Mashed
At first glance, a Japanese whiskey highball may look like a simple mixed drink, but it really is so much more than that. With just three ingredients to work with, the little details of this cocktail really make it stand out from the rest. Oh, and literal fire sure helps, too! Recipe developer Michelle McGlinn has crafted a Japanese whiskey highball recipe that looks just as impressive as it tastes, and it sure does taste pretty good. "The Japanese whiskey gives the drink a very light, sweet, almost caramel flavor," McGlinn describes. "I prefer ginger ale to soda water, and the whiskey works perfectly with the ginger to taste refreshing but full of depth."
And depth is exactly what you'll find in the flavor of this cocktail, from the whiskey itself to the burnt citrus peel garnish. Yes, this recipe does call for flaming the lemon peel, but McGlinn assures us that the process is actually "very easy to execute." The only additional tool that you'll need to do it is a match. So, if you want to impress guests at your next gathering or simply want to amplify your cocktail experience, this Japanese whiskey highball is the perfect option. 
Gather the ingredients for a Japanese whiskey highball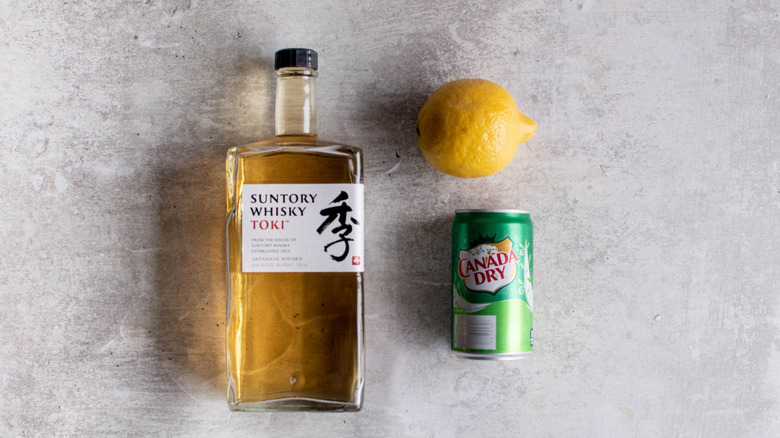 Michelle McGlinn/Mashed
As previously mentioned, this recipe requires just three ingredients: Japanese whiskey, ginger ale (or club soda), and a lemon peel for garnish. While the ingredients in this recipe are pretty standard, McGlinn says that the method is really what makes it stand out. 
"You can always express the oils from the lemon peel over the drink without flame to add a slight citrus flavor," McGlinn explains, but let's face it: It sure is a lot more fun to add the flaming component. "Flaming the garnish is a subtle difference from expressing the oils regularly," she continues, adding that the technique will give you "a little taste of the smokey match right on top." If you're worried about getting the process right, don't worry — we'll walk you through it when the time comes. 
Start by pouring the whiskey over ice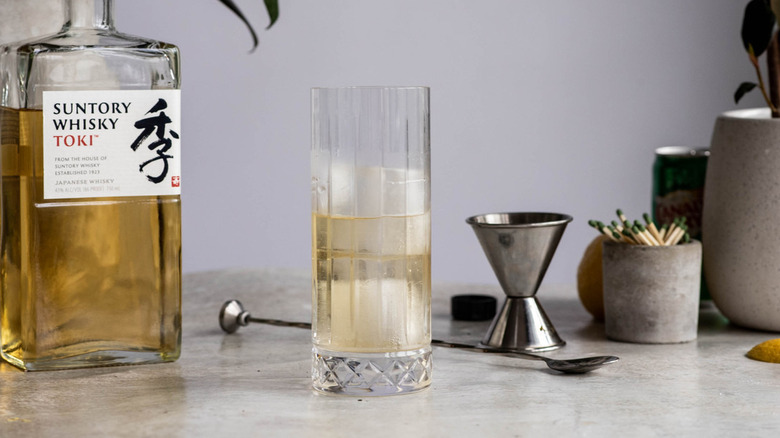 Michelle McGlinn/Mashed
First, grab a highball glass (or any tall glass) and add some large ice cubes. Then pour the Japanese whiskey over the ice and stir it 10 to 15 times.
Top off the cocktail with ginger ale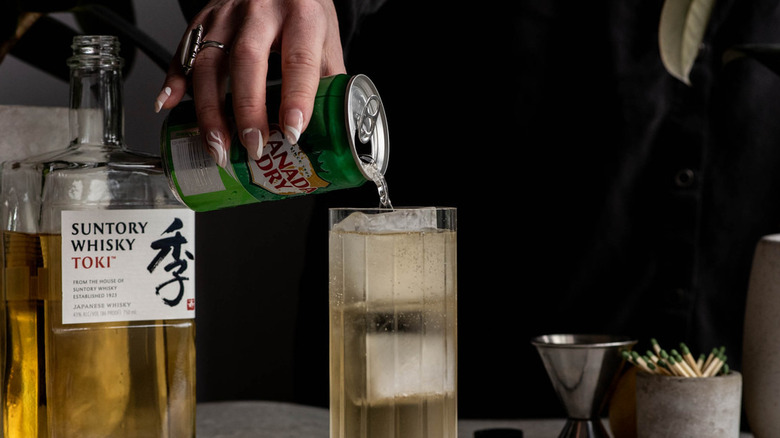 Michelle McGlinn/Mashed
Now, top off the glass with either ginger ale or club soda. McGlinn prefers using the former, as the ginger flavor perfectly complements the Japanese whiskey. But club soda will work here as well, and either will provide the bubbles that you'd expect from a highball. 
Use a match to express the lemon peel's oils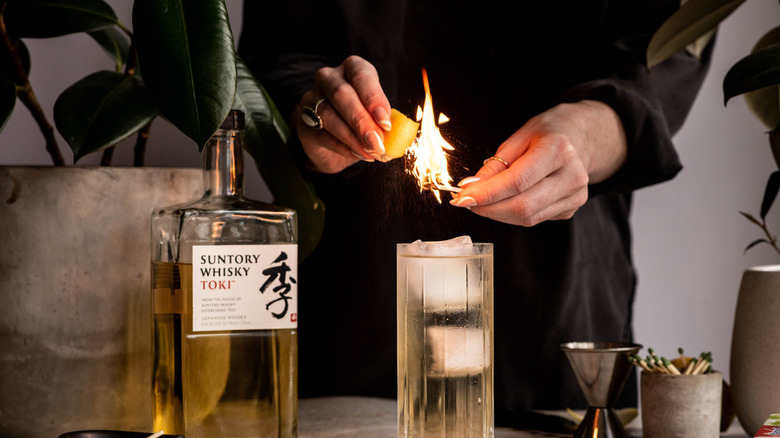 Michelle McGlinn/Mashed
With the cocktail itself ready to go, it's time to garnish. Grab a lemon peel and a match, and, holding them just a few inches above the drink, light the match, and hold it against the peel. This process will express the oils from the lemon peel right into the drink, and it will add a subtly smoky flavor. 
"There are a lot of small but important details in perfecting your flaming technique," McGlinn explains. "It's very quick — about a nanosecond — not a lasting flame." She notes the importance of peeling a lemon with a thick pith, which will help you achieve a bigger flame, and do try to peel close to the inside of the lemon, not just on the surface. Finally, be sure that you're using a match instead of a lighter. "Since the idea is that the oils are passing through and absorbing the flavor of the fire, you do not want to use a lighter or your drink will taste like butane," McGlinn explains. That said, you may find it easier to at least practice the method with a lighter, then when you feel comfortable, grab a lemon peel and a match, and finish off your Japanese whiskey highball with a perfectly flamed lemon peel.
Japanese Whiskey Highball Recipe
At first glance, a Japanese whiskey highball may look like a simple mixed drink, but there is so much more to it. Learn how to make this sophisticated cocktail.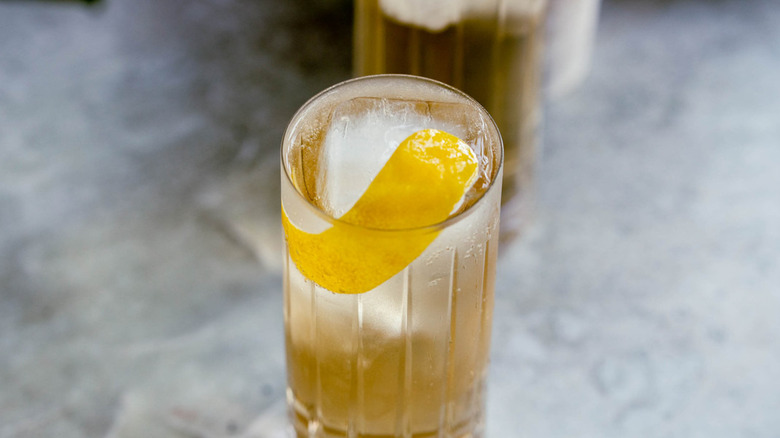 Ingredients
2 ounces Japanese whisky
6 ounces ginger ale or club soda
1 lemon peel, to garnish
Directions
Fill a highball glass with ice.
Pour the whiskey over the ice and stir for 10 to 15 rotations.
Top with ginger ale or club soda. Stir gently for another 5 rotations.
Garnish the cocktail with a lemon peel. To add a burnt citrus flavor, light a match and hold a few inches above the drink. Express the oils from a pithy lemon peel into the flame and onto the drink. Do not use a butane lighter.
Nutrition
| | |
| --- | --- |
| Calories per Serving | 205 |
| Total Fat | 0.0 g |
| Saturated Fat | 0.0 g |
| Trans Fat | 0.0 |
| Cholesterol | 0.0 mg |
| | |
| --- | --- |
| Total Carbohydrates | 16.9 g |
| Dietary Fiber | 1.3 g |
| Total Sugars | 15.3 g |
| Sodium | 13.2 mg |
| Protein | 0.2 g |