Costco Shoppers Are Confused About Where To Grab The Johnnie Walker Collection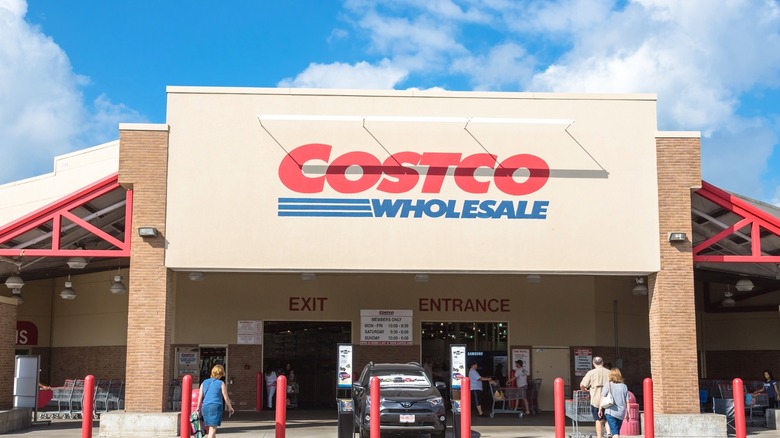 Trong Nguyen/Shutterstock
Costco is a great store to purchase items in bulk such as giant tubs of macaroni and cheese and bags of avocados that supposedly last twice as long. It's also a place where you can find a deal on some well-known commercial brand products, such as Jonnie Walker whiskey. While there was a time, per the Reddit community, when you could purchase a $20,000 dollar bottle of 1805 Blue Limited Edition, lately some Costco fans have been drooling over the price tag of the signature collection and Swing version of the popular Jonnie Walker whiskey sold at many warehouse locations across the globe.
It comes as no surprise to see Costco fans going crazy over the latest Whiskey deal shared by TikTok user @costcobffs. The user posted a video showcasing the two new varieties. The first is a black and gold label reserve collection pack of 200ml bottles for $79.99 and the second is the Swing Reserve Edition bottle priced at $51.99, and yes, the bottle does actually swing.
Costco is one of the largest alcohol retailers in the world. According to Forbes, in 2020 alone, Costco averaged around four billion dollars in alcoholic beverage sales. With their consistent competitive pricing, it's no wonder people are eager to get their hands on this money-saving deal. However, with people questioning the location of the inventory, it leaves us wondering if all Costco locations carry these two highly coveted products.
Not all Costco's carry the same products
You may have wondered at some point in one of your Costco shopping sprees why you can't find a product a friend recommended to you. There's a simple answer for that: Not all Costco stores carry the same inventory. Depending on your location and demographic, your local Costco may carry certain products that are tailor-fit to your specific community.
Hard liquor is no exception to this rule and in fact, depending on where you live, hard liquor may be prohibited to sell at Costco. According to one Quora user and ex-Costco employee, there are 17 states that have a hold on hard liquor sales, therefore private companies like Costco cannot sell these products in these locations.
This may come as disappointing news if you've been one of the people hoping to get your hands on the latest Johnnie Walker products. When Tiktok user @costcobffs posted about these two sought-after deals, many users commented on how they couldn't find them in their local Costco retailers. One user claims "Wish Costco sold hard liquor in Oregon" while another used states, "I wish Virginia would sell this." Despite the benefits of buying alcohol from Costco, such as not needing to be a member in certain states, there is a product variance per store.