The Beat Bobby Flay Question That Stumped Sunny Anderson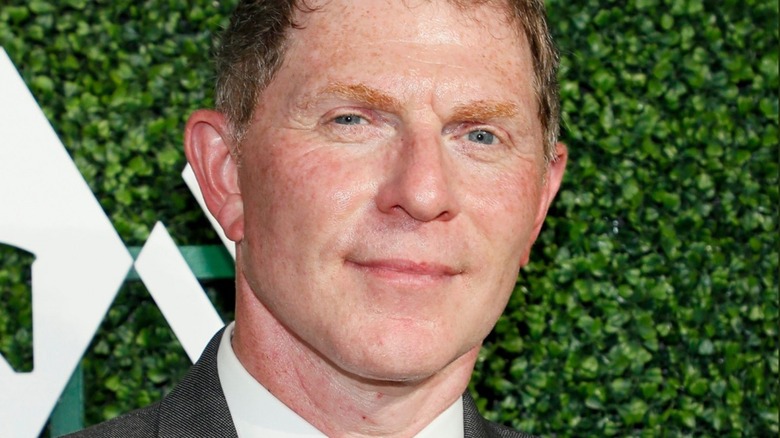 Paul Morigi/Getty
Celebrity chef and meme queen Sunny Anderson is hilarious on and off-screen, especially when Bobby Flay is the butt of the joke (or the object of her affection). As a judge on "Beat Bobby Flay," Anderson is dedicated to bringing down the king of cooking competitions, but we know she has a lot of love for the Iron Chef from her Instagram posts. Last year, on Flay's birthday, she posted an iconic vintage photo of the chef in a Smokey the Bear Ranger costume, "striking that 'I just made crispy rice' stance." Although the photo was clearly poking fun at the "Throwdown" star, Anderson ended the post on a sincere note, saying that the world is a better place with him in it.
She has also photoshopped herself into photos with Flay on Instagram, the latest of which also featured rapper Lil Jon, and the caption told an elaborate story of how the faux photo came to be. The celebrity chef did not comment on the post, but his cat Nacho did, saying "best photo I've ever seen."
The playful relationship between the two celebrity chefs makes episodes of "Beat Bobby Flay" all the more interesting, and Anderson takes to Twitter to answer questions from fans and throw additional jabs at Flay. She usually has an answer for everything, but one fan's question had her stumped.
She can't think of a dish that she could Beat Bobby Flay with
When a fan asked Sunny Anderson if she has thought about which dish she would make in a battle against Bobby Flay, she surprisingly responded that she cannot think of any. "Extensively ... I've been asked and I can't think of a thing. He wins when he has never even had the dish he makes," the celebrity chef tweeted. As a judge on the show, she knows this first hand. In fact, Flay wins so much that fans question whether or not "Beat Bobby Flay" is rigged.
Although the show does make Flay look like a hypercompetitive maniac, the chef admitted on "The Drew Barrymore Show," that he actually enjoys losing, and he loses 65% to 70% of the time, even if it doesn't seem like it (via YouTube). Flay added that he created the show to cook, hang out with his friends, and use his platform to put a spotlight on chefs from around the country who may not be highlighted otherwise. Anderson echoed this sentiment in her tweet: "Nah...if I had a business to promote, I would go on and let the chips fall where they may, win or lose I get an advertisement."