The Lunchbox That Uses Solar Power To Keep Your Food Warm Or Cold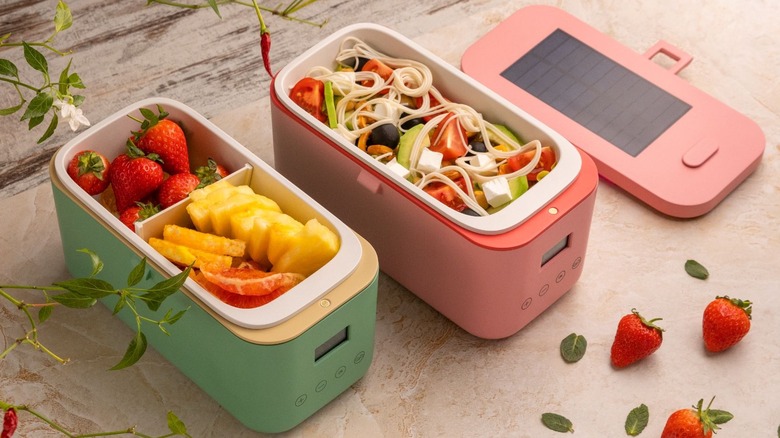 SunnySide
The truth is, packing on-the-go meals doesn't have to be stressful, nor should it be boring. We've all been there: By the time our lunch break rolls around, our salad's lettuce is already wilted, our sandwich has gone soggy, and our carrot sticks are bland as can be. In lieu of the classic brown paper bag we brought with us on the school bus, most modern lunchboxes can help salvage our collations...to a certain degree, at least. Even though some totes are lined with insulating materials, not all can efficiently maintain your food's freshness for hours on end as they promise. According to ChemicalSafetyFacts.org, the inner lining of many lunchboxes on today's market is made from a combination of plastic, aluminum, vinyl, and foil.
However, one company has invented a brand-new lunchbox that not only looks sleek and has the capacity to hold an impressive amount of food (over 4 ½ cups) within its compact build, but it also uses solar-powered technology to maintain the contents' ideal temperature. Meet the latest innovation in on-the-go food storage that promises you can eat ice cream at your desk.
The SunnySide solar-powered smart lunchbox is a game-changer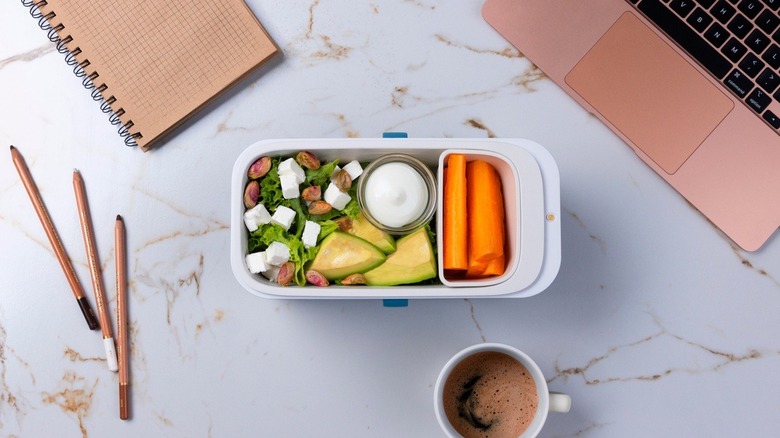 SunnySide
SunnySide wants you to say goodbye to your office kitchenette's crusty communal fridge and microwave and say hello to your very own personal portable dining station. The startup claims that its new lunchbox can store everything from soups and salads to fruits and ice cream, preserving perishable foods' freshness for up to 20 hours. Thanks to built-in coolants, fans, and heat induction coils, your hot food will stay hot and your cold food will remain cold, the brand shared in a press release sent to Mashed. The state-of-the-art lunchbox also comes with a connected mobile app that allows you to control its internal temperature and monitor its solar power levels.
How did this innovative, dishwasher-safe picnic companion come to be? The founder of the brand was motivated by his affinity for eating at the park, where his sandwiches would get too warm by lunchtime. The solar-powered heating and cooling technology allegedly took a year and a half's worth of research and testing to get right, according to the company. The SunnySide lunch box is now available to support via its Kickstarter crowdfunding campaign.