This Mouth-Watering Pub Burger Is Back On The Culver's Menu
Cheese lovers, rejoice – Culver's is bringing back the Wisconsin Big Cheese Pub Burger for the summer. This is the first time the Big Cheese Pub Burger will be available on menus since 2017 (per QSR). The burger lives up to its Big Cheese name with a bun that has cheddar flecks baked inside, and three kinds of cheese on the burger itself: Aged cheddar, semi-soft Havarti, and classic American. For the sauce, the burger features a creamy garlic aioli.
If you're wondering why Wisconsin is the state of honor for this special burger, there are several reasons. Wisconsin is the cheese state, of course, and also the birthplace of Culver's. The chain was founded in 1984 when Craig and Lea Culver opened the first location in Sauk City, Wisconsin. These days, you can find Culver's locations in 25 out of 50 states. 
Fans of the chain love its cheese curds and frozen custard. The Culver's ButterBurger is also a widely popular choice, famous for its fresh, never-frozen beef. Other Culver's traditions based in Wisconsin include the fish fry and supporting local farms through the Thank You Farmers Project. 
It's a big summer for Culver's and seasonal snacks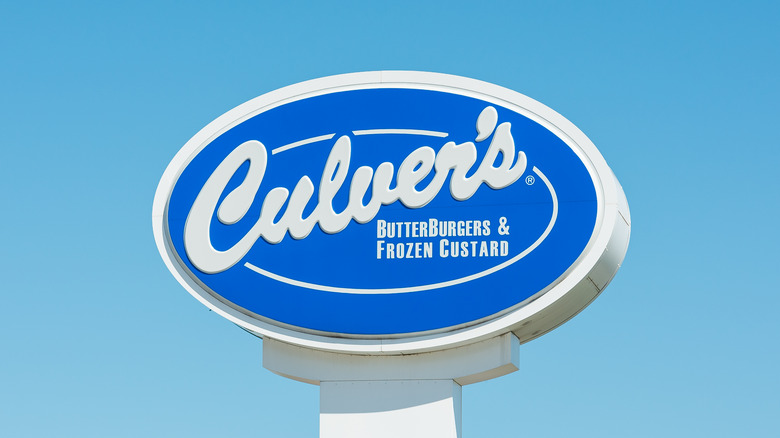 APN Photography/Shutterstock
According to QSR, the Big Cheese Pub Burger isn't the only Culver's innovation to hit the menu this summer. They're also launching a 17-city food truck tour, titled "From Wisconsin with Love." In addition to beloved Culver's fare, visitors to the food truck can step into a cheese-curd-themed photo booth and play a frozen-custard-themed version of Plinko. Some stops will be offering special events, reports CBS46 News. In Atlanta, there's going to be an 80-pound cheese sculpture live carving and Culver's is hoping to bring some of their small town sensibility on the tour as well by supporting local charities along the way. 
To round out the festivities, Culver's is offering two new sweet treats — Root Beer Floats and Root Beer Shakes. The fast casual spot is already known for its signature soda, and these two menu items will let visitors combine the root beer with Culver's iconic frozen custard. The dessert menu at Culver's has always been a sight to behold as every day each location has a special "Flavor of the Day," with some iconic past flavors including Mint Explosion, Chocolate Eclair, and Chocolate Oreo Volcano (per Culver's official website). For those interested in the new Culver's creations, the root beer concoctions are permanent additions to the menu, but the Wisconsin Big Cheese Pub Burger is only going to be available through August 7th.