Classic Chocolate Ganache Recipe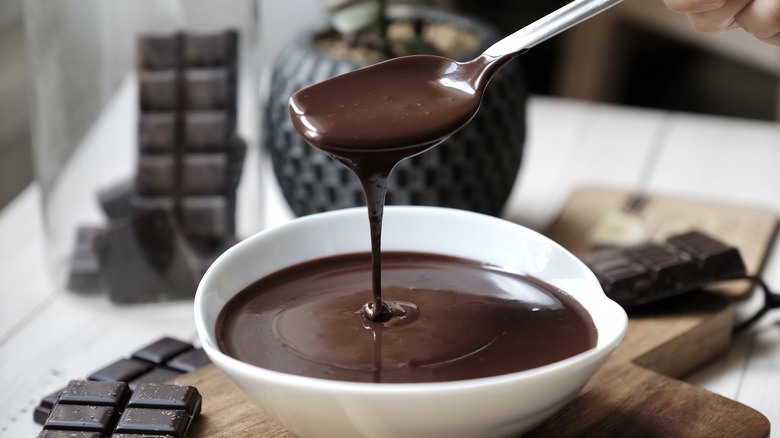 Eric Ngo/Mashed
You may have seen the term "ganache" on dessert menus and gotten the idea that it's pretty much a fancy term for "frosting," and yes, to some extent, this may be true, menu-speak being what it is. A true ganache, however, is something that recipe developer Eric Ngo explains is "chocolate and a liquid, that liquid often being heavy cream." While the ganache he makes here is a dark chocolate one, he says "there's such thing as dark, milk, and white chocolate ganache," and he says that instead of cream you could use milk or even a fruit purée. In candy form, he says ganache is known as chocolate truffles.
"Once a liquid is added to chocolate," Ngo tells us, "the chocolate will never be as hard ever again, but rather will be in a chewable, melt in your mouth texture." The texture is determined by the proportion of chocolate to liquid, and in this recipe he is using equal amounts of each ingredient to make a semi-firm ganache. For a more liquid one that can be used to glaze a cake, he says you can double the amount of cream used here. Conversely, if you want a thicker ganache, simply increase the amount of chocolate. No matter what, you'll end up with something truly rich, sweet, and decadent.
You'll need just 3 ingredients to make classic chocolate ganache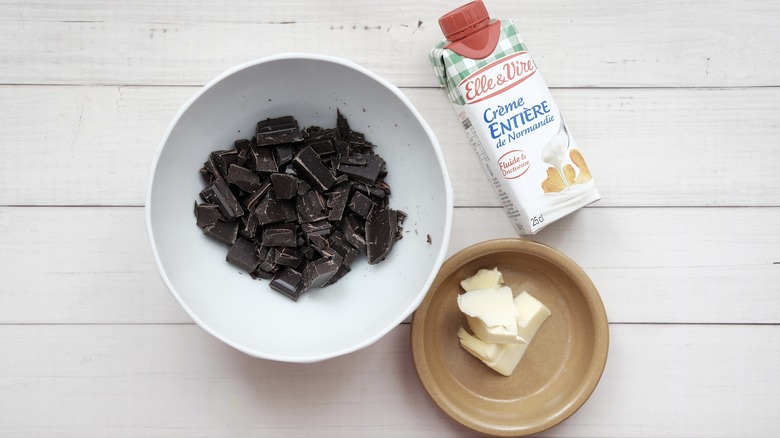 Eric Ngo/Mashed
As we've already discussed, Ngo's ganache is made with both semi-sweet chocolate chips (or chunks) and heavy cream. For this recipe, however, Ngo adds a special ingredient — butter — which helps "add an extra creamy texture and a richer taste," he describes. Though the butter is technically optional, it does add extra richness that the ganache otherwise wouldn't have.
You can also add some flavoring to your ganache if you wish. Ngo says the easiest way to do so without altering the texture is to add citrus zest, but he says you can also add a liqueur such as Bailey's or Kahlua. If you're adding a liquid, though, he says to reduce the amount of cream used by a few tablespoons (2 tablespoons = 1 fluid ounce), then to stir in that same amount of liquid once you've mixed the warm cream with the chocolate and butter.
Melt the chocolate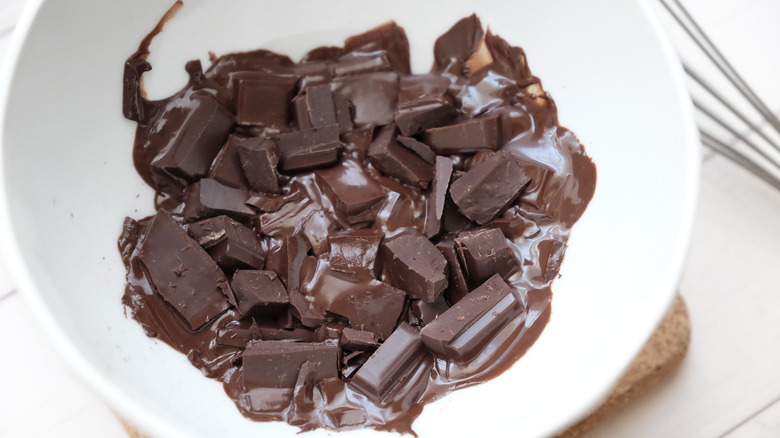 Eric Ngo/Mashed
The first step in making ganache is to melt the chocolate. While you can do this in a saucepan or double boiler, Ngo uses the microwave. He says it takes him 2 minutes to melt the chocolate, but your best bet is to set the microwave for 30 seconds, then stir the chocolate, microwave it for 30 seconds more, and stir it again, repeating as needed. Melting the chocolate in short bursts like this reduces the chance of it burning.
Heat the cream and combine it with the chocolate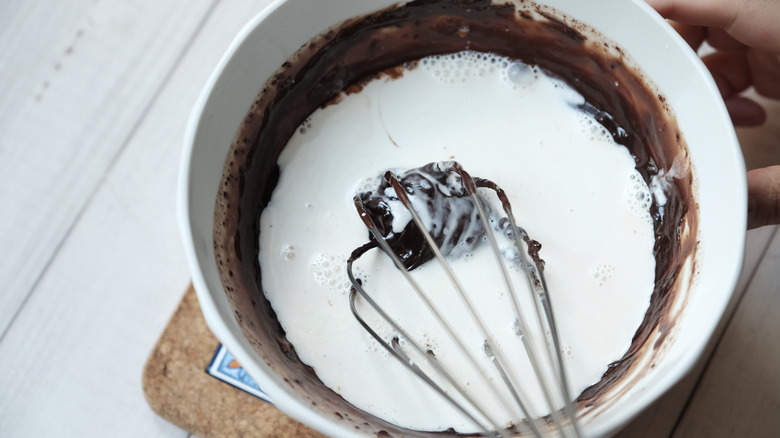 Eric Ngo/Mashed
Heat the cream on the stovetop until it's barely beginning to boil, then immediately take it off the heat. Pour the hot cream over the melted chocolate, then whisk these ingredients together until you have a smooth mixture. If you'll be using the butter, stir this in, now, too, until the butter melts and is fully mixed into the ganache.
Ganache can be used warm or cold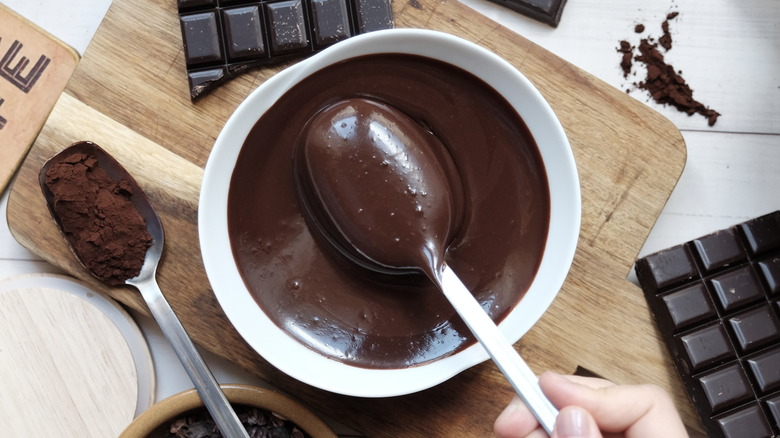 Eric Ngo/Mashed
If you'd like, Ngo says you can serve the ganache warm as a chocolate sauce. If you'd prefer it to be more frosting-like, he says to refrigerate it until it firms up. Don't worry if it becomes too firm as it chills, though, as he assures us, "You can leave it at room temperature and it will soften up."
As for what to do with your ganache, it makes a great cake frosting or filling, of course. Ngo also suggests using it for macarons, cupcakes, and brownies, adding, "You can even use this ganache to spread on bread."
Classic Chocolate Ganache Recipe
This chocolate ganache is rich and chocolatey, and it's surprisingly easy to make, too.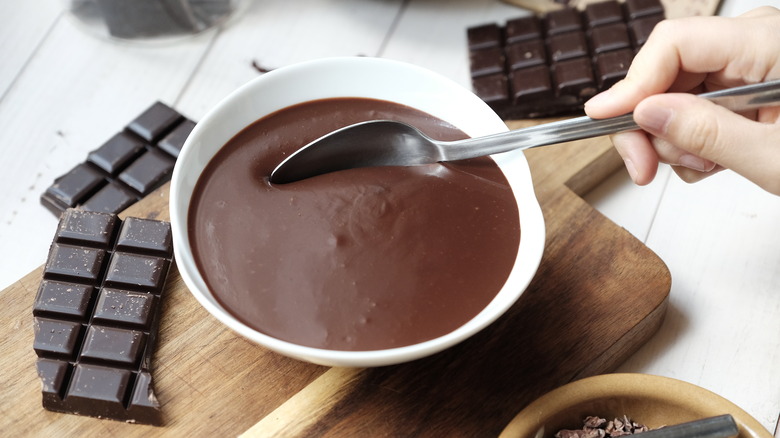 Ingredients
½ cup semi-sweet chocolate chips or chunks
½ cup heavy cream
Optional Ingredients
2 tablespoons unsalted butter
Directions
Melt chocolate chips in the microwave in 30-second bursts for a total of 2 minutes, then stir until smooth.
Bring the heavy cream to a light boil on the stovetop, then pour it over the melted chocolate.
Whisk the chocolate and cream together until smooth.
Add the butter (if using) and stir until it melts and is fully incorporated.
Refrigerate the ganache until firm or serve it warm as a sauce.
Nutrition
| | |
| --- | --- |
| Calories per Serving | 413 |
| Total Fat | 35.0 g |
| Saturated Fat | 21.4 g |
| Trans Fat | 0.0 |
| Cholesterol | 81.5 mg |
| | |
| --- | --- |
| Total Carbohydrates | 29.3 g |
| Dietary Fiber | 2.6 g |
| Total Sugars | 25.2 g |
| Sodium | 27.4 mg |
| Protein | 3.0 g |