The Drew Barrymore Pillsbury Ad You Probably Never Knew Existed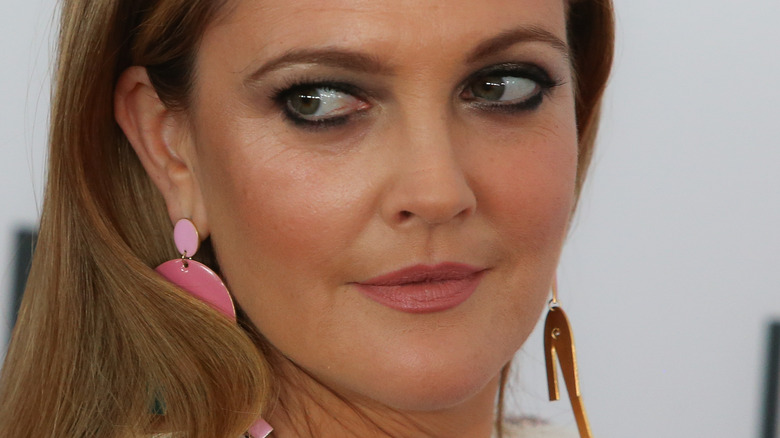 a katz/Shutterstock
Drew Barrymore's Hollywood fame has taken many forms: charming child star, '90s Playboy centerfold, slasher-film icon, rom-com queen, talk show host, and more. But many forget to add an endearing commercial veteran to that long list of credits. Barrymore has been known for her lovable demeanor ever since her "E.T. the Extra-Terrestrial" performance back in 1982, but her doe eyes were behind the camera years before her Spielberg debut.
Considering the actor was only around six when she played Gertie alongside America's favorite alien, many assume it was her first role. But Barrymore has been destined for stardom since she was born — literally. Per Biography, Barrymore's first official on-screen appearance was for a Puppy Choice dog food commercial before she could even speak. Crawling around with a beaming smile was just the beginning for little Drew. Long before her Golden Globe, she won hearts in a handful of commercials, one being a 1979 Pillsbury ad for cookie dough that really leaned into the cute appeal. 
Arriving home drenched, yet decked out in full rain gear, a frowning pint-sized Barrymore cheers up with warm cookies as her TV guardian and the Pillsbury Doughboy "Bake the Magic," as they say. At the time, Pillsbury likely had no idea they just cast a soon-to-be megastar. But even at just a few years old, Barrymore definitely had "it." (The fact that she'd been around camera crews since before she could even sing the alphabet certainly helped, making her comfortable and confident.)
Barrymore showed how adorable it is to eat a cookie with two hands
This forgotten Pillsbury commercial is just one of many food commercials the young Drew Barrymore starred in at the beginning of her career. Her rapid rise to childhood stardom was all the more impressive considering her first few parts didn't even include any dialogue. Barrymore's heartwarming grins and giggles were undoubtedly enough to make an impression on both audiences and casting agents. One year after her Pillsbury performance, she debuted in her first film, "Altered States."
Barrymore only became more adored as the years went on and made a name for herself once Spielberg cast her in "E.T." As the critically acclaimed director told Variety in April of her audition at just six years old, "I believed her, she has so much inner life." She was cast that very day. Barrymore's cuteness warmed fans' hearts so much so that she went on to host "Saturday Night Live" later that year at only eight years old, making her the youngest host to date, according to Britannica. From there, her career soared, and the rest is history. 
Many child stars call it quits as they inch closer to adulthood, but Barrymore carried on to be one of the most well-known stars of each and every decade she's worked in.