How Giada De Laurentiis Turns A Cheesy Movie-Night Snack Into A Sweet Treat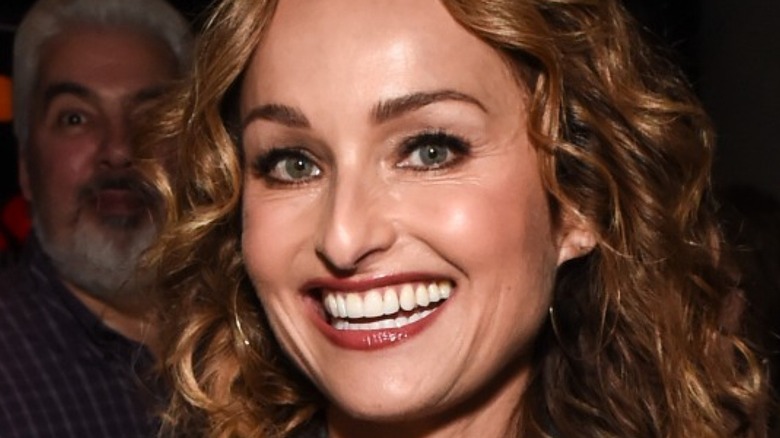 Daniel Zuchnik/Getty
When it comes to having a movie night with friends and family, there should always be snacks. You have to make sure there are sweets and drinks and, most especially, popcorn. However, it's easy to get sick of the same old popcorn all the time. Although delicious, butter and salt are nothing to write home about. Luckily we have Giada De Laurentiis, the queen of popcorn recipes, who is giving us all of her great ideas for switching up your popcorn.
The celebrity chef is known for offering up ways to make your snacks pop. From Falafel to s'mores to Calabrian Chili popcorn, she is able to do so much with such a simple snack (via Giadzy). The celebrity chef has teamed up with Simply7, a healthy snack company devoted to making treats that taste good, to help produce a healthy popcorn option. And now she is giving us new recipes to use with that popcorn.
Add a chocolate drizzle to your popcorn
In a recent TikTok, Chef Giada is giving us a new popcorn recipe she called "Candy Popcorn," a sweet popcorn recipe with her Simply7 Parmesan Popcorn. At first, it may seem a little odd but the final product looks like the sweet and salty snack of our dreams. De Laurentiis starts by laying out the popcorn on a baking sheet, then drizzles melted milk chocolate and white chocolate all over the cheesy popcorn. She tops it all off with marshmallows and M&M's to make sure we hit all those sweet tooth cravings. The final product is somewhat similar to another popcorn recipe the chef has blessed us with that was originally a solution to leftover Halloween treats.
Commenters raved over the brilliant idea. One wrote, "I wish I could reach through the screen & eat this." Another agreed this is the way to go when jazzing up regular old popcorn giving the alternative to pretzels instead of marshmallows on top. We know this may not be the healthy popcorn it started out as, but it sure looks like it would make our mouths happy. We can only imagine how many people will be trying this at their next movie night.
Other popcorn recipes from Giada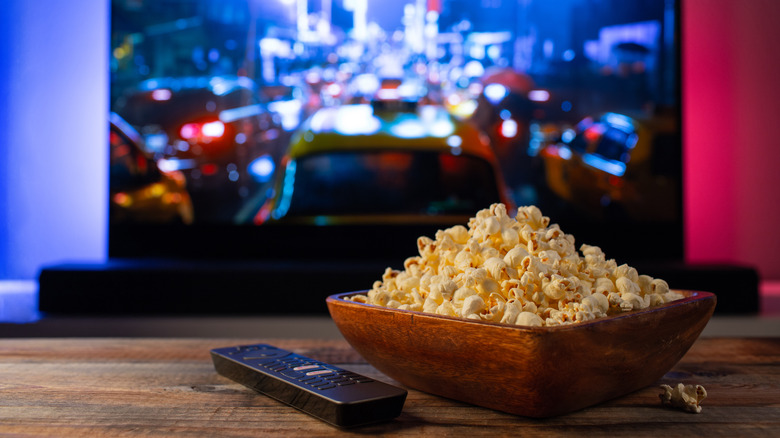 VasiliyBudarin/Shutterstock
While this candy popcorn is the perfect simple treat to satisfy your sweet tooth, there are endless movie-night snack recipes from De Laurentiis that will help fulfill all your popcorn needs. There's Roman Popcorn that has just a little bit of garlic, pecorino, and parmesan cheese mixed into your regular popcorn. The "Everyday Italian" star also offers more complex recipes, like her Candied Bacon Popcorn, which includes creating a caramelized sauce to pour over the top of popcorn, bacon, and peanuts. Stick it in the oven for a little and you have a creative new treat that has all your favorites.
Then there are recipes with interesting combinations of ingredients like the celebrity chef's Chocolate Orange Popcorn Bars. These bars include mixing together almond butter, orange zest, and maple syrup and throwing it in with some chocolate chips and popcorn. Once that is cooled you have a perfectly crunchy and airy midday snack. These are just some of the numerous recipes from the TV personality to help you switch up that movie-night snack into something bigger and better.