TikTok Doesn't Believe Gordon Ramsay Cooked These Scrambled Eggs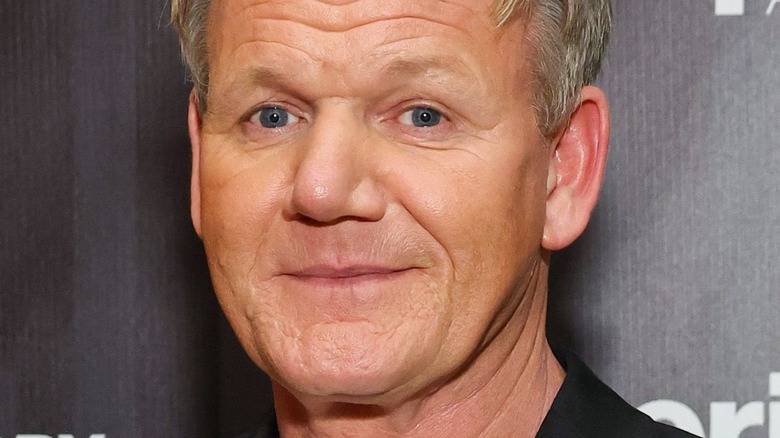 Mike Coppola/Getty Images
Over the course of his culinary career as one of the world's most famous chefs, Gordon Ramsay has prepared more than his share of extravagant gourmet dishes, from beef Wellington to lobster risotto. But he doesn't make impressive 5-star restaurant-worthy meals every time he steps into the kitchen. "On the weekend it's my turn [to cook]. I rarely do anything fancy," he admitted in an interview with Bon Appetit. One everyday dish he has mastered? Scrambled eggs.
Ramsay revealed to Entertainment Weekly that his love of eggs all began when he was learning to cook in France. "I got this obsession back when I was getting my arse kicked in the kitchens," he said, explaining that to boost his confidence, "I taught myself how to perfect scrambled eggs."
However, a recent video on TikTok has people questioning just how good the British chef is at making the popular breakfast foods. Many viewers are calling Ramsay out for a clip from his show "MasterChef," where he whips up what he calls perfect scrambled eggs.
People were not impressed by Gordon's eggs on MasterChef
On an episode of "MasterChef" — which got reposted to TikTok — Gordon Ramsay demonstrates to the contestants how to make what he calls the perfect scrambled eggs as he labors over a saucepan on the stove. "I want to see nice light, fluffy scrambled eggs," Ramsay explains as he spoons the mixture onto a slice of toast, describing it as "to die for." However, most of the people in the comments section would disagree. "I prefer them cooked, not watery sloppy soggy eggs," one person wrote, while another added, "It looks like gravy." One viewer even likened it to "egg soup."
Regardless of the criticism on TikTok, Ramsay is well-known for his scrambled eggs, which he makes with a secret ingredient: crème fraîche. The recipe consists of eggs, crème fraiche, butter, chives, and salt and pepper (via Gordon Ramsay Restaurants). A writer at Refinery29 tried his method and was a big fan, calling the final result "light, creamy, fluffy perfection."